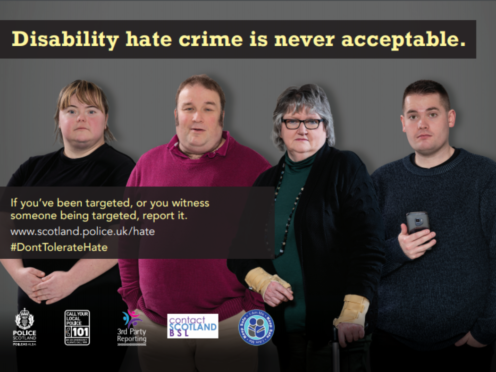 Police across Scotland have marked the end of a month-long campaign to reduce hate crime carried out against disabled people – but have vowed to continue reducing the hundreds of incidents recorded throughout the year.
The Don't Tolerate Hate initiative ran throughout March to help raise awareness of hate crimes where disabled people were targeted.
One in five people in Scotland are registered as having a disability and around 4% of recorded hate crime incidents reported between 2015 and the end of last year were against people with disabilities.
But police say there is "strong evidence" to suggest that this particular kind of offence is significantly under-reported.
As part of the campaign, officers shared personal stories from victims and discussed the issue widely in order to encourage more people to come forward.
Chief Inspector Coleen Wylie, from the safer communities team, said: "Since the launch of the Don't Tolerate Hate campaign, we have generated a lot of interest in the subject of disability hate crime.
"The stories of those affected has reached many tens of thousands of people and is helping in raising awareness about disability hate crime.
"Using real people sharing their personal stories has resonated with the public, and has been impactful".
Of the 33,038 hate crimes recorded from January 2015 to December 2019, the most commonly-reported type of incident – which made up around 66% of all incidents logged – had race as the primary aggravator.
The second-most common offence was hate crime due to someone's sexual orientation, which made up around 16% of offences, followed by religion-based incidents at just under 8% of all incidents.
Other categories police record include a mix of aggravators, such as race and religion combined.
Ch Insp Wylie continued: "We recognise the deep personal impact disability hate crime has on victims, their families and wider communities.
"It is vital we all work together to ensure this type of behaviour is never acceptable.
"Hate crime in any form will not be tolerated. If you are a victim of hate crime or you witness it, we want you to report it.
"It will be taken seriously, and thoroughly investigated."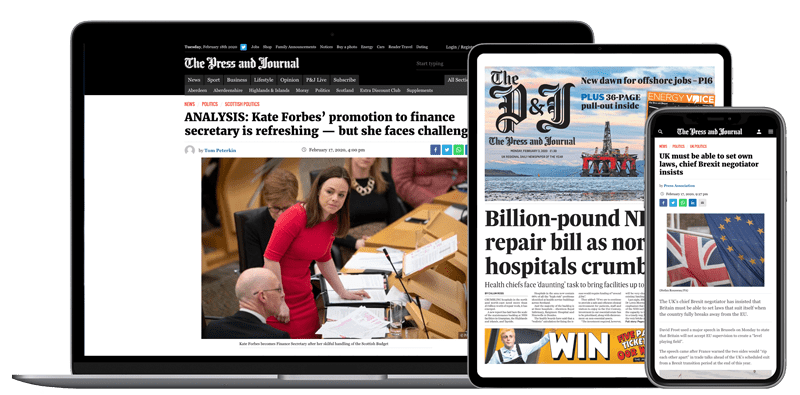 Help support quality local journalism … become a digital subscriber to The Press and Journal
For as little as £5.99 a month you can access all of our content, including Premium articles.
Subscribe