The kind-hearted members of a north-east rugby team have swapped rugby balls for shopping carts in the midst of the coronavirus effort.
All training at Aberdeenshire Rugby Football Club base – at the Woodside Sport Complex in Aberdeen – has been cancelled since last month.
So instead players and staff have formed their own community action plan in response to the pandemic.
The players have themselves create a new delivery service to help isolated members of society avoid the scrum of supermarket aisles.
And already foodbanks and medical practices have also expressed interest in the project.
All players will wear their kit during the deliveries, as a mark of identification, player James Dooley said.
He formed the idea after speaking with his parents, in his home village of Dingle, Ireland, where the local Gaelic football club had started a similar service.
He said: "I thought we could do something similar since we aren't training any more.
"I asked if the guys would be interested in joining in, and it started out with just myself and a few other guys. But we now have 19 in the group, with two people working each day.
"We've been reaching out to various practices to help people get their prescriptions – one in Dyce has signed-on – and we're also speaking with a foodbank in Aberdeen."
Mr Dooley is inviting anyone who feels they could benefit from the service to get in touch by calling 07850 461206 or emailing jameslbpdooley@gmail.com.
Payment to shops can be made either over the phone or online, with items then collected and delivered.
Deliveries will be made by a member of Aberdeenshire RFC, wearing club gear as a form of identity, and will be made between noon and 8pm.
North East MSP Liam Kerr said: "The rugby club, and so many other north-east groups like them, are setting a superb example.
"They could be sitting on their hands but are putting their backs (and forwards!) into helping the community.
"In a time of need for the most vulnerable, we couldn't have a more able group out to help."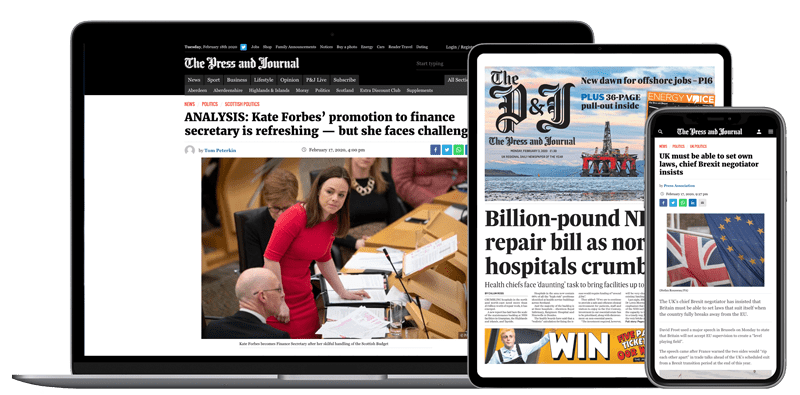 Help support quality local journalism … become a digital subscriber to The Press and Journal
For as little as £5.99 a month you can access all of our content, including Premium articles.
Subscribe