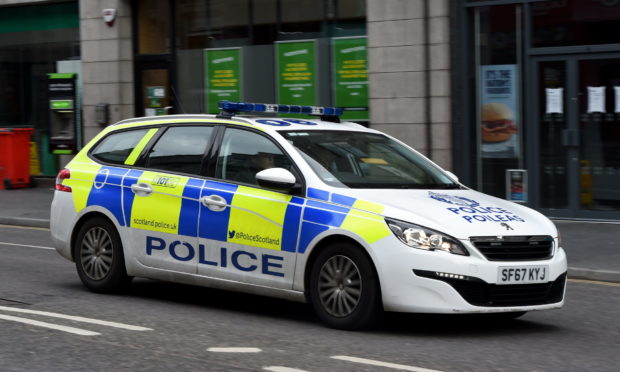 Revellers in Aberdeen have been branded "totally irresponsible" after refusing to break up a house party during the vital national lockdown.
Police were called to the incident in the Bucksburn area of the city this week and, amid serious health concerns, issued six fines after "the occupants refused to desist".
Those responsible were male and aged between 35-44, police confirmed.
On March 27 it became a criminal offence to flout public health guidance on social distancing to prevent the spread of the killer Covid-19 virus.
People are now only permitted to leave their homes if they have "reasonable excuse", such as work that cannot be carried out at home, shopping for food and medical supplies and daily exercise.
In the six days since the new legislation was introduced, police officers have been forced to issue 144 fixed penalty notices to people who have chosen to ignore the measures.
A total of 20 penalty notices have been issued in the north-east of Scotland, with the region second only to Greater Glasgow, where 46 have been issued.
When told of the Bucksburn incident, local councillor Avril Mackenzie said: "The longer people act like this, the longer the lockdown will be for everyone else. It's extremely stupid behaviour."
Scottish Conservative shadow justice secretary and north-east MSP, Liam Kerr, added that it was "totally irresponsible."
He said: "It's absolutely shocking that people would decide to have a house party knowing full well the dangers of doing so during the coronavirus outbreak.
"Together we can help save lives, protect the vulnerable and support the NHS through this difficult situation.
"It's concerning the second highest number of fixed penalties have been issued in the north-east and this must act as a warning to adhere to the rules to ensure we can beat this virus."
On Saturday, three fines were issued to a group of men in Paisley.
They were found together in a van, and informed officers they had no intention of adhering to the regulations.
Nine fines have been handed out in Argyll and West Dunbartonshire , compared to just one in the entire Highland and Islands region.
Officers in Scotland's capital have issued only four fines.
Kate Forbes MSP for Skye, Lochaber and Badenoch said: "I am delighted to see local residents in the Highlands and Islands following the guidelines and staying at home.
"It has never been so important to do as the First Minister and Prime Minister have asked, no matter your political persuasion. This is the only way to protect people and save lives.
"I hope the communities of the Highlands continue to lead by example and stay at home."
Officers from the #CityCentrePST have been out engaging with the public to explain the current risks to health. It's good to see our residents #SocialDistancing & following the #StayAtHomeSaveLives advice in line with government guidance for #Coronavirus #KeepingPeopleSafe pic.twitter.com/HLbvrNUtnj

— Aberdeen City Police (@AberdeenCPolice) April 2, 2020
In the last week, police officers have taken to the streets in a bid to stress the severity of breaking lockdown rules and the possible ramifications for the spread of coronanvirus.
Police Scotland Chief Constable Iain Livingstone urged the population to adhere by lockdown regulation, ease the strain on the NHS and "collectively save lives".
He added: "We will always encourage compliance but, as a last resort, we will use the enforcement powers which are in place.
"I am clear that policing in Scotland gains its legitimacy and authority from the consent and support of the public.
"Everything we do will be done in a fair, reasonable, and proportionate manner."
Highland and Islands Divisional Commander Chief George Macdonald added that issuing fines was a "last resort."
He added: "The clear message is to stay at home, and by and large, people are doing that.
"We have been given extraordinary powers in an extraordinary situation – powers Police would not normally wish to have – but I'd like to thank the communities across the Highland and Islands for helping and supporting us."
Under the new legislation, police can issue penalty notices of £60, reduced to £30 if paid within 28 days, where they have reason to believe there has been an offence under the regulations.
Due to the exceptional nature of these powers, the regulations will be reviewed at least every 21 days to ensure they are still necessary.
Justice Secretary Humza Yousaf added: "Everyone should be staying at home wherever possible and I am hugely encouraged by the high levels of compliance around the country after the first week of these rules being in force.
"These rules are in place to slow down the spread of COVID-19 which will protect the NHS and save lives.
"While Police Scotland have powers of enforcement, I expect that these will be used only as a last resort, and that the vast majority of people will use their common sense and play a full part in this country-wide effort."
National Clinical Director Jason Leitch has reiterated his pleas for social distancing to be adhered to, and confirmed yesterday that the majority of fines issued had been to people at large gatherings, such as house parties.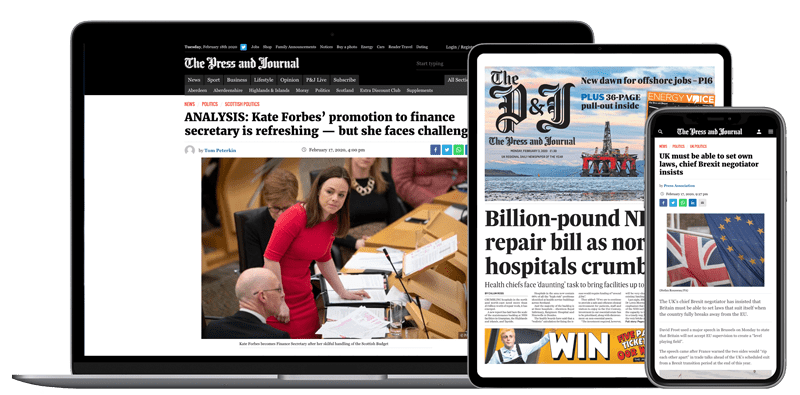 Help support quality local journalism … become a digital subscriber to The Press and Journal
For as little as £5.99 a month you can access all of our content, including Premium articles.
Subscribe