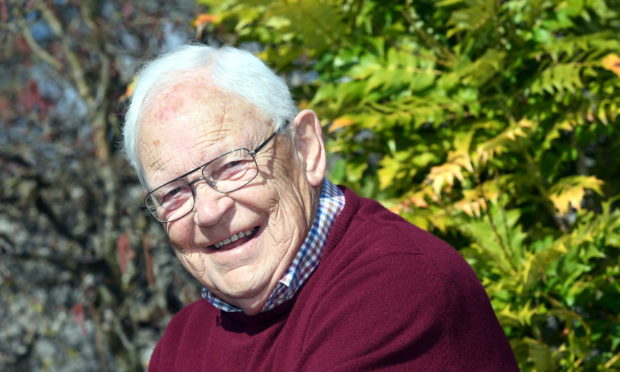 It's official – he is outstanding in his field.
Gardening favourite Jim McColl has been awarded the most prestigious Royal Horticulural Society (RHS) accolade, the Victoria Medal of Honour.
Only 63 medals may be held at any one time, in recognition of the duration in years of Queen Victoria's reign.
Mr McColl, 84, who lives in Oldmeldrum with his wife Billie, said: "I was astonished, absolutely gobsmacked to learn I was being awarded the medal.
"The first I knew of it was when I got a postcard in February from the RHS president, Sir Nicholas Bacon – in his own handwriting – telling me I was being given the society's top award for British horticulturists, and inviting me to an award ceremony in London on April.
"I've had to keep mum about it until now.
"Because of the coronavirus, the award ceremony was cancelled so I've no idea when I'll get the medal."
Established in 1897, the medal is awarded to British horticulturists deserving of special honour by the Society.
As well as writing a weekly column for the P&J for more than 30 years, Mr McColl is regarded as a veteran broadcaster thanks to his involvement with BBC Scotland's much-loved Beechgrove Garden.
Always the first to say that he is still learning – as he says "every day is a school day" – he revealed his plan to mark this latest award in his traditional, couthy style.
"I'm going to celebrate today by cutting the grass, and I may have a dram at night too," said Mr McColl.
"Then the problem arises as to what to do with the cuttings in the current circumstances, which reminds of the story of the Glasgow man who used to spray beer on his grass at night – so it would come up half cut."
A collector of old gags, as well as being a talented accordionist in his spare time, the last word on this latest, prestigious award goes to modest Jim.
"Ach well, if you stick at something lang enough…"
The rise and rise of Jim McColl
Jim McColl was born in Kilmarnock and attended the West of Scotland Agricultural College.
His dad Tom was also a gardener and at one point, head of Helensburgh Town Council's parks department.
After gaining the Scottish and National Diplomas in horticulture, Mr McColl took up a post at the agricultural college in Auchincruive.
He worked for several bodies including the University of Reading, the Ministry of Agriculture, Fisheries and Food East Midlands Advisory Service in Shropshire, and the National Agricultural Advisory Service before joining the North of Scotland College of Agriculture as a horticulture adviser in 1973.
A year later he was in charge of the Horticultural Research and Development Unit at Craibstone.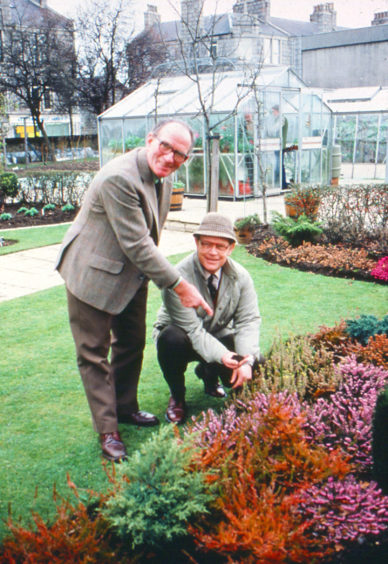 He also worked for Glengarioch Distillery in Oldmeldrum, managing its pioneering waste energy project.
In 1978 he began co-presenting The Beechgrove Garden TV show, broadcast from Aberdeen, with George Barron.
He said of the show: "It was originally broadcast at 10pm on a Friday night and watched by blokes coming back from the pub who'd then be inspired to get into the garden the next day."
Over the years he's received numerous awards including the Scottish Horticultural Medal in 1982, an MBE in 1996 and The Royal Horticultural Society Gold Veitch Memorial Medal in 2000.
Three years later he was awarded a Fellowship of the Royal Agricultural Societies and in 2004, Honorary Fellowship of the Scottish Agricultural College.
In 2007 he won the Best Nations and Regions Presenter title at the Royal Television Society Programme Awards.
In 2013, he won Amateur Gardening's, TV Gardener of the Year. award.
In 2016 he received a Lifetime Achievement award by The Garden Media Guild; was honoured with the Royal Television Society Scotland Award and received an Honorary Fellowship to the Royal Incorporation of Architects Scotland (RIAS) at part of its centenary celebrations.
Don't miss Jim's weekly gardening column in tomorrow's Press and Journal.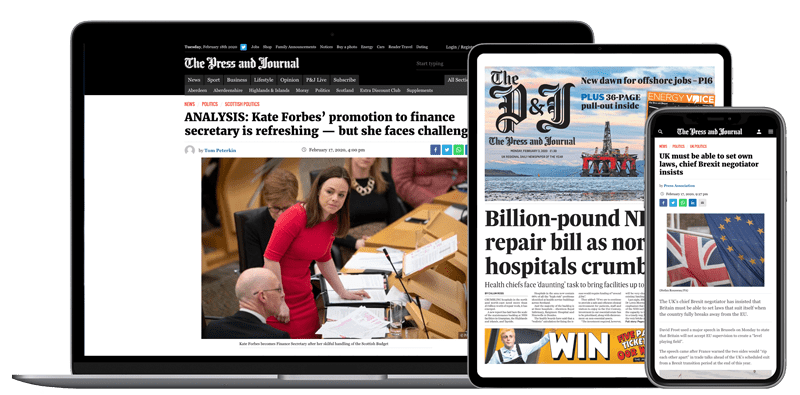 Help support quality local journalism … become a digital subscriber to The Press and Journal
For as little as £5.99 a month you can access all of our content, including Premium articles.
Subscribe