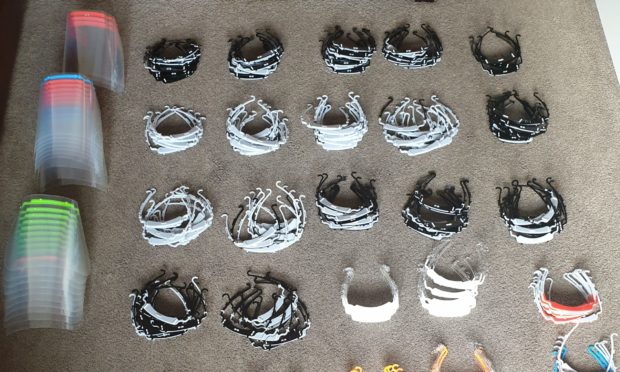 Two north-east businesses have come together to help produce and distribute face masks for key workers during the coronavirus outbreak.
Punx Designs and GSL Cuts UK, based in the Turriff and Portsoy areas, are working together to create around 75 to 100 face masks per day.
Aiding the nationwide supply of Personal Protection Equipment (PPE), the face masks have been distributed all over the UK from as north as Inverness to Crewe in England.
Tony Fullwood, owner of Punx Designs Laser Cutting, explained how the partnership began. He said: "Me and my wife, Amanda, started making the face shields when the epidemic initially raised its head.
"Our business has resource to help produce them and to offer at least some protection for these awesome people working on the frontline."
Soon after sharing a post of Facebook, Angela Drummond from GSL Cuts UK, contacted the couple in a bid to join forces.
Mr Fullwood added: "We have lost count of the number we have manufactured between the two small businesses – it must be near 2,000.
"And we are sending Face Shields as far down as Crewe in England and as far north as Inverness."
Production
The shields are made from laser cut acrylic with an eyebrow frame and with a clear PVC visor. They are all fitted together using clips and shaped using three 1000×600 sheets to produce 135 mask frames with next to no waste.
A further 10 face masks are produced by using a 3D printer.
For more information and to help support the development of face masks, visit the Face Shields For Key Workers Facebook page and Crowdfunder page.