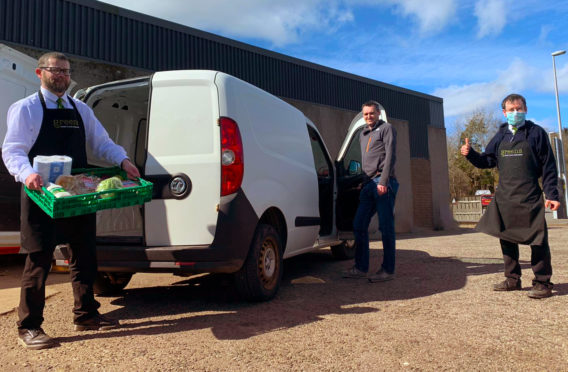 The photographs of people queuing around the block or marching around the supermarket with overflowing trollies in the days leading up to lockdown will stay with us forever.
There were stories of pensioners being left unable to buy even the basics such as bread, ham and tinned goods, and just who was it that decided toilet roll was the item we must all stockpile?
As the country adapts to life in lockdown, the shelves have just about returned to normal – meaning chopped tomatoes are no longer a precious commodity to be exchanged over the garden wall for a tin of condensed milk.
But that is greatly due to the efforts of staff in shops and supermarkets across the country – the shelf-stackers, the cashiers, the delivery drivers, the managers and the cleaners.
Not only have many taken on new staff – including those who suddenly found themselves out of work as a result of the pandemic – they have also rolled out more delivery options to meet demand and deployed others to manage the entry and exit points, sanitise trolley and basket handles and monitor the distance between customers at the checkouts.
For Greens in Ellon, adapting quickly to a new way of working was crucial to protect their vulnerable and elderly customers.
Staff at the shop, in Station Road, stepped up its trips to local suppliers to keep the shelves full – meaning customers could get the essentials some of the larger supermarkets were struggling to obtain.
They also massively increased their capacity for home deliveries, and are currently doing up to 100 a day.
Manager Erin Campbell said it had been "really tough" but praised the team for getting on with it.
"It is concerning of course, it is for any key worker, you can't control other people but we can make sure we protect ourselves," she said.
"We've had great feedback and I think this will be worth its weight in gold – a local independent retailer coming together to help people – we can help them and they can help us."
Delivery driver Gary said he was enjoying being able to help the community in their time of need.
"I've been born and bred here so I know what it's like for people who can't get out and about," he said.
"It's quite rewarding making sure people are fed and watered. You'll get a nice smiley voice and face."
The team at the Evanton Co-op are also going the extra mile for their customers.
Staff at the Balconie Street store are volunteering their own time each day travelling across the community to deliver vital supplies to customers unable to leave their homes during the lockdown.
Manager Stephen Scott said it was important the 12-strong team "pulled together" to support the customers both coming into the shop but also those unable to make the trip.
He said: "The team and I really wanted to do something to help our most vulnerable customers. We often take the shopping on our way home after work but we really don't mind. We recently asked the community to help with some deliveries as it was quite a busy day and we were amazed by the response – it's about pulling together at this time. I really can't thank my team and the community volunteers for their support. They are local heroes."
Members of the local community are now volunteering their services to help meet the growing demand for the service.
Meanwhile, the team at Aberdeen's oldest independent health store are relieved that their decision to stay open has paid off, enabling them to support customers old and new.
Nature's Larder on Holburn Street sells organic fruit and vegetables, flour and natural products and has noticed a change in the way customers are paying – with many pre-ordering or paying in advance so they can limit their time in the shop.
Store manager Hazel Lovie said she wasn't expecting such a high demand for flour when they decided to keep their doors open.
"We're getting a lot of new customers looking for ingredients as they're at home cooking and baking more," she said. "People who usually eat out are at home tying new recipes.
"The demand we've had for flour is crazy. Unlike some of the larger supermarkets we're lucky because we can still buy it in sacks and then split it for our customers."
Although Ms Lovie admitted it was "stressful" to police social distancing in the shop, she said she felt she and her colleagues are lucky compared to those working for larger retailers.
"We know all of our customers quite well and I feel sorry for larger supermarkets who don't have that close relationship," she said.
"Customers have been really considerate and we've not really had anyone come in to panic buy.
"It is difficult trying to keep customers and staff safe and obviously we have taken a risk to stay open but we are in control of the shop – it was a calculated risk."
Moray butcher launched delivery service to help him cope with business loss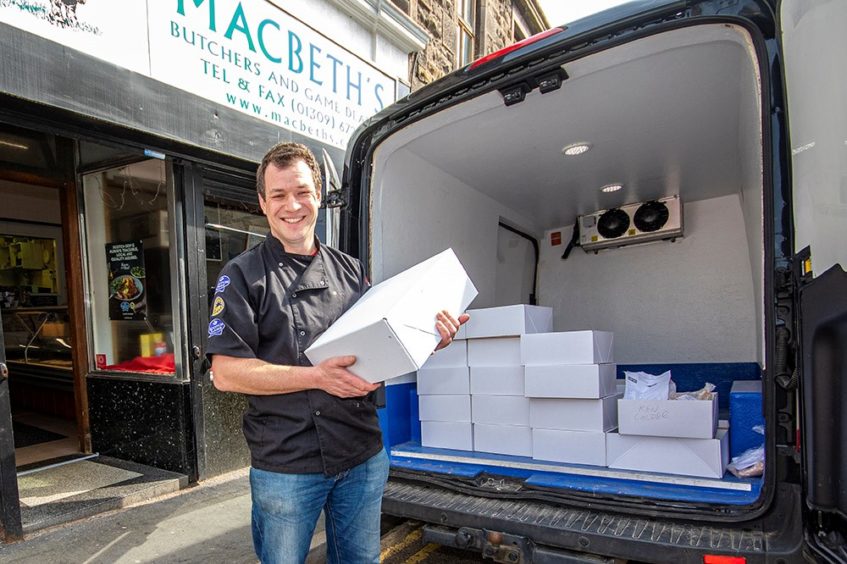 When the government enforced lockdown to limit the spread of Covid-19, Jock Gibson lost 80% of his business.
Macbeth's in Forres previously got most of its business from hotels and restaurants in the area, meaning when they shut down, Mr Gibson wasn't sure what to do.
But to his delight, demand for local deliveries has soared tenfold and Mr Gibson has taken on four people to help him get through the orders.
Mr Gibson said: "When it first happened, we weren't sure what we were going to do.
"Then people started asking for home delivery and we responded from there. We have had calls from further afield.
"We do consider ourselves to be extremely fortunate not to have had to shut down."
The team are hard at work preparing the goods for delivery in the Tolbooth Street shop and Mr Gibson is delighted to be able to help keep locals fed safely.
But he admitted his thoughts were were other businesses in the area who have not been able to diversify so easily.
"I really feel for the businesses that have had to close temporarily," he said. It must be soul-destroying and I hope that they get the support required to see them thrive at the end of this and bring vibrancy back to Forres.
"If the lockdown continues, I would worry about the long-term future of our food service and wholesale business but hopefully we will continue to see the fantastic customer support that we have had from local and national customers."
Local business working 'all hours' to supply veg to community
As shops stay open to feed the nation during the coronavirus crisis, small businesses have seen an increased demand with the public ditching supermarket chains for fresh and local produce.
Swansons Food Wholesalers in Inverness is among those surprised by the demand from residents for their fresh fruit and vegetable boxes.
And owner Magnus Swanson is working round-the-clock to ensure those new customers remain when normality resumes.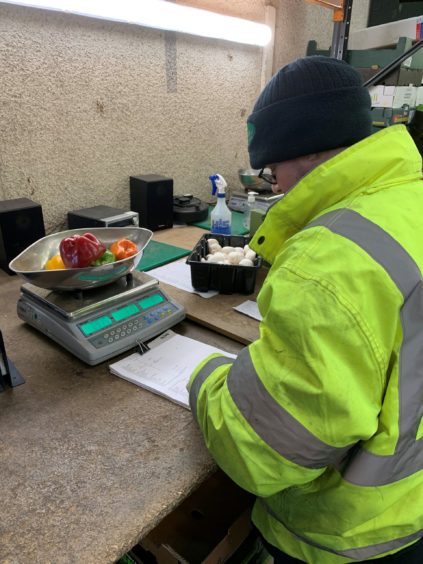 He said: "It will hopefully carry on after all this, the public buying from local suppliers; buying food that comes from the field to the plate in less than 24 hours, having low food miles and supporting local farmers.
"We spend a lot of time making up small individual boxes. We're not sure if we're making any profit but we aren't doing it for that, we're happy we can be of service to the community."
The business moved to online deliveries after deciding it was no longer to have customers in store, and sales manager Pauline Fiddes admitted her job changed overnight.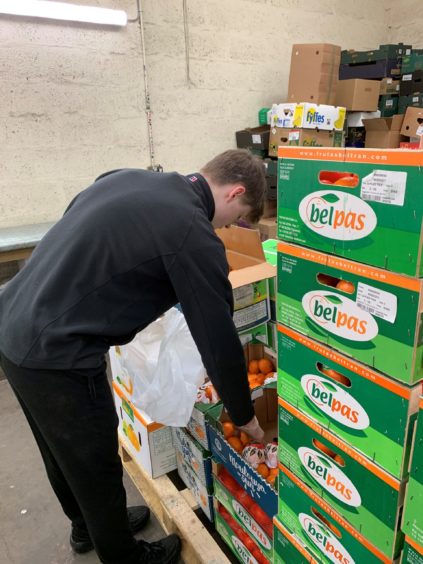 She said: "When all of this happened, we had the idea to do food boxes. I went from working two days a week to five – it was a big change.
"We've got the boys out in the warehouse picking stuff and as a team we're all mucking in together."
"Obviously for people out and about at this time it is a worry as there is always a risk but there is a job that is needing done and it's for the greater good."