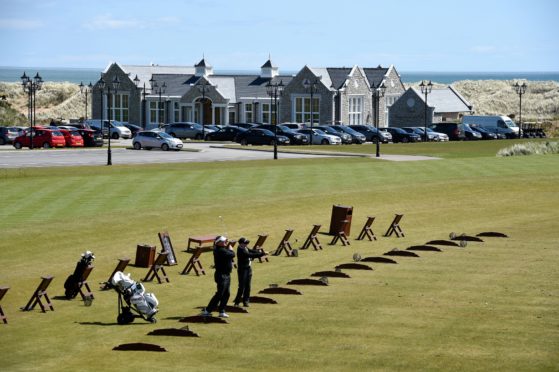 The Trump Organisation is understood to be seeking cash from the UK Government's coffers to help cover wages at its Aberdeenshire golf resort.
Staff there have been furloughed due to the coronavirus lockdown to enable it to secure assistance with wages.
Under the Coronavirus Job Retention Scheme, businesses in the UK can claim for 80% of their employee's wages if they have been forced to be put on furlough due to restrictions brought about due to the virus pandemic.
The Trump Organisation, led by the US President Donald Trump's sons Eric and Donald Trump Jr, is believed to have put staff all across its Scottish businesses on furlough, including at the Trump International Golf Links at Balmedie, Aberdeenshire.
East Garioch councillor Martin Ford, a prominent critic of Donald Trump's golf course at Balmedie, said he believes it is right for furloughed Trump Organisation workers to be able to get cash from the government's scheme.
But Mr Ford also argued there could be questions raised about large companies with a lot of money behind them putting their hands in the public purse.
He said: "The staff involved should be able to benefit from government support like anyone else similarly affected.
"Whether a business owned by someone who claims to be a multi-billionaire is right to be seeking government funding is another matter.
"We are in the midst of a crisis that is causing immense financial hardship for many individuals, and will impact on the UK's public finances for decades to come.
"Some wealthy individuals have responded by making significant public benefit donations to help the country or individuals – indeed, there has been a huge wave of altruism through society.
"I don't think it would be possible to impose a test of suitability or deservedness on the business owners to decide whether they can use the government scheme.
"The onus has to be on individuals who can afford to get through the crisis without recourse to the public purse choosing not to call on public funds."
John O'Connell, chief executive of the Taxpayer's Alliance, added: "Companies using the scheme should keep in mind this money ultimately comes from taxpayers, and support should only be sought if it is really needed.
The Trump Organisation could not be reached for comment yesterday, but Eric Trump previously told the American news organisation CNBC: "The job retention plan created by the UK government has nothing to do with the Trump Organisation, and does not benefit the business – it is solely about protecting people and their families who would otherwise be out of work."