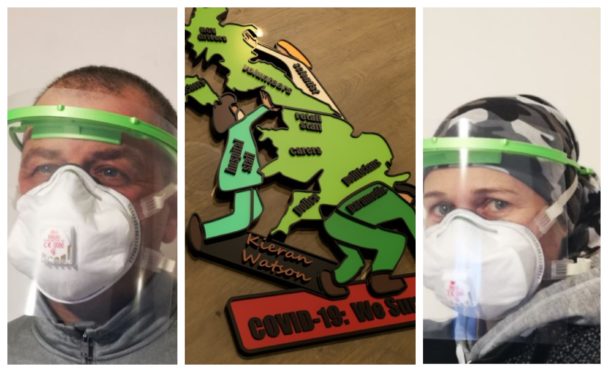 An Aberdeenshire couple have transformed an 11-year-old's drawing into a fridge magnet to celebrate front line workers during the coronavirus outbreak.
With the help of six specialised 3D printers William Donald and fiancé Lyn Stewart, owners of printing firm Inov3d, are creating the NHS Hero Fridge magnet that was based on a design made by Kieran Watson.
The boy from Falkirk created a drawing that depicts the solidarity of the UK during the pandemic outbreak as front line workers hold the country together with the strap line "Covid-19: We survived".
After the drawing went viral on Facebook, Mr Donald approached Kieran's parents asking if they could make it into a magnet.
He said: "I spotted the design on social media – the post went viral and has been shared more than 170,000 times.
"I contacted Kieran's parents, Paul and Jennifer, and asked if we could make this into a real life model and they happily said yes.
"A few minor changes were made before the model was created using a program called Fusion 360. Afterwards each design is hand painted with pearl and glow in dark powder."
Sales of the magnet is aiding production of face masks made by the St Fergus based company.
Mr Donald continued: "Lyn and myself love 3D printing, we've been doing this for more than four years.
"With the ongoing pandemic we just wanted to do our bit and help out like a lot of people in our community.
"We have stopped all other projects and are now focusing on printing visors, mask straps, plaques and the fridge magnets."
The 30-year-old ground worker is currently furloughed whilst his partner works in retail.
Describing the manufacturing process, Mr Donald said: "We can print 60 face masks a day on six machines, each set of two takes roughly one hour and 30 minutes to print.
"Once completed, the PPE is then distributed to anyone who needs them."
To find out more visit the Inov3d website or click here to view the crowdfunding site.
Fridge magnet purchases can be made online and at the Nisa Local shop in Mintlaw.