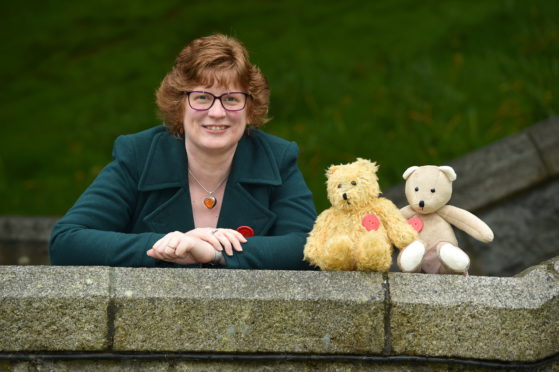 A north-east charity that has taken colossal steps to reduce the stigma around stomas is celebrating its fifth anniversary.
In the UK, it is estimated that over 13,500 people undergo stoma surgery every year, but it remains a little talked-about condition.
A stoma is an opening on the front of the abdomen created during surgery to allow faeces or urine to exit the body and be collected in a bag on the outside of the body.
Those with a variety of conditions, including bowel and bladder cancer, inflammatory bowel disease, diverticulitis or an obstruction to the bladder or bowel, could need one.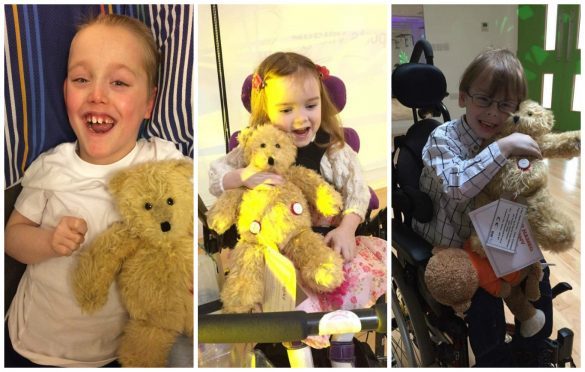 When Jennifer Gow's daughter, Eilidh, got a stoma the family had "no idea" what to expect.
To raise awareness for future families, the Ballater-mum teamed up with her friend Lynn Park to launch the Buttony Bear project on May 6, 2015.
They decided to create a cuddly bear that had a button in its abdomen in the same position as the child's stoma.
The idea took off, and the charity has since distributed 3,072 friends to children.
Mrs Gow, who was given an MBE last year for her charitable efforts, said: "It has been a team effort from day one.
"All the bears are sewed by Lynne or myself.
"It's always been really positive and we love speaking with families.
"It's also been very therepuetic and given us something to focus on in hard times."
Today, the charity unveils its first patron in the form of Royal Aberdeen Children's Hospital's surgeon Chris Driver.
It's a poignant appointment, given the fact Mr Driver created the first stoma for Mrs Gow's daughter.
"A Buttony Bear can make a huge difference to a child with a stoma," he said.
"It does make a child feel different and having teddy that they can relate to can make the process of acceptance much easier."
In two weeks, the charity will also be launching a brand new project for teenagers and young adults.
For those perhaps too old for a bear, they will be given a sleek wash bag filled with pouch covers, a pouch bag, a mental health awareness card and a wee "bear hug" token to keep Buttony alive.
'Buttony is more than just a bear'
The very first recipient of a Buttony Bear was Ava Wilson.
At three-years old, she had her very first operation at hospital and got a stoma shortly afterwards.
Countless hospital appointments have followed for Ava since then, but Buttony has been there every step of the way.
Ava, now nine, explained that Buttony makes her "feel more confident" and is still a big part of her life.
Mum Aby Wilson added: "We were not prepared for a stoma and it was difficult to get our head rounds.
"I was looking for help on social media and Jenny reached out and offered to send us Buttony.
"At four-years-old it was really hard to explain what was going on to Ava, but he made it easier.
"Buttony is more than a teddy. He also represents the wider support available."
To anyone just beginning their stoma journey, the family advise: "Reach out to the charities out there.
"Don't feel alone."
---
Click here to find out more about a Bear named Buttony.