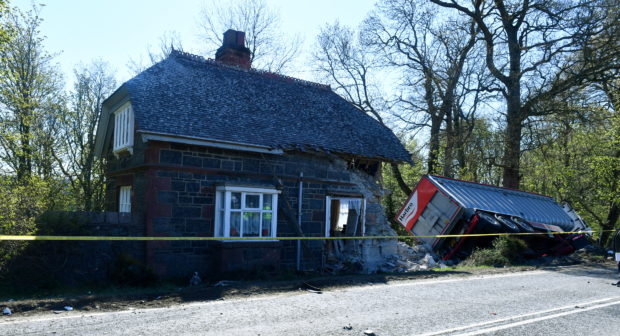 A north-east community has pulled together to help one of their members in his hour of need after a lorry crashed into his house.
Emergency services rushed to Fyvie Station yesterday morning when the vehicle was involved in a collision with another vehicle, left the road, and struck the property.
An elderly man in his seventies was in his bed when the vehicle crashed into his house but fortunately the room was at the other end of the property.
It's understood no-one sustained serious injury and that the female driver of the car and male lorry driver were taken to hospital as a precaution.
Residents living on the street pulled their resources together to ensure the elderly gentleman had supplies to get through the night.
Alan Robertson lives on the opposite side of the road and was watching television when he hard a massive bang.
Initially thinking something had fallen off of a lorry, it wasn't until he looked out of the window he realised there had been a serious incident.
He said: "What a thud it was. Our whole house shook. My wife was still in bed and she felt the full house shake.
"I went out and looked at the front of the house and the lorry had simply taken off the end of it.
"The young lady driving the small van was very lucky she didn't have a passenger.
"She was bleeding from the left side of her head by the time I got there and asked me to get her phone from the passenger side, but there was no way we could have got it.
"The man that stays in the house must have got one hell of a fright but luckily his bedroom is on the other side of the house.
"It is unbelievable that no-one was seriously injured."
Fyvie Estate Management Co Ltd owns the property and a spokeswoman confirmed they would be providing the man with accommodation as they did not yet know the full extent of the damage.
Although he did not sustain any injuries, it is understood the homeowner was left very shaken by the incident.
A police spokesman said: "We were called at about 8.15am on Thursday following reports of a lorry crashing into a house and another vehicle on the A947 road, near Fyvie.
"There do not appear to be any life-threatening injuries."
Three fire appliances also attended. The road was closed for a number of hours.