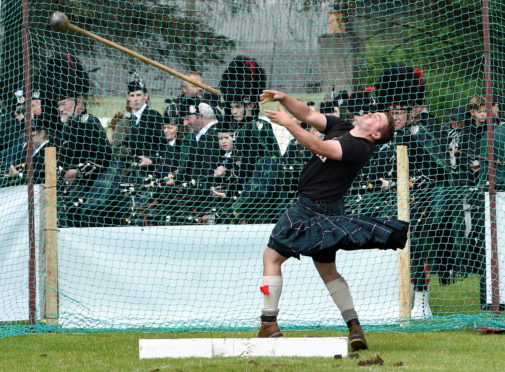 In the first of our three-day series looking at the impact of the coronavirus pandemic on the Highland games, reporter Kieran Beattie finds out how heavy event competitors are throwing their weight behind efforts to keep the annual celebrations alive.
The roar of a kilted competitor as he hurls the caber through the air, the anxiously held breaths of the crowd and the joyous applause awarded for a successful throw are perhaps the most iconic sounds of Scotland's world-famous Highland games, save of course for bagpipes.
But this year, arenas in communities both big and small across the whole of the country will remain silent as the annual events, which have gone on for decades, have now been almost completely called off.
For the heavy events' athletes the loss is a particular hammer-blow after training weekly since the end of the previous season last September, as this year there will be no grand prizes to be held high or records broken.
However, the spirit of competition and fraternity shared by Scotland's heavies has endured with many of the muscly men deciding to use 2020 as an opportunity to hone their skills or try something new.
Sinclair Patience, from Inverness, has been taking parts in heavy events such as the 56lb weight over the bar, throwing the hammer and tossing the caber for the past 10 years.
The 33-year-old, who is a regional development manager for Scottish Rugby, said he turned his frustration at the lack of games into creativity.
Together with his friend and fellow thrower Kyle Randalls, Mr Sinclair has started a podcast on Youtube about heavy events at the games called Life Behind The Trig.
Mr Sinclair said: "It's not looking like there will be any Highland games at all, so we're doing all we can to try and keep in touch with each other as athletes.
"The throwing community in Scotland is pretty tightly knit, we have a core group of around 30 to 40 athletes and we tend to keep in touch quite regularly.
"The idea is that with the lockdown, and no competing for the whole season we just wanted to try and keep people connected with the podcast, speaking to different throwers and finding out about their stories, how they got involved, and their thoughts on the future of the sport.
"We just want to keep seeing things grow over the next few years, and as this year is looking pretty tough."
Fellow heavy competitor James Dawkins, 27, has been throwing weights around Highland games arenas since he was 17-years-old.
Mr Dawkins, from Aboyne, said: "There's nothing anybody can do about it, but one good thing is that it's giving us more time for training.
"We obviously can't get into the gyms, but there's a lot of other stuff we've been able to do for practise.
"All we can do is keep it up, and get ready for next year."
Loss of Highland games season could cost Scottish economy £25 million
The Highland games season is estimated to generate around £25million for the Scottish economy each year, but with so many cancelled for 2020, local communities are steeling themselves for a far quieter summer.
Already, 52 of the Scottish Highland Games Association's 60 have been called off – which secretary Ian Grieve described as a "total disaster" for tourism.
However, he said he hoped that by cancelling games far in advance, games committees might be able to avoid the worst of the financial repercussions.
He said: "On the positive side, cancelling early possibly has the benefit of saving some games from incurring any costs at all.
"Fast-forward 12 months, and hopefully many will be in relatively the same position as they were financially, but obviously little communities will feel the effect a lot more strongly than larger ones.
Mr Grieve said as the lockdown has continued, it became more and more evident that even the latest games in the season, such as Braemar in September, would also be postponed until 2021.
He added: "It's a fairly short season, and this will have a big impact and really be a total disaster for tourism.
"We've been trying our best to keep everyone as up-to-date as we possibly can on the website, but it's rarely good news unfortunately, there has just been so many cancellations.
"The hope is with a year off, in 2021 people will be coming back with a new enthusiasm and appetite for having missed a year."
The SHGA hosts 500 athletes competing for more than £250,000 in prizes across Scotland at more than 1,000 competitions and events across the season.
For many of the games, a great deal of which date back with more than 150 years of tradition, it is the first time they have been cancelled since the Second World War, bar a few exceptional call-offs caused by the weather.
Chris Taylor, regional leadership director at Visit Scotland, said the games are an "important part of the rich tapestry of Scotland's cultural identity", and are a "popular draw for international visitors".
He said their cancellation will prove extremely difficult for the tourism industry,  as they provide a "welcome boost to local economies", particularly in rural areas, "with accommodation, providers, shops, restaurants and local businesses all benefitting."
But he believes tourism will prove a "key part" of Scotland's post-coronavirus economic recovery, and added: "We look forward to the return of the Highland games when it is safe to do so."
Loss of Lonach Gathering will be "massive blow" to only shop in Strathdon village
As the only local grocery shop in the community, the Spar in Bellabeg provide a key service to residents in rural Strathdon.
But without the yearly Lonach Gathering in August, which is held in the field just across the road, its owners Jamie and Denise Howse say they are facing a "massive blow" to their annual revenue.
Although they have been able to provide local deliveries to vulnerable people in the area, they said the economic impact of games being cancelled for small businesses like theirs cannot be underestimated.
But more than that, Mr Howse said he will miss the spectacular annual tradition of the Lonach Gathering, which is the very reason he and his wife moved to the area in the first place more than six years ago.
Mr Howse said: "It's a huge revenue generator for us, the whole of the month of August brings in thousands of people to the village, and not just on the day itself which sometimes brings in up to 9,000 visitors.
"We will have to absorb the loss of that, and have to look at how we're going to adapt and overcome and trade through this awful time as a local retailer."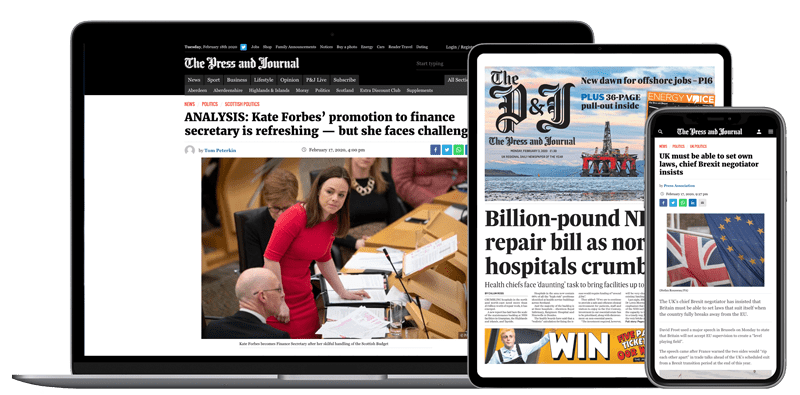 Help support quality local journalism … become a digital subscriber to The Press and Journal
For as little as £5.99 a month you can access all of our content, including Premium articles.
Subscribe