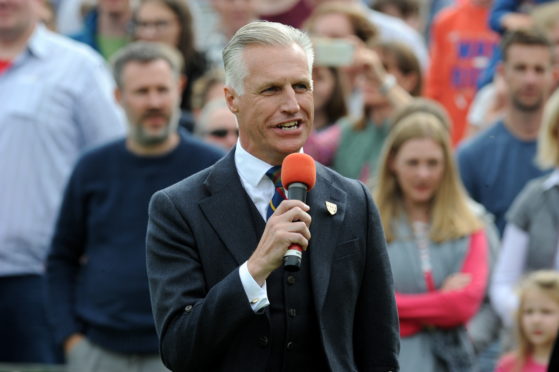 In the second of our three-day series looking into the impact of the coronavirus pandemic on the Highland Games, Kieran Beattie and Kirsten Robertson find out how commentators and games bosses are handling the crisis
It is more than 20 years since he made his debut as a commentator at the Braemar Gathering, but Robert Lovie still loves taking part in the annual spectacular.
But this year, the traditional singer, compere and beloved games commentator is one of thousands of fans preparing for a summer without the usual heavies, dancing and piping competitions due to coronavirus.
Mr Lovie typically attends 12 events a year throughout Aberdeenshire, Moray, Angus and Perthshire, welcoming both visitors and competitors alike with his unmistakably Doric commentary over the arena loudspeakers.
The entertainer has been singing since he was just eight, but this year his usually packed calendar of events – including the Lonach and Braemar gatherings, has been left empty as a result of the pandemic.
Mr Lovie admitted that seeing the games being called off one by one in recent weeks has "ripped me up inside"  but said he feels most for the "communities, organisers and competitors, because this is their whole life".
He said: "It's so hard to think that all the leagues, the camaraderie, the sportsmanship, the tourism – the whole thing just won't happen for a whole season.
"The knock-on effect for economies and people's morale cannot be underestimated.
"It's such a huge part of my life. There's a great family spirit here, as we see each other almost every weekend at the height of the season.
"That spirit will be something we will truly miss this year, and that's sad to think about and sad to bear in many respects."
The charismatic commentator said of all the highlights, there are four he will miss most – announcing when athletes break long-standing records, the March of the Lonach Highlanders, the friendships he has made, and the Braemar Gathering, which he described as the "pinnacle of the season" with its yearly attendance by the Royal family.
He urged those missing the sounds, sights and traditions of the games this summer to spend time reminiscing and sharing memories of the games, such as Mr Lovie's story of how he first became a commentator.
He said: "My good friend Robbie Shepherd called me up just over 20 years ago, and said he was looking for someone to train up a bit for commentary at the games.
"I had attended a few, but never thought about commentating, but Robbie asked if I fancied coming up to shadow him at the Braemar Gathering.
"So, I strapped on my kilt and went to Braemar, but little did I know that the devil had organised a second microphone and a fresh clipboard for somebody else, and he said right you do these events, and I'll do these – so I really was thrown in at the deep end."
He added: "What I think we need to do through the year is find some way to keep the Highland Games in our hearts and memories when we can't have these events.
"The Highland games are all about loyalty and a strength of kinsmanship, and I believe the resolve will be there, and I have great faith that next year we will be more than prepared to bounce back, with great pride and joy and make 2021's games even better."
'Bigger and better' promise for 2021, as Tain recalls storm-hit games of 2015
In years gone by, it has been a very Scottish reason that has threatened cancellation of the Tain Highland Gathering.
Torrential downpours lashed at the Highland town in 2015, leaving its ground at Glenmorangie completely flooded just two days before the start of the event.
Organisers raced to the field and attempted to dry out the grass, amid fears they may have to cancel.
Tain Highland Gathering secretary Fiona Sutherland recalls: "I didn't sleep a wink the night before.
"I was up at the window every five minutes to check the weather.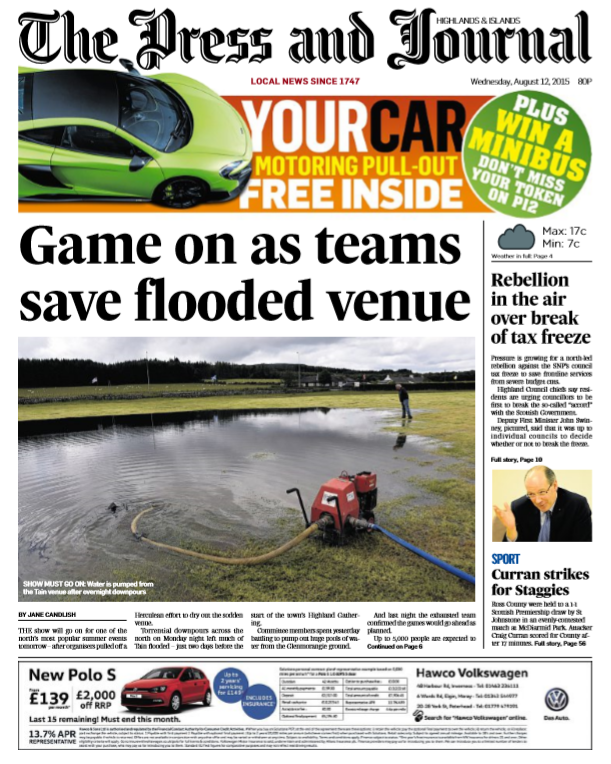 "And, somehow, in the morning there was sun. It ended up being one of the hottest days of the years."
The Games at Tain started up between the Wars but, after a few years, fell into abeyance.
There were no Games between 1948 and 1993, when they were revived by Murray Macleod and Wattie Louden.
Typically, the Tain Gathering attracts around 5,000 people to watch track and field events, dancing and cycling competitions and the traditional heavy contests.
People from across Europe, America and Canada flock to the event and many Americans embarking on tours of Scottish games make sure to include Tain.
This year's Gathering, due to take place on July 11, was cancelled recently after much discussion.
Mrs Sutherland, in her 24th year as secretary, said: "It is a bit sad, and a bit strange.
"We held-off cancelling as long as possible in the hope things might look better for summer.
"But even if we were able to hold the Games in July, the footfall wouldn't be there – and we do rely on on the gate money."
Usually, Mrs Sutherland would typically exchanging emails with foreign visitors over booking tickets and travel arrangements, and has had to break the news to some that the Gathering will not be going ahead, for the first time in its 28-year history.
It has led to many interesting conversations about the impact of lockdown across the world.
She recently went "back and forth" with a German family who were interested in learning how lockdown in Scotland compared to that in mainland Europe.
Mrs Sutherland added: ""I love the atmosphere, the crowds, the pipers, the chieftain parade. It's a very special time of the year and we will miss it.
"Consistently, the committee has been trying to keep positive and keep saying to each other that next year will be bigger and better than ever."
Assynt Highland Games cancellation will have 'major impact on local economy', says games chairman
As chairman of the Assynt Highland Games, Stuart Gudgeon says it has been a "very busy, difficult time", but he knows cancelling the August event was the right thing to do.
Held every year in the fishing village of Lochinver ,at Culag Park, Mr Gudgeon says the games are the "biggest day of the year" for local bars, restaurants and hotels.
Mr Gudgeon, who is an area life-saving manager for the RNLI, said: "We had been very optimistic hoping the situation might improve, and there was a thought to hold off and wait, but the reality of what was happening soon set in.
"We are relatively small games because we're so remote, but the games in recent years have attracted an average of around 1,750 people.
"It will have quite a major impact on the local economy not to stage the games this year.
"But I'm quite confident that local businesses will find innovative ways to overcome what will be a very challenging season for them.
"We have already started looking at making next year's games bigger and better, as well as working on what we might need to change or what aspects of the games we may need to stop entirely in response to the Covid-19 situation."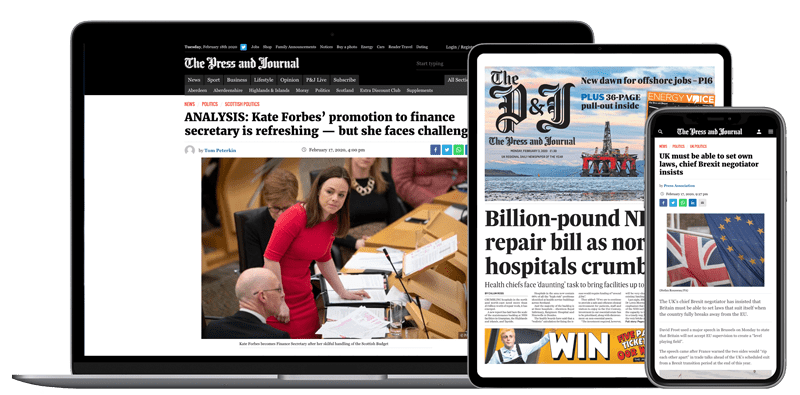 Help support quality local journalism … become a digital subscriber to The Press and Journal
For as little as £5.99 a month you can access all of our content, including Premium articles.
Subscribe