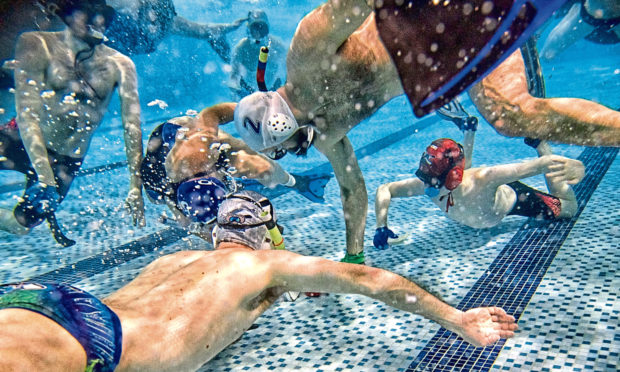 The puck skids across the floor and there's a flurry of limbs as players take their position.
The aim is simple; hit the puck into the opponents' goal.
The team that scores the most goals in the allotted time is the winner.
It sounds like a perfectly ordinary hockey game, only the goals have been sunk prior to each team taking their position.
And instead of hockey boots or skates, the players don flippers before sliding into the water.
Their scant attire also includes a mask, snorkel, swimming cap and the all important glove which enables each player to hold a 12in stick with a blade edge.
If you hadn't guessed it already, this isn't your average hockey game.
There's no rink or field, just the swimming pool at Portlethen where dedicated players meet every Thursday.
Training may be on hold for the time being, but the enthusiasm is still very much alive.
The north-east has two underwater hockey teams, including Aberdeen Reef Rats.
With players ranging in age from 18-50, team members come from all walks of life.
For Mike Wright, a love of the game has followed him across the decades.
The 42-year-old father of two first started playing when he was just 17.
And although there has been the odd break here and there, Mike has also travelled the world to compete in underwater hockey tournaments.
He balances games alongside his job as an HSE manager in oil and gas, and hopes his children may become the "next generation" of players.
But how does the game actually work, from coming up for air to hitting the puck when it's on the pool floor?
Mike explained the rules, and hopes some new recruits will come forward.
I came to Aberdeen in 1995 for university.
I was already a swimmer, plus I played field hockey.
That's how I got started, but I took a break when I went to work abroad.
We are lucky to have a very active university club, Aberdeen Reef Rats boasts a real mix of players.
I think the game is much better known than when I first started out.
At the very top level, underwater hockey can be very competitive.
Team GB does pretty well, and the women's team had an amazing final in Canada last year.
There's also local and Scottish competitions with mixed teams.
If you are waiting for a pass, you're holding your breath.
It is all about your CO2 tolerance. It goes up because the need to breathe is suppressed.
If you are going full pelt in a game, you can be holding your breath for 40-50 seconds.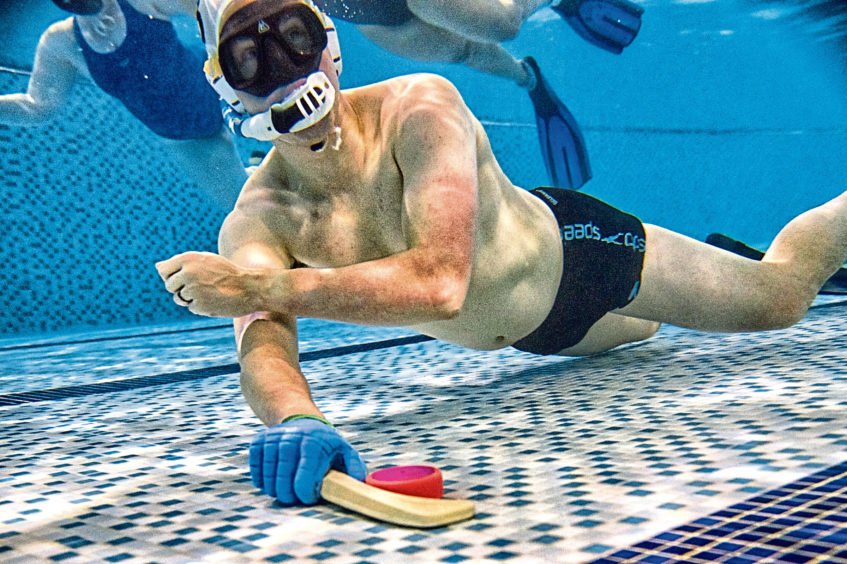 It can be as long as two minutes if you aren't doing anything.
We have a slot in Portlethen and we play every second Friday at Robert Gordon's University.
There are six players in the water and four subs.
Funding is always difficult because it's a minority sport.
A lot of the time it's self-funded, so we have to pay to enter competitions.
The biggest problem is pool cost.
If you're new to the game, you normally wear a red hat.
This is so other players know to give you a bit of breathing space.
The hardest thing to master is the timing, being on the bottom of the pool at the right time.
Once you've put on a set of fins, your swimming ability changes completely.
We've even had smokers give up in order to play better.
Quite a lot of players come from Orkney, the only place in Scotland where the kids can play at school level.
Kirkwall have an active club at secondary school level, so the players get a head start.
There is such a mix at club level, old timers and players who have returned in their 60s.
I can remember when they had young kids, and now those kids are playing as adults.
My two children are just waiting until they are old enough to play, so we can have a next-generation team.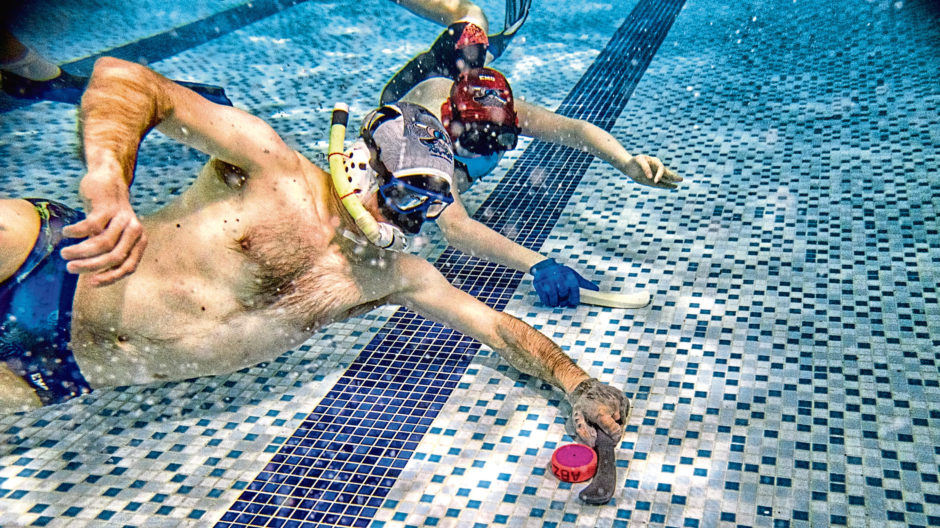 Although the game can get rough, it's not as dangerous as something like rugby.
I was playing in Hungary once, and someone from the Serbian team dislocated my shoulder.
I had my arm extended, and someone went into the back of my shoulder and popped it out at the front.
That doesn't happen very often though.
It's the game and the comradeship that I love, it's something a bit different.
You're not just swimming up and down the pool.
Once you get into the water, you don't think about anything else except the game.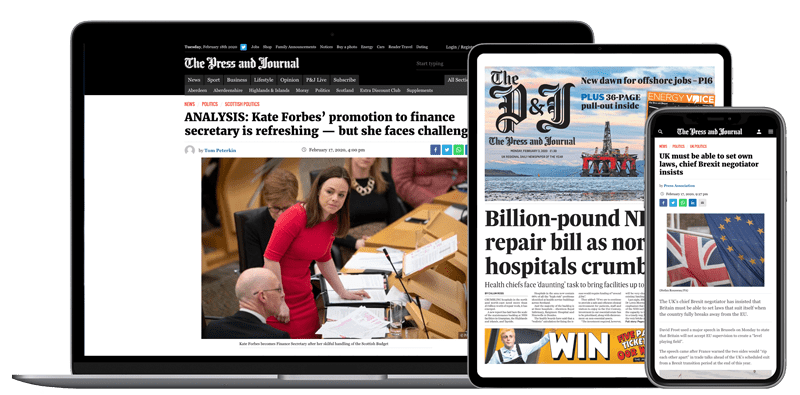 Help support quality local journalism … become a digital subscriber to The Press and Journal
For as little as £5.99 a month you can access all of our content, including Premium articles.
Subscribe