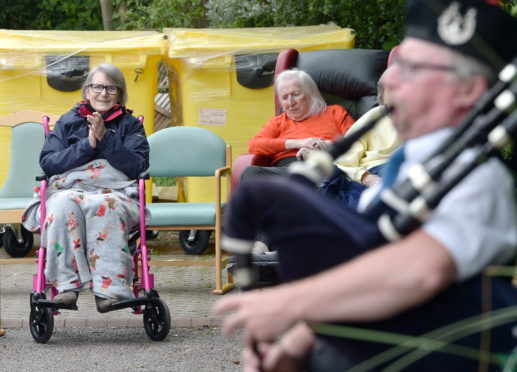 Staff and residents of Stonehaven care homes were treated to performances from a pair of pipers as hampers full of tasty treats were dropped off.
The Stonehaven Twinning Group's Phil Mills-Bishop and Richard Holman-Baird toured the town's Clashfarquhar House, Mowatt Court, Edenholme and Haven Court facilities to drop off packages to spread some cheer.
As well as various sweeties and fine pieces, the presents also came with letters from children in Athens, Alabama, and a letter from the Mayor of Athens – Stonehaven's twin city in the US.
Mr Mills-Bishop and Holman-Baird were joined by Newtonhill Pipe Band members Jamie Boyne, 13 and Gary Brindley, a maths lecturer at RGU, as they serenaded the staff and residents with accompanying singing from Bothy balladeer Geordie Murison.
Mr Mills-Bishop said despite the overcast day, the gifts and music "brought some sunshine to the faces of the care home residents", who went outside to enjoy the show.
Care home staff and residents, as well as local children, will now reciprocate by sending their own greetings cards to communities in Athens, Alabama, along with "tartan treats" such as Tunnock's Tea Cakes and postcards showing off Stonehaven.
Mr Mills-Bishop, the chairman of the twinning group, said: "Many people have been sharing their support for care home workers and residents of care homes during the lockdown, and some time ago myself and Richard Holman-Baird and our friends in Athens Alabama came up with the idea of handing out goodies and providing some entertainment for them locally.
"We included cards expressing concern and support for those in Stonehaven care homes from the kids in Athens, and although it took almost three weeks for them to arrive from America.
"The residents lined their balconies and the forecourt, it really was something to see.
"Our pipers were absolutely brilliant, and the elderly residents just loved to see a young piper of Jamie's age, he just stole the show.
"This was a fabulous expression of friendship at a difficult time, and that's what the twinning group is all about – it's not about politics or anything like that, it's all about supporting people and communities wherever they may be."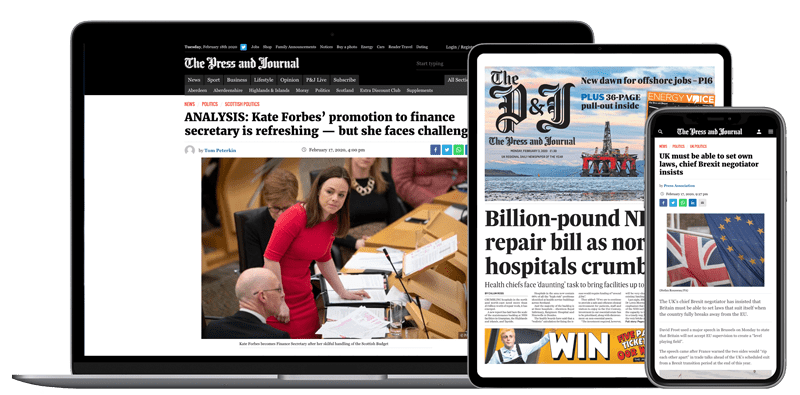 Help support quality local journalism … become a digital subscriber to The Press and Journal
For as little as £5.99 a month you can access all of our content, including Premium articles.
Subscribe