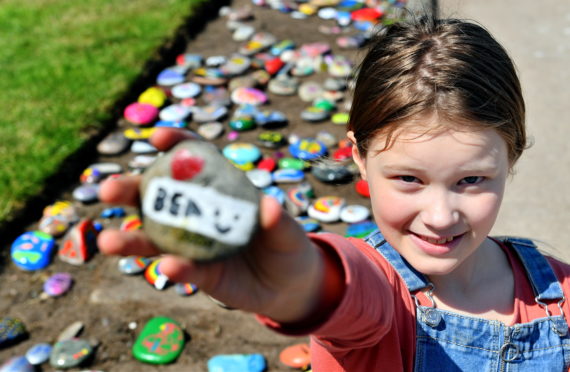 Memories of life in lockdown are being set in stone in communities across the north of Scotland through a whole rainbow of painted rock projects.
Children of all ages have been encouraged to have a go at painting messages and pictures on little stones for artworks in towns and villages including Aviemore, Stonehaven, Invergordon.
Yesterday evening, the finishing touches were being put in place on a display on Stonehaven's promenade, just behind the town hall.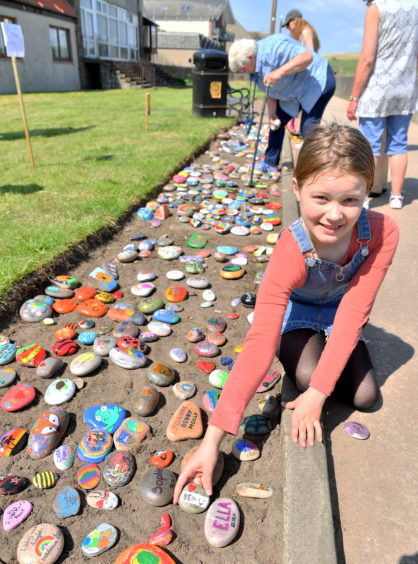 Hundreds of the colourful creations, made by both children, grown-ups and artist alike, will be put in cement and then lacquered as a lasting reminder of the lockdown.
The Stonehaven project has come to fruition through a partnership between the council, the Stonehaven Town Partnership and the Stonehaven Horizon Group.
Aileen Phillip, of the Horizon group, said yesterday: "So far we've collected hundreds of stones.
"We spent all day making a pattern out of them and we'll put small stones and shells between them to make it look really nice.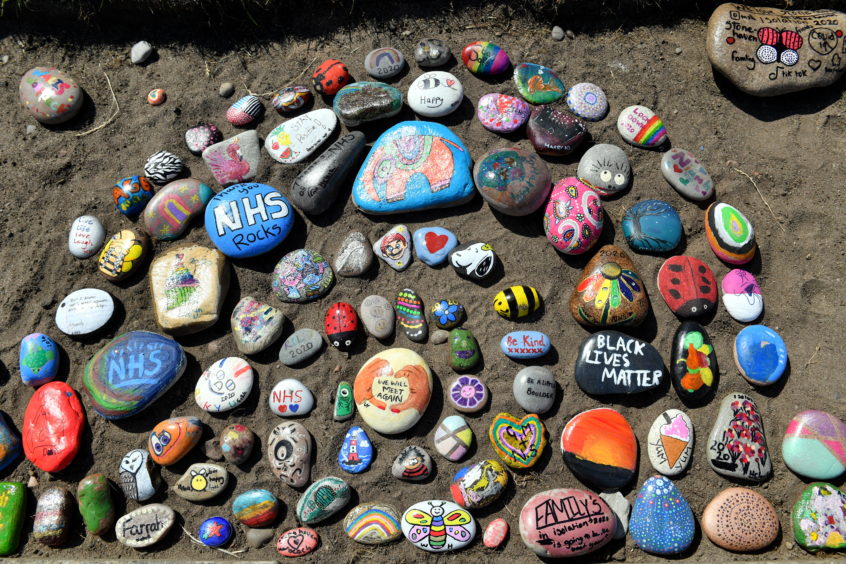 "Lots of kids have been coming down to see where their stones are in the display, so we hope this will be something that will last for a very long time, especially once it gets lacquered."
In Aviemore, colourful stones have been making an attractive addition to woodland trails around the community.
Created by local children, they've been spotted in ever-increasing numbers by those enjoying a lockdown stroll around the town's green spaces.
And now, youngsters are being encouraged to hand-paint even more stones to form a unique artwork that will act as a lasting reminder of life in lockdown.
The mural will form part of the transformation of the Village Green, which includes a new bandstand.
To carry out the project, Aviemore and Vicinity Community Council has approached members of the Aviemore Primary School parent council to recruit children to help out.
Aviemore councillor Bill Lobban said: "The redevelopment of the village green has long been a desire of the whole town and will be a massive improvement.
"A huge amount of work has gone into this over many years and the addition of a children's mural will really finish the whole project off and give the next generation a sense of ownership of their space."
The project is similar to efforts made by youngsters in Ross-shire who created a signature mosaic for their community's newly-transformed memorial garden.
That mosaic – also made-up of hand-painted pebbles – will be the latest addition to the Natal gardens in Invergordon, which commemorate the crew and civilians who lost their lives on board HMS Natal during the First World War.
Dozens of stones have been created by school children from South Lodge and Park Primary as well as residents and businesses, with groundworks to get underway in the coming weeks.