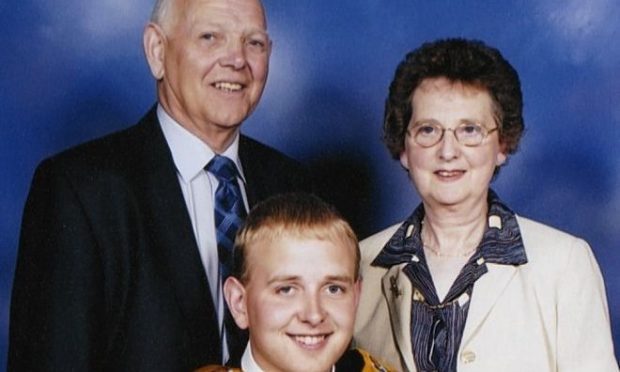 The widow of a north-east farmer found mysteriously injured outside his home has revealed she still feels guilty for sending him to look for intruders.
Sandy Ingram died a year after being found lying unconscious in the grounds of his home at Elrick House, Newmachar, 10 years ago today.
The 79-year-old had gone to investigate after his wife, Ann, spotted two men in the grounds at about 11pm.
Now, for the first time, Mrs Ingram has described how events unfolded on the night that "turned her life upside down" – and how she never went back to live at the family home.
She and her son Andrew, who still farms nearby, continue to appeal to anyone with information about what happened on June 19, 2010, to come forward to finally afford them some closure.
Despite an extensive police investigation, it has never been established if Mr Ingram was attacked by the two men his wife saw or if he fell.
He suffered extensive brain injuries and underwent surgery, but was never able to tell his family what happened when he and golden labrador Emma went outside to investigate.
"I can't believe it is 10 years," Mrs Ingram said. "It's a long time but it is still so fresh in my memory.
"We've never had any closure over what happened. We have our own thoughts, but there's never been anything concrete."
It had been a run-of-the-mill Saturday for the couple, who had been married for 36 years having first met at a dinner dance organised by the Inverurie tug o'war team.
Mr Ingram had come in from cutting the grass at about 8.30pm and made some coffee before settling down with his paper.
His wife, who was on crutches following an accident the previous year, went off to bed with her book.
But at about 11pm, Mrs Ingram heard a noise and got up to look outside.
"It was still light because it was late summer and I saw people out the back," she said.
"I woke Sandy up and he went downstairs to take a look. That was the last I saw of him until I began to wonder why he hadn't come back in.
"I struggled downstairs on my crutches and went outside.
"Our dog was making a strange barking noise and I couldn't understand why.
"Emma used to follow Sandy about everywhere and she was behaving strangely.
"That's when I found him lying on the ground.
"It's the kind of thing I still go over in my head today.
"I think 'Why did I wake him up to go out? If I hadn't, he might be still here,' or 'Why didn't I go and look out the window sooner?' but you can't live like that I suppose."
Mrs Ingram dialled 999 and by the time police and ambulance crews had arrived, her son Andrew and brother-in-law Robert and his wife had arrived at the farm.
Mr Ingram, who was described as "very fit and active" by his son, underwent surgery for a bleed on the brain at Aberdeen Royal Infirmary.
Although he regained consciousness, and was transferred to Woodend Hospital's rehab unit, he was never able to tell his wife – who kept an almost daily vigil by his bedside – what happened.
Mrs Ingram said: "He was never responsive. Some days we got a smile but it was very seldom.
"He was just vacant and very disturbed. It was really quite heartbreaking to see him like that."
He died nearly a year later at Garioch Nursing Home in Inverurie on June 2, 2011.
His cause of death was listed as head injury, immobilisation and bronchopneumonia.
Poignant photographs of the couple were released by the family in a desperate attempt to persuade anyone holding back information to contact the police, but over the last 10 years, there has been little progress.
Mrs Ingram said: "The police did a good job of keeping us up-to-date initially, but I haven't heard very much in the last few years because obviously they've got nothing to tell us.
"It's a quiet road to the house, so I know the likelihood of anyone have seen anything is low.
"But if someone knows something about what happened to Sandy that night, please come forward. It is not too late.
"I saw his brain scans when he was in hospital and – though I'm not a medical person –  I don't think he would have got those injuries just from falling.
"I would just like to get some answers,. We've not had any conclusion to this and we can't really grieve because we don't know what happened.
"If someone has cancer and dies, you know they died of cancer, but I don't know what happened to Sandy that night."
Mrs Ingram, a retired bank clerk, never stayed at Elrick House again and the estate was sold about five years ago.
She credits her "good friends" for getting her through the dark days, as well as the members of the Aberdeenshire SWI, of which she was treasurer for 15 years.
"I have Andrew and his wife and some really good friends," she said.
"But it's hard – Andrew has never really got over losing his dad in these circumstances and it's extremely difficult for me too. We just try to support each other.
"It's always on my mind. There's never a day goes past that I don't think about it. I know people might think that's stupid, but it's forever there.
"If anyone knows anything, no matter how small, please come forward and tell me what happened to my husband."
Detective Inspector Martyn Thomson said: "As with all long-running inquiries, we will react to any new information we receive.
"A thorough investigation was conducted at the time but we have yet to establish what happened to Mr Ingram that night.
"Our thoughts continue to be with Mr Ingram's family, particularly at this poignant time."
Anyone with information should call police on 101 or Crimestoppers anonymously on 0800 555111.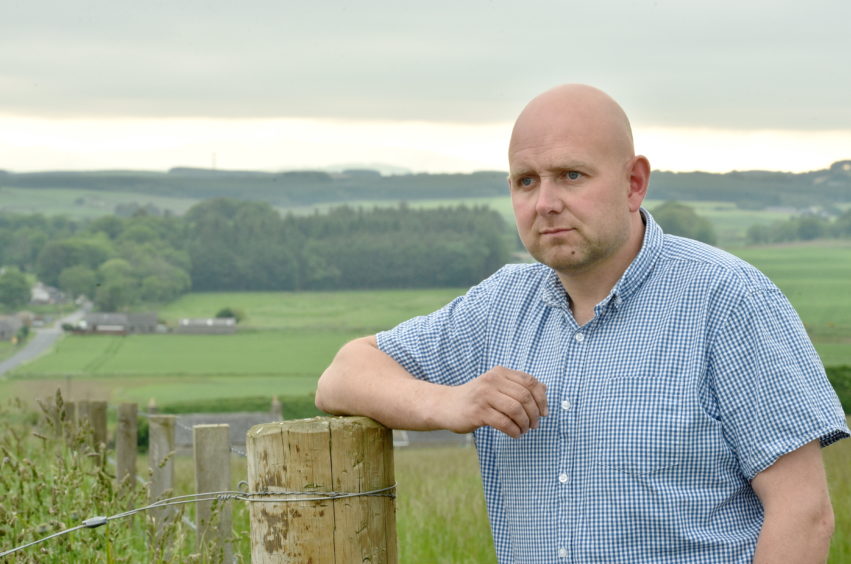 'IF IT WAS AN ACCIDENT JUST TELL US WHAT YOU SAW'
When Andrew Ingram got the call to say his father Sandy had been found seriously hurt his life was "turned upside down" in an instant.
The 38-year-old had not long returned home from working on another nearby farm when his mother Ann phoned.
"I went straight over and was met at the end of the road by the police," he said.
"I was taken down to the house and just saw dad lying there.
"At that point, there was no indication from the police about what they thought had happened, but my mother said she had seen people outside.
"Sometimes during the day we'd get people wandering about the estate, but never really at that time of night."
One of the men spotted was wearing a light baseball cap, possibly green, with a darker peak.
The other was wearing dark clothing and had long dark hair, almost to his shoulders.
Mr Ingram jun, who farms at Brokenwind, about a mile from Elrick House, has no doubt that "something" involving those individuals happened that night.
"There was definitely someone there, it's too much of a coincidence," he said.
"Dad and I were always working together on the farm and he was very fit for his age.
"When we got to the hospital we had a long wait in the waiting room and were told he had suffered a massive brain injury.
"It all just became a bit of a blur, but I remember thinking that someone had done this to my dad and hoping we would catch them and find out what it was all about.
"That one night just turned everything upside down. Everything stopped."
Mr Ingram jun is urging anyone who may have something suspicious – before or after the incident – to contact the police adding, "no piece of information is too small".
"My father was hard-working, caring and had a lot of time for people," he said.
"We're still hoping every day that we will get an answer. That something is going to turn up."
When asked what he would say to the two people his mother saw on the estate on June 19, 2010, Mr Ingram jun replied: "I would just ask them to come forward and explain what happened that night.
"If it was an accident, just tell us what you saw."
WHO WAS SANDY INGRAM?
Sandy Ingram may have been in his 70s, but he had no plans to step back from farming.
And his widow believes he would have continued working the farm at Newmachar for years to come.
Having grown up locally, the beef and arable farmer took on the property at Elrick House and was well-known within the community.
He was involved with the Young Farmers' Clubs and, in his earlier years, had been a member of the Inverurie tug o'war team.
It was through the team's annual dinner-dance that he met his wife-to-be, Ann.
The couple were married at Newmachar Parish Church in 1974, and had one son – Andrew, now 38.
Mrs Ingram described her husband as a "family man" who would do anything for those he cared about, and admitted his absence has been hard at gatherings over the last decade.
"He was always a cheery person," she said. "He was also very sensitive and caring.
"He was a family man and loved his nephews and nieces and was always very fun with them."
At weekends, Mr and Mrs Ingram would head-off for a drive through the countryside.
It normally featured an ice cream stop, no matter the weather.
Mrs Ingram added: "I don't think he would have retired. He'd have continued farming because it was always what he wanted to do. He liked being busy and being outside.
"He just loved his animals."
Mrs Ingram said beloved golden Labrador, Emma – who had alerted her something was wrong on the night Mr Ingram was injured – had only died six months ago.
"She was never the same after that night," she said.
"I only lost her six months ago, but I always felt like this really affected her.
"I don't know if it's just because Sandy wasn't there, and she was more or less his dog, or it's because of what happened that night."