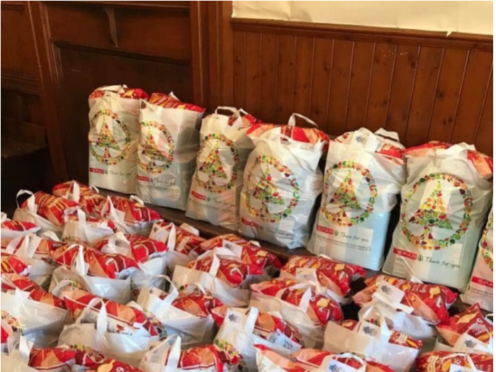 The organisation that runs the Lonach Highland Gathering has helped lift the spirits of its elderly members by giving them hampers full of food during the pandemic.
The Lonach Highland and Friendly Society, which is behind the annual gathering in Strathdon, has distributed 47 hampers during lockdown to its oldest members.
Each hamper, made in partnership with the Bellabeg Spar shop in Strathdon, came full of food, basic necessities and a few special treats.
Jennifer Stewart, the secretary and chief executive of the Lonach Highland and Friendly Society, said: "When the country entered lockdown the society wanted to do something that would lift the spirits of our older members and also ensure they didn't need to worry about some of the basic food items and household essentials.
"The hampers were a small gesture. They have been a huge hit and really well-received, bringing many smiles.
"Bellabeg Shop and Lonach are extremely supporting of one another all year. We source a lot of items through their supply networks as it helps to support and sustain the local Strathdon economy.
"The shop pulled out all the stops to create the hampers for the society at a challenging time, for which we are hugely grateful.
"Rural shops and post offices, such as in Bellabeg, are important in their communities which has shown in recent months.
"We all need to use them to ensure they thrive and prosper."
The 2020 Lonach Highland Gathering were due to take place on August 22, but have been cancelled due to covid.
Next year's gathering will be held on August 28.