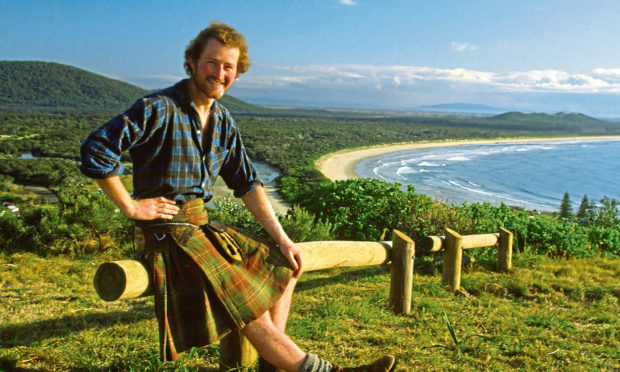 Peak pandemic, and it seemed as if the world stopped spinning, as each country, one by one, shut down across the globe.
Borders closed, planes were grounded indefinitely and travel was no longer an option. But nothing lasts forever, as tourist destinations tentatively open up for business in a bid to salvage the summer season.
For globe-trotter Alastair Scott, it was always the road less travelled which appealed.
The 66-year-old is currently living in Aberdeenshire with his wife, Sheena, and can normally be found painting.
But his heart is perhaps elsewhere after he spent most of his life travelling.
Having set off to see the world, brimming with youthful enthusiasm at 24 years old, it would seem Alastair is yet to truly arrive home.
Originally from Edinburgh, he captured his adventures in a slide library, which houses roughly 5,000 images.
He also launched a series of travel books, which chronicle his remarkable exploits.
Alastair cycled 5,000 miles behind the Iron Curtain shortly before it fell, made a winter sled dog traverse of Alaska to the Bering Sea, rowed a Highland birlinn through the Hebrides, managed two transatlantic yacht deliveries, and also has solo circumnavigations of Ireland and the Faroe Islands under his belt.
It's fair to say he doesn't do things by halves.
With Covid-19 finally calling his wandering to a halt, Alastair has reflected on the story thus far.
Although it would be impossible to gather his experiences of 65 countries and six continents, your life gave it a shot.
"It all started when I decided I was going to travel around the world for as long as it took; I even had my bagpipes with me," said Alastair.
"Of course they didn't last long, but I wore my kilt as an introduction to people.
"I remember looking at this tiny globe as a child and wondering what each country was like.
"When I set off, my plan was to do everything the wrong way round.
"So I headed north at winter to Greenland, and I didn't even plan ahead.
"I just kept adding on countries as I went along."
Alastair snapped his travels with a Pentax camera, before graduating to a Nikon F3.
He believes his trusty cameras were a sign of a simpler time when photography was a gamble.
"Nowadays people take endless pictures," said Alastair.
"But I'm talking about slides and film. I set off with 364 rolls of film.
"When you took the picture you had no idea if you had captured it.
"So I didn't get to see any of the pictures until they were developed."
Perhaps the richest experience that Alastair encountered was that of goodwill, and the kindness of people he met along the way.
"I've encountered hospitality in some of the poorest countries," he said.
"When you hear all the bad things on the news, and there's no denying that there is a lot of strife, we forget the basic humanity which exists all over the world.
"Chile, for example, is one of the most beautiful places I've been.
"There is so much variety and I loved the people.
"I also loved Canada and New Zealand, but I have Scottish bias.
"I can see Scotland in both those countries, a big land with few people."
Alastair also had his share of unpleasant experiences.
"I was taking pictures in Rio de Janeiro on a beach and then I went into a park," he said.
"These young muggers had obviously been watching me, so although my belongings were in this rachety horrible bag, I was mugged.
"I fought my way out of it, although guns are very common in Rio.
"That was the first real shock for me. I had always believed that If I went with a smile, I'd be fine.
"But I was actually fair game to anyone who was poor, they would kill me for what I had.
"It made me – and I'm ashamed to say this – wary on my travels.
"I was also ashamed when I realised that I had become quite mean.
"On one occasion in India, I spent 30 minutes haggling over something which cost a sixth of one pence.
"I remember thinking, is this what I've become?
"Travelling also gave me a huge amount of confidence, though. You could put me in any city, anywhere in the world, and I wouldn't be frightened.
"I know how to improvise.
"It made me very independent, perhaps too much. I went five years without friends, so I became less sociable."
Alastair still managed to find love, after meeting his wife, Sheena, during his first five-year adventure.
Their relationship could be seen as a slow burner after they wrote to each other for the best part of a decade.
"I met Sheena during my initial trip when I was out hitch-hiking in Australia," said Alastair.
"Then we carried on corresponding with an annual letter, we didn't see each other in that time.
"Ten years later and we finally got married.
"I've found travelling hard going over the years, what with having responsibilities. I often feel guilty about being away."
One of Alastair's toughest adventures to date was his 5,000-mile cycle route across the Soviet Bloc in 1987.
"People were partly suspicious," he said.
"I remember in Romania, a family told me to come round to the back of the house after dark.
"They didn't want the neighbours to see that they were talking to me.
"I witnessed some extraordinary acts of bravery from frightened, downtrodden people.
"People and customs are my favourite subjects to photograph.
"I find costumes and festivals endlessly fascinating.
"You can see so much of that person's life in their portrait.
"Even in faces of suffering, I see huge character."
Although Alastair is now 66, his wanderlust has not abated.
Prior to Covid, he had set himself yet another challenge.
"I've been trying to cycle from North Cape (in Norway) to Cape Town in South Africa," said Alastair.
"I've been doing it in stages. I started in 2017 and I reached Greece last year.
"I cycled down Scandinavia, Latvia, Ukraine and Romania before arriving in Greece.
"I was due to set off for Syria at the start of May.
"I left my bike outside a Greek hostel. I'm wondering if it has turned into a tree by now."
Alastair thinks that age and experience has also made him more wary, although he is still keen to see yet more of the world.
"We're looking at a totally changed world. Will travellers be welcome post-pandemic?" he said.
"I still have itchy feet and a hankering for adventure.
"I do have a qualm, I always thought I was travelling sensibly.
"I was learning, giving something to other people.
"Maybe that was deluded and I have been part of the homogenisation of the world.
"It is harder to get off the beaten track because the world is so well documented.
"There is an internet cafe in most villages around the world.
"That's not to say that you can't find isolation, it's always possible.
"There is a big world out there.
"I am getting a bit more frightened with age, though. I see more of the dangers that I didn't think of in the past.
"There are some places I'm not keen to revisit because I know they have changed.
"And that can be heartbreaking.
"So I want to preserve them, exactly as they were, in my memory."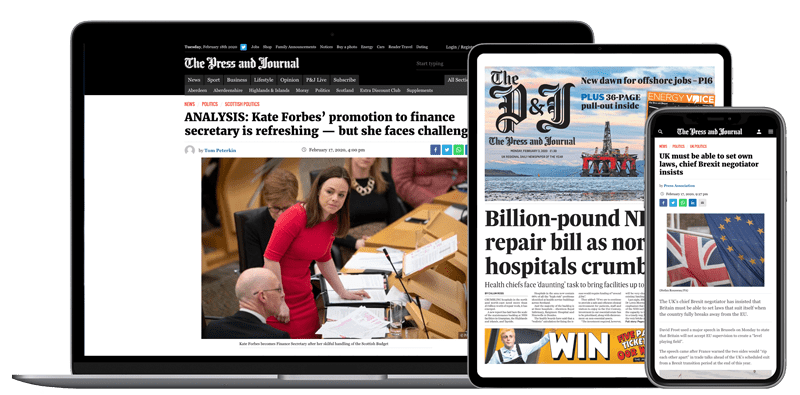 Help support quality local journalism … become a digital subscriber to The Press and Journal
For as little as £5.99 a month you can access all of our content, including Premium articles.
Subscribe