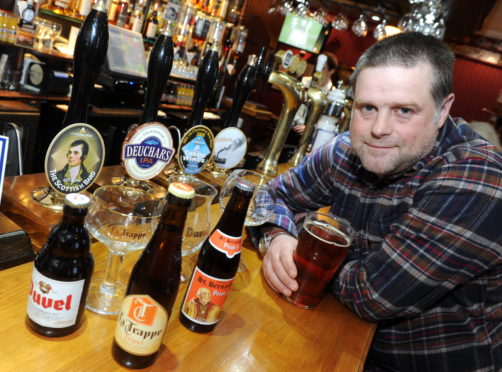 A stalwart of the Stonehaven hospitality sector is appealing to Aberdeen residents not to travel to the town this weekend during the city's localised lockdown.
Simon Cruickshank, owner of shorefront hotel The Ship Inn and Trouper's Bar in the town, was forced to close early last weekend following anti-social behaviour by a small minority of young adults, who he said were flouting government advice on distancing.
Mr Cruickshank is concerned the lockdown, which prevents people from travelling outwith Aberdeen, may not be observed, particularly if the current warms spell continues and amidst the closure of pubs.
He said: "The scenes we saw last weekend, from a small minority of individuals in the town, were shocking.
"Stonehaven has always been a day trip destination of choice for those in Aberdeen on a sunny summer day and we usually welcome these visitors with open arms.
"However, we're appealing to anyone considering breaking the local lockdown in Aberdeen not to come to the town.
"It's important for everyone to abide by the guidelines so there is the best chance to control the virus."
Meanwhile, a Stonehaven hotel included on a list of Aberdeen pubs linked to the coronavirus outbreak in the city has reopened after closing its doors briefly yesterday.
NHS Grampian published a list of venues known to have had potential contacts with positive coronavirus cases, which included the Marine Hotel in Stonehaven.
Owner Robert Lindsay at first believed this to be an error, as the rest of the pubs were within the city region, but NHS Grampian insisted the information was correct.
It was later confirmed one individual who has tested positive for coronavirus did indeed pass through Mr Lindsay's doors, but that their "movement within the premises was very limited".
Mr Lindsay believes his establishment was "caught in the cross fire" of the Aberdeen outbreak.
"It's a surprise when you see an announcement come out from NHS Grampian but no actual information is given to you," the 51-year-old hotelier said.
"I would imagine the priority was to create the local lockdown and we fell between the standard track and trace.
"In normal circumstances under the scheme we wouldn't have been required to close.
"It wouldn't have been out in the public domain and there wouldn't have been this confusion."
In Aberdeen itself, John Anderson, boss of the Staging Post in Bucksburn, hit out yesterday after the council informed him a customer had tested positive for Covid-19, but would not tell him when the person was on the premises.
He also criticised the local authority for a lack of environmental health oversight of venues and for not requesting his track and trace information to locate other potential virus victims.
Mr Anderson said: "All Aberdeen City Council has told us is that someone who has been on the premises has tested positive for Covid-19, but they can't give us any more information and won't tell us what day or time of day it was.
"How am supposed to let staff members know they are safe?
The publican has joined a chorus of bar owners who yesterday expressed anger over a lack of contact from authorities on the Covid-19 cluster discovered at the Hawthorn Bar last week.
All bars and restaurants closed yesterday as Aberdeen went into a one week lockdown.
Many of the Aberdeen premises who appeared on a NHS Grampian list of impacted sites claim they have received "no contact" from environmental health.
Mr Anderson, who has booked a Covid-19 test as a precaution, said his business had received "zero visits or checks".
He added: "We've been quite a busy venue while the city's been running wild and to have no compliance checks or licencing visits during that time is incredible.
"We've been collating the names or contact numbers of people who have been on the premises, but Aberdeen City Council haven't asked for them.
"We've got piles of sheets with people's details since we opened.
"Why are Environmental Health not down here now going through the names of those people who were in the premises?
"What's going on? And why are they only contacting me now when the place is closed?"
An Aberdeen City Council spokesman said environmental health officials "will always seek to assist in whatever way possible".
He added: "Unfortunately, due to the rapidly developing situation, it was not possible to contact the businesses before the list was published.
"Attempts to contact all relevant businesses were made yesterday evening. Attempts are continuing to contact today the establishments who could not be contacted yesterday."