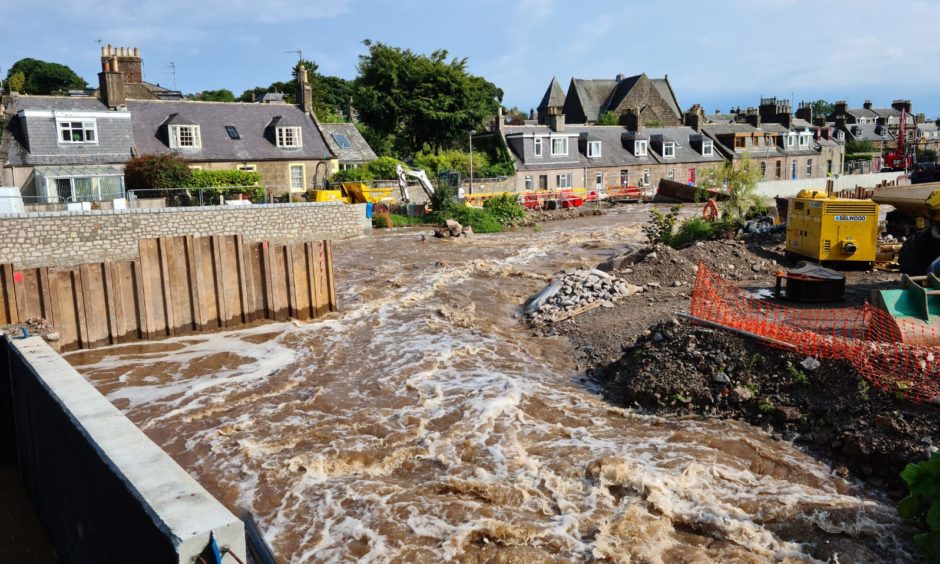 Businesses and homeowners in the north-east were left counting costs yesterday after torrential downpours caused devastating flash floods.
Thunder rumbled overhead with frequent flashes of lightning illuminating the gloomy morning sky as parts of the region received weeks' worth of rain in just a few hours.
In Stonehaven, this left a "river" cascading down streets and merging with the Carron, leaving a thick trail of mud, silt and rocks in its wake as it subsided.
Fire crews descended upon the town to help pump out buildings and gardens – with some left several feet underwater.
And while the high temperatures and blue skies which emerged later helped the area dry out, an extensive clean-up operation was only just beginning.
This was far from the first time adverse weather has affected the town, which has been besieged by floodwaters in recent years.
A £16 million scheme to protect people from flooding by altering bridges and installing walls is under construction.
Some of the water which cascaded down Dunottar Avenue, Cameron Street and Salmon Lane yesterday entered the basement of The Carron Fish Bar – destroying everything being stored within.
The chip shop had only recently reopened amid the easing of coronavirus lockdown restrictions.
Owner Lorraine Watson said: "We had just got back up and running again.
"We were doing well and we'd taken all our staff off furlough but this sets us right back."
Mrs Watson drafted in a specialist cleaning firm to help remove the debris then steam-clean and sanitise the basement for use once more.
Staff at her ice cream parlour next door, Bucket and Spade, had been on hand to provide emergency workers at the scene with teas, coffees and muffins.
She added: "It's going to be difficult, but we'll be working day and night.
"We've done this all so many times now, it's sad to say, so we know the procedure and what to do.
"We just have to let the others do their jobs and then we can do ours."
Further down the street, Graeme Thain was helping family members use wire brushes to sweep up the masses of mud left outside the house where two of his granddaughters live.
He arrived at the property earlier that morning and helped neighbours move cars to higher ground.
And after seeing the enclosed back garden of the property, he had to "almost swim" through waist-deep flood waters to open a gate to help drainage.
Mr Thain said: "There was a river coming down the street."
"It wasn't raining cats and dogs – it was more like machine guns."
Other residents described similar scenes, including one who woke up to around two inches of water in her Cameron Street cottage and another whose car was left with muddy puddles in the footwells.
Some said the damage could have been averted if work on the town's flood defences had not been paused by the pandemic, and claimed contractors had not done enough to divert the gushing water.
Elsewhere on the street, a dentist was preparing to call his insurance provider after a large portion of his medical and office equipment was destroyed.
Deep cleans were under way at the Royal China takeaway and The Pet Shop, which both had stock swept away by the sudden flooding.
Council street sweepers were meanwhile deployed to help clear away the thick layer of mud on the road surface.
Many homes left flood barriers attached to their front doors, with piles of sandbags acting as barriers to protect others from any potential further damage.
Pete Murray, the owner of Celtic Chords music shop on Barclay Street, said: "In the 18 years we've been here, this is the third flood we've experienced.
"We didn't even get a chance to put the flood gate on the door –  it was all so sudden.
"I think we'll be shut for a few days; we didn't have a huge amount of water but it has left a lot of silt and damaged some of the stock.
"Not even the flood defences would have stopped this – it all fell from the sky."
An Aberdeenshire Council spokesman said teams had been supporting the emergency services and are continuing to make sandbags available for collection from its Kirkton Road depot.
Meanwhile a representative of McLaughlin and Harvey, the contractors working on the town's flood protection scheme, said: "The project team are working closely with the emergency services and assisting where possible.
"A site-wide clear up will commence once the situation improves and to ensure security.
"All affected residents have been contacted and assistance offered."
West Aberdeenshire and Kincardine MP Andrew Bowie visited the town with local councillor Wendy Agnew.
He said: "Thankfully the water is receding but it was a grim sight.
"It's been a number of years since we saw Stonehaven so badly hit by flooding."
Ward councillor Sarah Dickinson added: "There were those who had water ingress on their ground floors and into their basements and others who discovered roof leaks as the water came in overhead.
"It was an astonishing amount of rainfall in a very short period of time.
"However, as always, there were people willing and quick to offer help; a heartening reminder of the resilience and care of the Stonehaven community."
The heavy rain forced shut several primary and secondary schools across Aberdeenshire, largely in the south of the area. However, Banff and Buchan was also affected.
The areas around Waterside Bridge and main A892 in Rora, near St Fergus, were underwater for around an hour, while some homes were flooded in parts of Longside, near Mintlaw.
Elsewhere, there were widespread power, broadband and phone outages after a telecom post and line snapped in two near Woodhead of Fyvie.
Central Buchan councillor Norman Smith said: "Around 7am it was quite bad for a few hours but within three-quarters of an hour to an hour the gullies were back working and the flooding had dispersed.
"You wouldn't have thought it'd have even happened."
Sepa figures
Figures provided by the Scottish Environment Protection Agency reveal almost a month of rain fell in Stonehaven yesterday morning.
Torrential conditions caused up to 79 ml of rainfall to be collected by the Sepa monitoring station within the town over a four hour period.
Collecting water between 6am and 10am, the figures were matched by the Met Office's own collection.
The national weather watchdog recorded that over a 12 hour period from 7pm on Tuesday evening until 7am yesterday that 65.8 ml was collected.
Compared with samples taken monthly since 1981 in nearby Inverbervie an average of 57.6ml that is usually collected across the whole of August in the region.
Heavy rain and thunderstorms which caused flooding and travel disruption across Scotland.
A spokeswoman from the Met Office warned that there is still a risk of flooding across the north and north-east as we head into today.
She said: "This is clearly a lot a rainfall in a very short space of time, the average August rainfall for our climate station in Inverbervie is 57.6ml.
"You can see for that region that over a month's worth of rain has fallen in a short period of time.
"Usually this is an area that is drier than the rest of Scotland comparatively in August."
Yellow weather warnings are still currently in place across the country, wind-flow is expected to hit the north-east from the North Sea which will likely bring clouds and a dip in temperature for the region.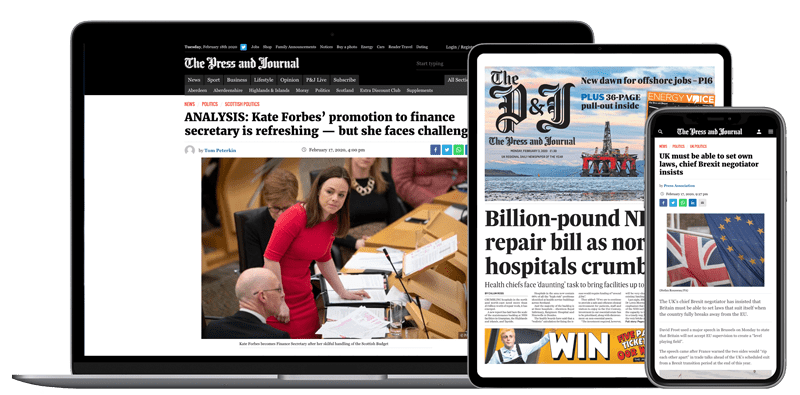 Help support quality local journalism … become a digital subscriber to The Press and Journal
For as little as £5.99 a month you can access all of our content, including Premium articles.
Subscribe