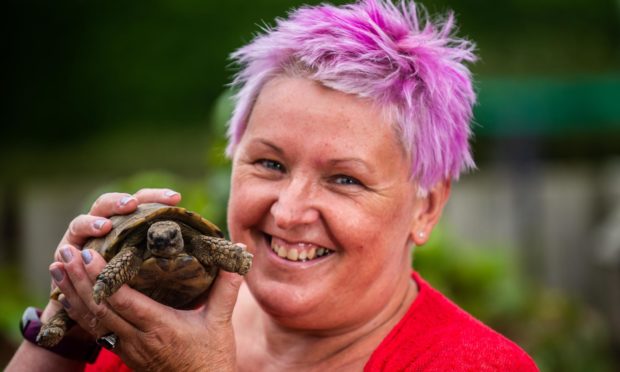 Fred the tortoise is so desperate for company of his own kind that owner Angela Matchett penned the details in an unusual lonely hearts advert to help her pet.
This lovesick 50-year-old also sleeps outdoors, is partial to the odd tomato and is keen to meet a like-minded lady friend to share life in the slow lane.
He constantly wanders around the garden trying to make friends with random shell-shaped objects.
The advert, written on Fred's behalf, reads: "I mean a hardy female who loves the great outdoors and is used to living in a garden.
"I'm willing to share my accommodation (and possibly my lettuce and cucumber!)
"Surely there are some girls who are as lonely as me who are trying to make acquaintance with tortoise-shaped objects (Crocs, birdbath bases and the like) and who love nothing more than digging into the garden for hibernation."
Mrs Matchett, 54, from Inverurie, Aberdeenshire, said: "I did it because he just loves company and he wanders around the garden forlornly. He's about 50 and he could live to be 100, so he's got a long time left."
Fred is a Hermann's tortoise imported to the UK around 50 years ago and previously belonged to her mother and father-in-law, who lived in London.
When they died, Fred came to live with Mrs Matchett and husband Martin in the colder climes of north-east Scotland.
She said: "If we're outside, he's constantly there, falling over you.
"He'll chase you and he'll bite your feet. He loves shoes.
"He is a bit of a daredevil. If he sees you, he'll throw himself down the steps because he just wants to be with you."
Mrs Matchett has looked on various rehoming sites but as most UK-bred tortoises need to be kept under heat lights, her search for an outdoor female has been unsuccessful.
So in a desperate bid to find him the ideal companion, she has posted the lonely hearts ad on social media.
It begins: "Hi, my name is Fred, I'm 50 and I'm looking for love.
"I'm used to the outdoor lifestyle. I love cucumber, lettuce and fruit and I am partial to the odd tomato!
"I'm looking for a like-minded lady, who is looking for a new owner and isn't into tortoise tables or heat lamps.
"I mean a hardy female who loves the great outdoors and is used to living in a garden.
"Please, please share so I can find a lady friend who is older fashioned and hardy like me."
Mrs Matchett said: "Hopefully there is someone out there who has a hardy outdoor tortoise that's the same species they are willing to sell, or someone who is looking for someone else to take on theirs."