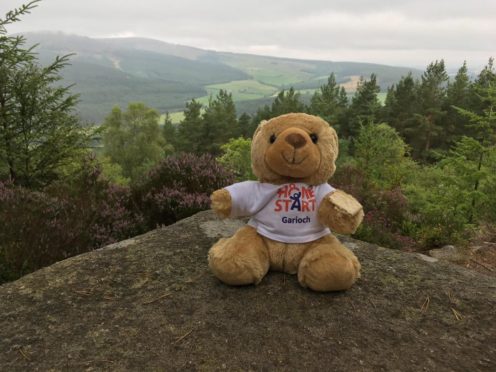 A small teddy bear has become a social media star in the wake of an inspiring charity fundraiser.
Charlie McCorry, from Inverurie, is currently out of work and had been looking for a local cause to support to make valuable use of his unwanted free time.
He chose Home-Start Garioch and decided to climb Milestone Hill a whopping 26 times to raise funds.
The effort is already underway and he hopes to finish the challenge on September 13.
Mr McCorry will have support from his wife and friends on a number of the walks, but his key companion for the fundraiser will be a small Home-Start Garioch teddy bear.
The wee mascot – a competition is currently ongoing to name the bear – has joined Mr McCorry on every walk so far.
For a small donation – the teddy can also pose for specific pictures or issue messages to anyone from the top of the hill.
Mr McCorry said: "A lot of people have climbed the equivalent of Everest – but the tallest mountain in the world is actually Mauna Keal, in Hawaii.
"I was walking up Milestone Hill and thought it was one of the toughest local walks I'd done – and the idea came into my head to do this fundraiser.
"Climbing it 26 times is the equivalent of Mauna Keal."
Home-Start Garioch have had to cancel a large number of events and are currently facing a 75% cut in their fundraising income – which means every penny counts.
Mr McCorry added: "Having the teddy does make things a bit different, and hopefully more fun.
"It's a way to get kids and families interested in the walk but also the charity.
"Home-Start Garioch do tremendous work – and a lot of it goes unnoticed."
On September 13, people are invited to join on the last walk of the fundraiser and – weather permitting – a picnic will be held at the top.
The final walk is due to coincide with this year's Virtual Kiltwalk.
To donate, go to edinburghkiltwalk2020.everydayhero.com/uk/mhairi-3 or to find out more about Home-Start Garioch, visit www.facebook.com/HomeStartGarioch.