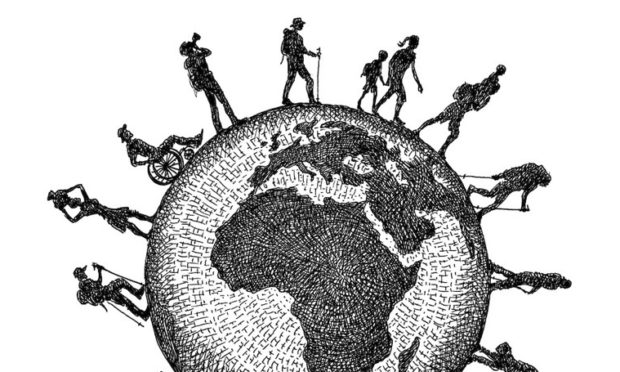 A project that has brought people together from across the globe has reached its 42,000km target, it has been revealed.
Under One Sky, which was led by the artist Iman Tajik and Aberdeenshire based arts organisation Deveron Projects, asked people to log their steps on their daily walks and together travel the distance of the world's circumference in an act of international solidarity in the times of Coronavirus.
From Australia to Zimbabwe, China to Chile, the USA to the UAE walkers from 40 countries across five continents joined the effort.
Mr Tajik said: "We have now completed our borderless walk around the world together and this is a time for both celebration and reflection.
"We should reflect on the reasons why we embarked on this journey – we hoped to come together and do something positive in solidarity with one another during a difficult time, but we have also used this amazing three-month journey to highlight the many boundaries which interfere with people's right to move freely across the globe, in search of a safer, happier life."
He added: "Although our walk together comes to an end, sadly the struggles of these people continue every day. I hope that through Under One Sky, we have all become more aware of this and will continue to stand in solidarity with people encountering hostile borders across the world," he adds.
Under One Sky was devised to replace Deveron Projects annual Slow Marathon which could not take place as planned due to the Coronavirus.
Claudia Zeiske, Director of Deveron Projects, added: "The main element of this project was solidarity; and we saw that grow and take many forms; solidarity with your fellow walker, solidarity with those more affected by the Covid-19 pandemic than ourselves and importantly, solidarity with the people across the world whose freedom of movement is dangerously restricted every single day as a result of political unrest and devastating conflict."
Throughout the project people have been uploading images of the sky on their walk and Mr Tajik will now use them to create a major artwork.