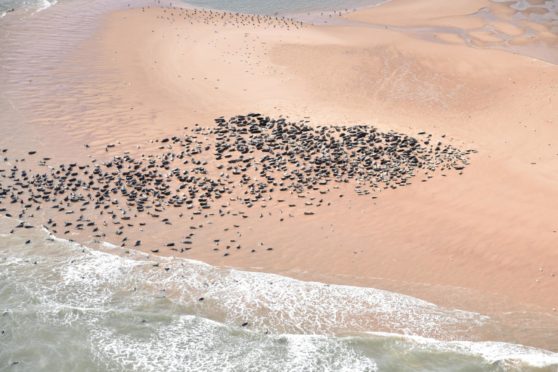 These incredible images show Aberdeenshire's biggest seal population from a perspective many will never get to see.
The colony at the Ythan Estuary, near Newburgh, is thought to number more than 500, with some of the large males, or Bull Seals, weighing in at more than 100kg.
And these aerial images, taken by the Bruce Thomson from the UK Civil Air Patrol Scotland (UKCAPS), give a true sense of scale to the colony.
However, as well as working as a stunning wildlife picture, the staff at the Ythan Seal Watch have praised them for helping to monitor the local seal population.
Photographer Bruce Thomson, who has flown with UKCAPS for ten years said it was the first time he had seen this colony.
He said: "I have never seen them before, we don't go up that way very often.
"I've seen them before when flying out of Dundee, there's a spit of sand coming out from Tentsmuir, but I've never seen them before up that way, the tide must have been in."
He added: "I saw all the seals and I know that a lot of groups that monitor these animals, it's very difficult to count them from the shore – all you've got is this sort of horizontal line. And if you go to close they're all in the water and away.
"So I thought this is a perfect opportunity to get an aerial picture, and they can sit in their own living room and get a count.
"For all, I know that could have been only half of them, and their numbers could have shrunk because of disease or something, or it could be a really healthy number
"When you zoom right in you can even see pups, so I thought that will help them know what the birth rate has been and the health of the colony."
In a post on social media, the Ythan Seal Watch said: "Aerial images like these are a vital part of monitoring Seal populations around Scotland and were a big part in the designation of the haul-out by Marine Scotland who decides which sites deserve specific protection.
"The images also help to show the importance of the Ythan as a resting, moulting and breeding site for Grey Seals in Scotland and conserving the species."
The area is a designated seal haul-out zone which offers them protection from harassment.
A popular walking spot, and for other nature loves, the dunes across the river from the seals provide a perfect vantage point, with the vast majority of people behaving responsibly and not disturbing the animals.
Welcome to the Ythan Seal Watch Facebook page. Please read the important information below. We are an independent group who have no association with Scottish Natural Heritage or Marine Scotland.The Ythan Seal haul-out is designated and the Seals are legally protected from harassment. We work with the relevant wildlife and law enforcement agencies in support of this and to identify potential harassment of the Seals on Forvie NNR and to encourage responsible viewing that doesn't disturb the Seals. The Seals are legally protected from intentional and reckless harassment resulting from watersports, drones, wildlife tourism and fishing interests.The page is open to all ages as we encourage marine awareness and conservation of all species of wildlife so please keep that in mind when posting or commenting. We have linked a study into Grey/Harbour Seal diet which Forvie participated in. Please keep comments on the page constructive and free of bad language. Post's from our page are viewed by primary schools who take an interest in the wildlife at the Ythan.Please watch this video for information about viewing the Seal haul-out responsibly. This is all based on the public information and advice from Marine Scotland and SNH. Anyone planning to view the Seals at the Ythan who may not be familiar with the site should. If you have any questions or concerns before or during a visit please feel free to contact the page. Please don't attempt to contact this page if you are concerned about a Seal that is on the beach. The first point of contact if you think a Seal may be sick, injured, entangled or you are concerned for it's safety is the British Divers Marine Life Rescue. If you need these details you can message this page to receive an automatic response with the contact info for the BDMLR. We also have contact details for the Scottish Marine Animals Stranding Scheme (SMASS) if you find any dead Seals or cetaceans during your visit or anywhere else on the coast. The numbers will be ready to dial in the message. Our only purpose is to try to prevent disturbances to the Seals. We have a link to a video entitiled "Seals And Stress: How Ythan Seal Watch Works". It explains how we monitor the Seals and visitors behaviour around them on Forvie NNR.This is the post code for the car at Newburgh:AB41 6BYWe also have a link to an accurate tide timetable for the Ythan. The best viewing of the haul-out is at low tide:Magic Seaweed:https://magicseaweed.com/Balmedie-to-Newburgh-Surf-Report/1403/Tide/If you encounter a Seal at the Ythan or on the coast you think may need help please contact the BDMLR:RESCUE HOTLINE:01825 765546 during office hours.07787 433412 out of office hourshttp://www.bdmlr.org.uk/index.phpIf you find any dead Seals or Cetaceans on the coast please contact the Scottish Marine Animal Stranding Scheme (SMASS):07979 24589301463 243030strandings@sruc.ac.ukOnline advice and information:Seals And Stress: How Ythan Seal Watch Workshttps://www.facebook.com/ythansealwatch/videos/1652376438202226/Resting & Moulting: Why The Seals Were Protectedhttps://www.facebook.com/ythansealwatch/videos/203648913896595/Drones & Wildlife: Operators Warned Against Misusehttps://www.snhpresscentre.com/news/drones-and-wildlife-operators-warned-against-misuseMarine Scotland Designation :http://www.gov.scot/Topics/marine/marine-environment/species/19887/20814/hauloutsHaul-Out FAQ's:http://www.gov.scot/Topics/marine/marine-environment/species/19887/20814/FAQsGuidance on the Offence of Harassment at Seal Haul-out Sites:https://www2.gov.scot/Topics/marine/marine-environment/species/19887/20814/haulouts/guidanceSeal Diet Study (Which Forvie NNR Participated In):https://www.facebook.com/ythansealwatch/posts/989935144487058Thank youYSW Team

Posted by Ythan Seal Watch on Thursday, 26 December 2019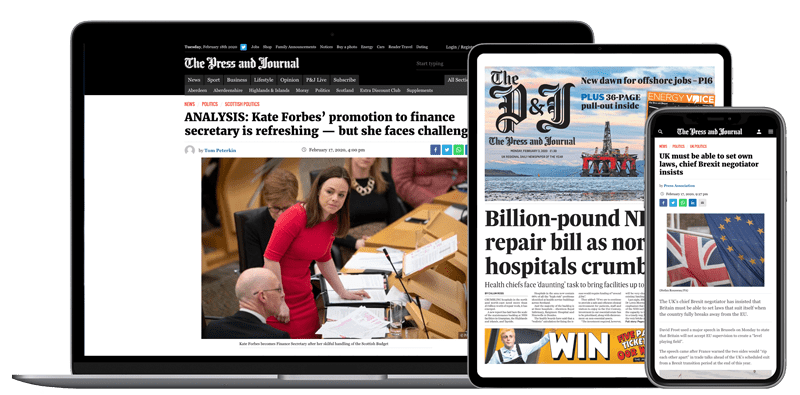 Help support quality local journalism … become a digital subscriber to The Press and Journal
For as little as £5.99 a month you can access all of our content, including Premium articles.
Subscribe