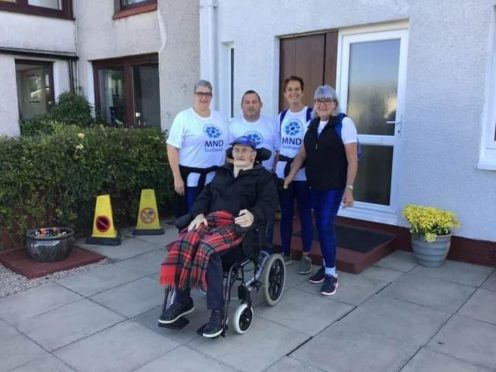 A family living with the devastating effects of Motor Neurone Disease (MND) have raised almost £10,000 for a charity researching the debilitating illness.
Jim Stuart, 79, was diagnosed with the condition one year ago and has already lost a lot of strength in his upper body.
Wife Di, 73, and daughters Elaine Booth, 48, and Sandra Stuart, 42,  recently walked 15 miles around Stonehaven to raise thousands in his honour.
Mrs Booth, a former nurse from Cove, said: "It was a big challenge. I'm nearly 20 stone and don't walk anywhere. I'm terribly naughty, but mum is  keen walker and my sister has six-year-old twins so she's always running around."
The trio managed it in fine style though, starting from Mr and Mrs Stuart's home in Woodview Place and taking in the sights including the Swanlee Wood, Ricarton, and Ury Estate beach – fuelled by a few "Prosecco pit stops" along with way.
"They're all places that my dad used to cycle around," Mrs Reid added.
"My husband Mike pushed dad in a wheelchair as far as the garden centre, so they joined in with us. We don't often get together just us and our parents, so it was a special occasion.
"Dad was very proud of us and we are all overwhelmed with the support we've been given by friends and family since his diagnosis. It just shows how loved he is."
A grandfather of five and great-grandfather to one, Mr Stuart, kept himself fit by playing squash, running, mountain biking and competing across the continent in Moto-X competitions.
He took up racing aged 20 and ran the Peterhead Motor Cycle Club with his dad, racing all over the world before handing up his competitive leathers aged 69 to bike alongside his grandsons instead.
However, he started feeling unwell around 18 months ago, and since his diagnosis with MND last September has been cared for at home by wife of 44 years, who is well known as the town's former post office clerk and serving secretery of Bon Accord Motorcycle Club for the past 40 years.
Despite his deteriorating condition, Mr Stuart maintains a positive outlook.
"We're not at the stage of needing carers yet and he remains so cheerful and such an inspiration to us," Mrs Reid added.
"He is so positive about things which makes the time we spend with him much happier."
Mr Stuart added: "I still remain very positive with life even with MND.
"I am very proud of my girls for raising funds for MND Scotland, and although it is too late for me, I do hope that one day there will be a cure for this disease."
The trio had signed up for the Aberdeen Kiltwalk in June but following its cancellation due to the coronavirus lockdown, they donned their tartan to complete that distance closer to home instead earlier this month.
Their £4,517 donation to MND Scotland was matched by Kiltwalk sponsor Tom Hunter Foundation.
Mrs Booth added: "We got such support from our friends and family that we wanted to do our own walk anyway."