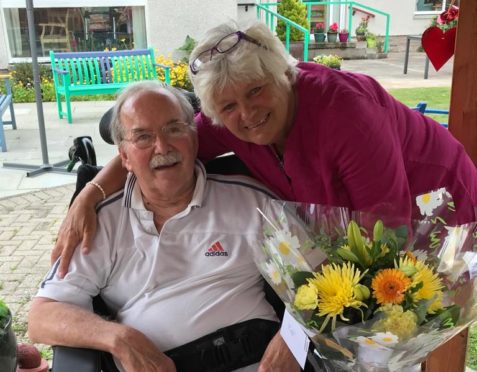 The family of a former army officer living in an Aberdeenshire care home is pleading for a change in coronavirus-forced visiting restrictions which they say are "unbearable".
Major David Elson, who served with the Royal Signal Corps in Germay, Cyprus and Northern Ireland for 20 years was diagnosed with Parkinson's disease in 2017 and moved into Allachburn Care Home in Aboyne 18 months ago.
Before lockdown his wife of 40 years Joanna, and three daughters Holly 38, Lara, 36 and Hannah, 34, visited regularly with Mrs Elson, of Aboyne, spending almost three hours each day caring for her husband.
However now she sees him for just 30 minutes each week while his daughter Hannah Mellet has seen her dad just once since March.
Mrs Mellet said it is "heartbreaking" and has called for some middle ground to be reached, concerned her father's quality of life is suffering as a result of the strict measures in place to keep him safe.
"We understand 100% how hard it is for care homes and the situation they are in," the mum-of-three said.
"They are just following the rules but it's hard for us as these could be the last years of his life and we are not allowed to be with him.
"It would mean so much more to my dad if he had somebody that he recognises and cares about to go in and brush his teeth, cut his hair and just hold his hand.
"My mum would go in and read him the newspaper and just be with him, these are things that care assistants just don't have time to do."
Homes across Scotland were locked down completely amid the coronavirus pandemic to protect vulnerable residents, and since July residents are allowed one 30-minute indoors visit a week from one loved one.
Since August, up to three visitors from two households have been able to see care home residents in outdoor meetings.
A recent tightening of lockdown restrictions, though, has seen First Minister Nicola Sturgeon suggest these rules will remain in place for some time to come.
"At first it was for the best as he is so high-risk as were other residents, but as the months have dragged on he needs comfort and to know that we are thinking about him," Mrs Mellet added.
"I'm not asking for just anyone to be allowed in to see him. Just one allocated person but for longer and more often. It's bordering on cruelty and there has to be a middle ground.
"We are desperate to be able to offer my dad a loving hand to hold – some form of physical comfort, before it is too late."
She said her father is "more than well cared for" in the Aberdeenshire Council-run home, but said some care can only come from family members and the restrictions are preventing Mr Elson from seeing his grandchildren, including the newest addition six-month-old Theo.
Mr Elson and his wife understand all too well the importance of family visits, having run the Praesmhor House care home in Aboyne for almost 20 years after he left the army.
Mrs Elson, who met her husband while serving with Queen Alexandra's Nursing Corps, said spending their 4oth wedding anniversary apart in July was once of the toughest times during the past few months.
She added: "I'm lonely and I'm surrounded by friends and family so how must he feel?"
Earlier this month families lobbied MSPs outside Holyrood about care home visiting arrangements, saying restrictions introduced in the wake of the pandemic are damaging.
Mrs Mellet has started a Change.org petition calling upon the government to consider allowing a family member to assist loved ones in care homes. It has gained more than 800 signatures in just two weeks and can be viewed at: https://www.change.org/p/nicola-sturgeon-let-s-give-our-family-members-in-care-homes-a-loving-hand-to-hold?recruiter=1147547066&recruited_by_id=9d77b670-f208-11ea-a763-c135ff85ec37&utm_source=share_petition&utm_medium=copylink&utm_campaign=petition_dashboard
A Scottish Government spokeswoman said: "The Scottish Government is looking constantly at what else we can do to safely allow more visiting, while protecting residents as far as we can from the introduction of the virus into their homes."