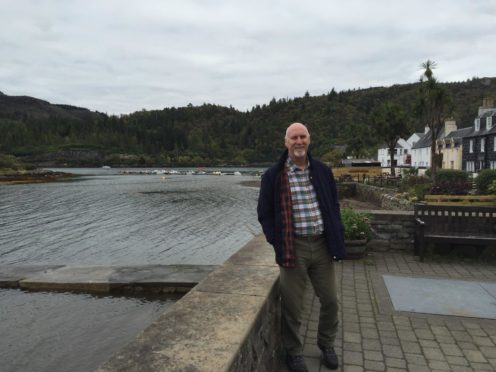 Calls have been made for safety barriers on a north-east road after a young mother and baby had to be rescued from an 8ft deep ditch.
Kevin Saunders was driving home on the B933 Kemnay to Monymusk road in Aberdeenshire when he noticed a car in front of him with its hazard lights on.
Stopping to ask if its driver needed help, Mr Saunders was told that the woman had just seen a car come veering off of the road and plummet into a ditch.
The 63-year-old scrambled down the slope in rainy weather to help those inside.
He found a young woman and her baby inside the car and managed to get them both out safely.
Mr Saunders said: "At around 11am I was coming home from Kemnay.
"A lady had stopped in front of me and put her hazards on. I got out and asked if everything was alright, she said a car had just gone off the road.
"I climbed down the ditch and pulled the baby out of the car and then went back down for the mum.
"Both of them were OK."
Police and paramedics arrived at the scene at 10.45am on Tuesday as other motorists also stopped to help.
The road is known among locals as a notorious stretch and concerns have been raised due to the ditch not being visible from the carriageway.
Residents in the area are calling for safety barriers to be erected and have noted the situation could have been much worse – especially if the ditch was flooded.
"It the woman hadn't stopped and put her hazards on I probably wouldn't have seen it and kept going. That is the biggest problem – you can't see it from the road," Mr Saunders added.
"I didn't catch her name but the woman was very grateful and I took her to her sister's house."
West Aberdeenshire and Kincardine MP Andrew Bowie said: "The outcome of this accident could have been much worse, and I'm glad another motorist was passing at just the right time."
SNP councillor for Kemnay, Victoria Harper, added: "As a councillor I will look into investigating this and see if anything could have been done to prevent it and make the road safer."
A spokesman for Aberdeenshire Council said: "Aberdeenshire Council officers will review the circumstances in relation to the incident and determine if any interventions are appropriate based on this review. Any appropriate intervention identified will be progressed in line with council policy and national guidance on such matters.
"Aberdeenshire Council will continue to work with partners, including Police Scotland, to reinforce road safety messages through appropriate education and enforcement measures."