Stabilisation works to be carried out at north-east harbour after it was cut off because of landslip fears
The only road into a coastal village has been sealed off amid fears that a harbour wall could collapse onto the carriageway after being damaged in recent stormy weather.
Aberdeenshire Council has closed off access to Gardenstown after cracks in the retaining wall near the harbour were discovered.
It is thought heavy rain has severely damaged the structure, which is at the foot of a brae.
Council officers have been on the scene  to assess the full extent of the damage.
Main Street and Church Road in the village were shut on Monday, although pedestrians were still allowed to pass.
Temporary measures to stabilise the wall will be carried out on Wednesday.
Heads of roads at Aberdeenshire Council, Philip McKay, said the work was needed to ensure vehicles were not left stranded at the lower end of the village, particularly at holiday lets.
Mr McKay said: "We are preparing for the installation of temporary stabilisation blocks which, once complete, should allow us to open the road under temporary traffic lights.
"We have also been in discussion with the owner of the wall and will continue to provide them with appropriate advice and guidance as they consider options for a permanent solution."
One resident added: "I think the cracks have been there for a while but have only recently been noticed.
"I wouldn't say people here are concerned. I think the biggest worry would have been if the road was closed off for months."
North-east villager voices anger as heavy rain damages landslip retention wall
Gardenstown suffered a significant landslip two years ago, with vehicles unable to travel down Harbour Road for seven weeks in the aftermath.
Multi-million-pound work was undertaken to make sure the village would not suffer a repeat of that incident.
Troup councillor Ross Cassie said the latest development was "disappointing" with both holiday-makers and residents being affected by the closure.
He said: "It is obviously disappointing for residents there as there was a major closure in the village a couple of years ago.
"I would urge residents to follow the guidance at the moment and wait for the council to properly check the area."
Mr Cassie added: "The correct decision was to close the area and allow it to be investigated properly.
"I hope it's solved as soon as possible as it affects the holiday lets, which is a huge part of the economy of Gardenstown."
North East MSP Peter Chapman added: "Local residents are unfortunately getting used to adverse weather wreaking havoc with their daily lives.
"The chaos caused just two years ago took a long time to fix.
"It falls to local councils or private landowners to spend vast sums to put right, but I think we need to approach this as a national issue.
"We can't leave the prosperity of our towns and villages to chance and hope for mild winters."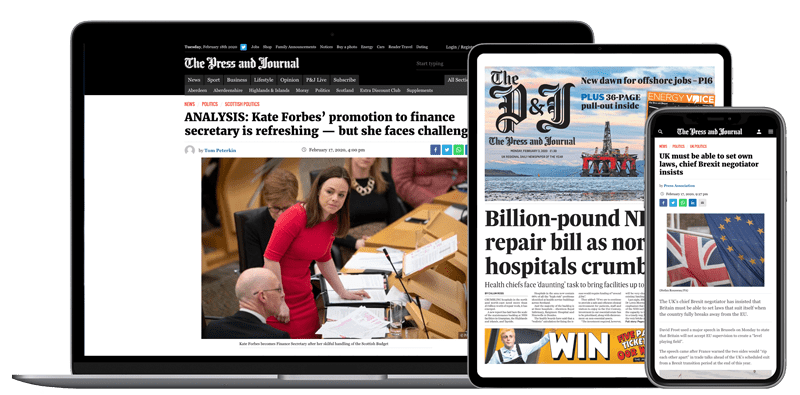 Help support quality local journalism … become a digital subscriber to The Press and Journal
For as little as £5.99 a month you can access all of our content, including Premium articles.
Subscribe