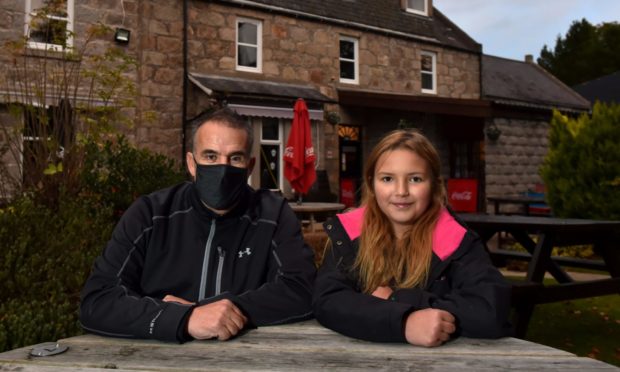 An Aberdeenshire hotel boss is giving up his licence after a Halloween event expected to bring in hundreds of customers fell victim to the pandemic.
Each year the Bennachie Lodge Hotel in Kemnay has held a family-friendly attraction which has become a hit with local youngsters.
It was hoped that the event would bring them "some hope and fun" this year, and director of the eight-bedroom venue Sandy Elrick says he had taken "every step possible" to make sure it complied with Covid-19 guidelines.
However, Mr Elrick has now been told that the three-day bash will have to be cancelled.
It comes as the Scottish Government officially called for there to be no guising on October 31.
No trick or treating for Halloween as Government issues new guidance for families
Deputy First Minister John Swinney said the move was necessary to protect public safety and to ensure residents stay within the current restrictions on indoor and outdoor gatherings.
The Holyrood announcement came after Aberdeenshire Council and the police had already told Mr Elrick the event could not go ahead.
He described the blow as the "final straw" following a tough year.
He said: "On Friday morning I had a meeting on Microsoft Teams with the police and the council and argued the case vigorously but it was deemed as a gathering which therefore meant it couldn't go ahead.
"A lot of man power had gone into the event to make it safe and fun, and 360 people booked tickets.
"I know that sounds like a lot. However, it was over three days so there would be 120 people per day.
"We were going to open it from 4-9pm and there would have been around 24 people per hour with social distancing in place.
"The hotel has been struggling recently. Unfortunately with the weather at this time of year, Scotland doesn't lend itself to al fresco dining.
"My lease was due for renewal on February 8 and I decided enough was enough.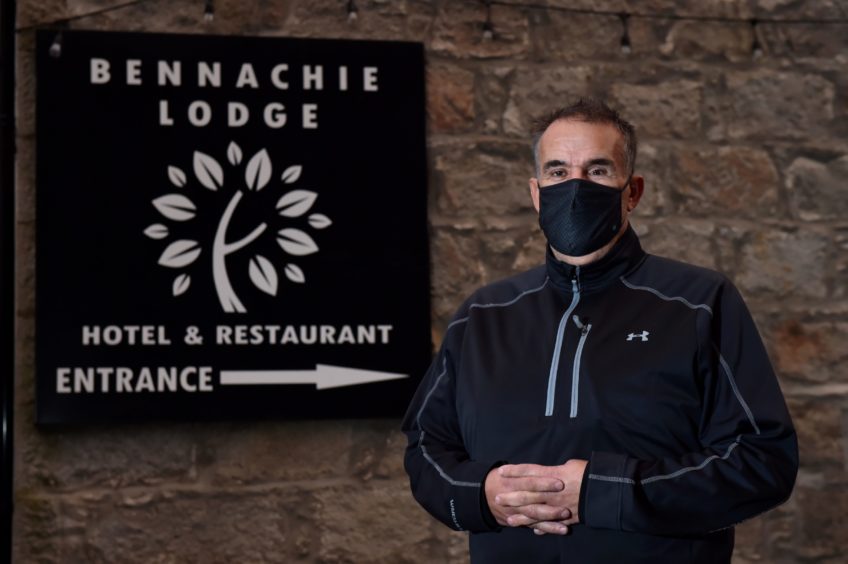 "It obviously comes with deep regret and I want to say thank you to everyone who has supported us."
The hotel car park would have been transformed into a food court with an ice-cream van and donut van, with space for people to eat outside during the event.
The 61-year-old believes the Halloween attraction would have been "safer than children going round door to door".
Extra measures included additional hand sanitising stations and one-way systems.
Mr Elrick said: "I'd hoped to do a similar thing for Christmas too but that won't be happening either."
He added that, after posting his announcement on social media, seeing the wave of warm-wishes from satisfied customers "made him emotional".
He said: "The hotel has built up a fabulous reputation and I wish the Lodge continued success and hope it goes on to bigger and better things."
Originally, the Bennachie Lodge Hotel was a manse built to accompany Kemnay Church in the late 1700's before it was converted into a hotel in 1971.
The government has urged people to forego their usual Halloween traditions as the nation battles a second wave of the virus.
Mr Swinney said: "I know guising is a big part of Halloween and children will be sad to miss out, but as door-to-door guising brings an additional and avoidable risk of spreading the virus, our clear advice for families is to avoid it.
"Children can still get dressed up and share jokes with their families, and our Parent Club guidance has lots of fun and creative ideas for families to enjoy a safe celebration at home."
Today it was announced that Scotland had recorded one more death from coronavirus and 1,303 positive tests since Saturday.
The death toll under this measure – of people who first tested positive for the virus within the previous 28 days – has risen to 2,700.
Coronavirus in Scotland – track the spread in these charts and maps
There were a further 55 positive tests in the Grampian area – the highest daily number in the past week.
The latest figures from the Scottish Government also show hospital admissions of Covid-19 patients in the north-east has risen from under five at the beginning of the month to 30.
In the Highlands, there have been a further 13 confirmed cases in the past 24 hours.