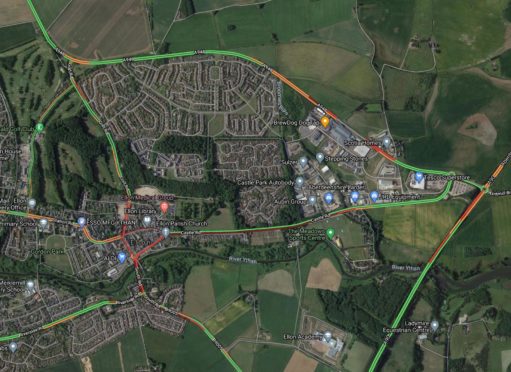 Roadworks are causing delays on a section of the A90 road – with traffic queuing into Ellon town centre.
Traffic tailed back along Castle Road heading towards the town centre, with further delays on both South Road and Riverside Road.
Golf Road heading south into the town centre has also experienced lengthy queues.
The A90 Aberdeen to Peterhead road junction to the north of the town is currently closed to traffic looking to head out of the area due to roadworks on the other side of the roundabout.
And a stretch of A948 between Balmacassie Way and Balmacassie Road is also shut, adding to the issues.
Motorists are also facing delays approaching the A90 roundabout, with traffic lights on the trunk road near the park and ride causing problems for those heading through the area.
The works on the A948 are expected to last until November 1, with the works near the park and ride expected to be complete by Wednesday.
Local businesses have said the roadworks has impacted business in Ellon.
Anne-Marie Bain, director of Aberdeenshire Larder, said: "The build-up of traffic in Ellon town centre is really quite off-putting for people. The town centre seems to be at a complete gridlock.
"The one-way system has been exacerbated by the roadworks at the roundabout.
"It is challenging times as it is and it just makes trading even more difficult. It is a challenge we could do without.
"Anything that puts people off shopping in the current climate, or makes it difficult for them, is not that great for us.
"It also has an impact when we are out trying to make deliveries.
"We are still open for hot and cold food and takeaway but people aren't stopping off the same.
"You are queuing for so long to get to wherever it is you are going that you don't want to pull off the main drag because you are just sat in traffic again.
"It took me 25 minutes to get through Ellon from one side to the other – it would usually take five to 10 minutes outside of peak hours.
"If you are carrying your meat supplies for a week it is not something you can easily carry home so people need to drive to us, unfortunately.
"We are in the same boat as the other retailers in Ellon and not pointing fingers, it does make things a bit more challenging which is disappointing in the current climate."