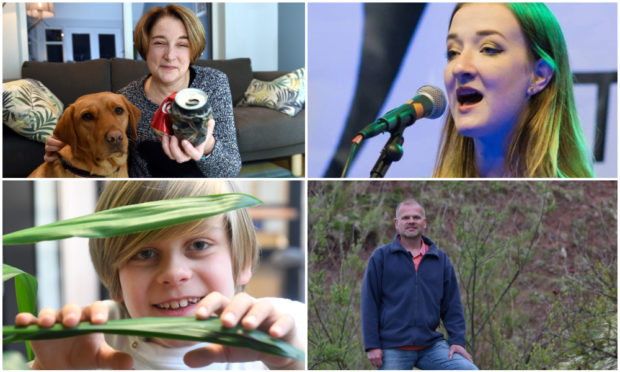 Individuals from across the north-east who have inspired others with their work in areas including environmentalism, campaigning and healthcare have been celebrated for their efforts.
Nine Inspiring Aberdeenshire awards were handed out at a virtual ceremony this evening, recognising those who have used their dedication and community spirit to help others.
Nominations first opened at the end of last year and the winners were due to be announced in June, but this was pushed back amid the pandemic.
Aberdeenshire Provost Bill Howatson and broadcaster Fiona Stalker announced the winners of the eight categories during a live online ceremony.
Brian McCann, who has volunteered with the Children's Panel for more than two decades, was named the recipient of the lifetime achievement award.
Over the years he has helped to steer the Aberdeenshire contingent through challenges surrounding changing legislation, training and recruitment.
His nominees described him as "an exceptional volunteer with an exceptional heart."
Residents' work to help the environment was recognised, with campaigners and young volunteers being celebrated.
Marion Montgomery was commended for setting up the Paws On Plastic group, which encourages dog walkers to play their part and take home litter dropped by others while they are out and about.
Pieter voor de Poorte, who moved to Catterline 15 years ago, was presented the community spirit award for his work preventing further erosion of the Catterline Braes, which was putting village homes under threat.
And Torphins 10-year-old Thomas Truby, who started The Rubbish Club as a way to encourage other youngsters to take an interest in environmentalism, was given the Aberdeenshire's Future Award.
The Relay For Life Peterhead Committee was celebrated for raising more than £2 million for Cancer Research, and the dedication of the 10-strong Portlethen Home Care Team was also recognised with an award.
Paul Cheyne was presented an award for saving the life of a nine-year-old boy who got into difficulty in the water at Balmedie beach last August, while Huntly singer Iona Fyfe and Chris Reid from the Fraserburgh Heritage Society shared the gong for local culture.
Provost Howatson said: "This has been a year like no other, and the importance of our communities has been in the spotlight more than ever.
"The nominations for Inspiring Aberdeenshire this year were made before Covid-19 arrived and turned our lives upside down, but the pre-pandemic stories still need to be told and heard.
"We were determined to run this event and celebrate the people who make Aberdeenshire tick and the team did us proud making sure we could all come together and celebrate."
---
The Inspiring Aberdeenshire 2020 winners
Here are all of this evening's winners and comments from their nominators.
Aberdeenshire's Future Award: Thomas Truby
"He started The Rubbish Club and it now reaches more than 2,600 people on Facebook.
"When he isn't in school, he spends his time setting up community initiatives and giving talks in schools, mobilising other young people to take action.
"Not only has he worked with the Aberdeenshire Council Waste team at recycling events, he has also been approached by other local authorities to help with their campaigns.
"A real champion and an example of the power that young people have to help us deliver real change."
Inspirational Volunteer Award: Relay for Life Peterhead Committee
"Put simply, the Relay for Life committee has, since 2001, raised a staggering sum for Cancer Research.
"Their outstanding commitment to running and promoting the 24-hour relay event in Peterhead has generated £2 million for the cause.
"Each person on the committee volunteers their own time to get together, recognising their collective power to help play a part.
"The Relay for Life committee are true warriors in the battle against cancer."
Heart of Aberdeenshire Caring Award: Portlethen Home Care Team
"The team is made up of 10 carers, who cover the Portlethen, Newtonhill and Muchalls areas.
"Each member of the team goes over and above every day to keep the standard of care exceptional in their area for services users with a range of conditions from Motor Neurone Disease to Parkinson's and others.
"The last few years have seen a sharp increase in the number of cases where end-of-life care is required, and this team provide a valuable support to users and their families in the most challenging circumstances."
Cultural Award: Iona Fyfe – Joint winner
"Iona, from Huntly, is a well-known singer, becoming better known across the globe for her part in keeping north-east culture and music alive.
"She has a passion for promoting Doric songs and stories and performs ballads and folk songs from across Aberdeenshire.
"She has sold out Edinburgh Fringe Shows, and has performed in Australia, Canada, Switzerland and Germany."
Cultural Award: Chris Reid – Joint winner
"Over the last 36 years, Chris has been the driving force behind the Fraserburgh Heritage Society, as a dedicated and proactive leader.
"From small beginnings organising local history exhibitions, the group has grown to over 100, promoting the history of the north-east town through the Heritage Centre and beyond.
"Chris has driven that change."
Beautiful Aberdeenshire Environmental Award: Marion Montgomery
"Marion set up the Paws On Plastic group recently.
"The aim is simple, to encourage dog walkers to pick up just one or two pieces of plastic every time they are out on a walk, take them home and recycle them.
"Her belief is that small steps like this, regularly, can make a big difference."
Local Hero Courage Award: Paul Cheyne
"Paul and his family were at Balmedie beach in August last year when they were alerted to a young boy in trouble in the water.
"The boy and his older brother had gone out on bodyboards, but the tide took the nine-year-old out further than was safe and he began getting into difficulty.
"Without a second thought and wearing just the shorts and t-shirt he was standing in, Paul swam out and rescued the boy, taking him to safety in deeper calm water before bringing him to shore to his relieved family.
"The young boy's family say that Paul will forever hold a special place in their hearts, and they know they can never fully repay his bravery."
Community Spirit: Pieter voor de Poorte
"Peter moved to the village of Catterline 15 years ago and has become established in the community, but it is his work with the Catterline Braes Action Group which has earned him this nomination.
"Pieter stepped in to help when the Braes were badly damaged in a storm.
"He made links with a group of academics in Glasgow researching ways of tackling coastal erosion environmentally, has researched the problem and doggedly sourced necessary materials.
"He has replaced paths, mobilised the community, stabilised the land in front of threatened homes in the village and done it all in the most environmentally-friendly way possible.
"The residents of the community feel sure none of this would have been possible without him."
Inspiring Aberdeenshire Lifetime Achievement award: Brian McCann
"Brian comes from a care-experienced background and the feelings he had when he was growing up have never left him.
"As a result he put that experience to the best possible use and has been volunteering with the Children's Panel for more than 20 years.
"Over the years he has done everything to ensure young people get the best possible chance and has put children first in everything he does.
"In his various roles he has steered the panel group through a number of challenges, from legislative change to training to recruitment and gives up his own time freely to support young people.
"He is an exceptional volunteer with an exceptional heart, but would always shy away from the praise he deserves."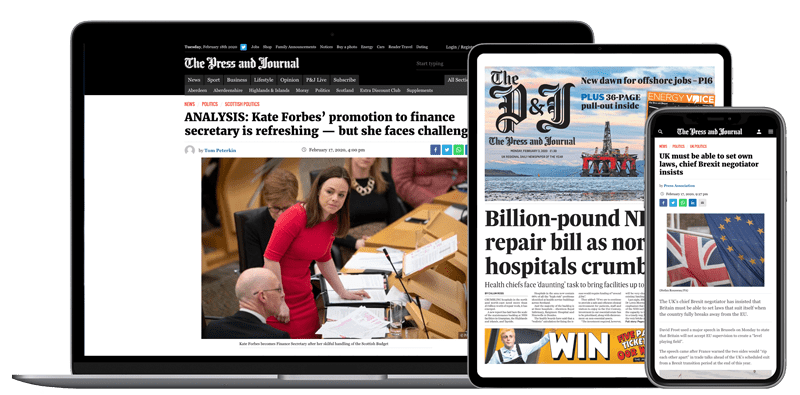 Help support quality local journalism … become a digital subscriber to The Press and Journal
For as little as £5.99 a month you can access all of our content, including Premium articles.
Subscribe