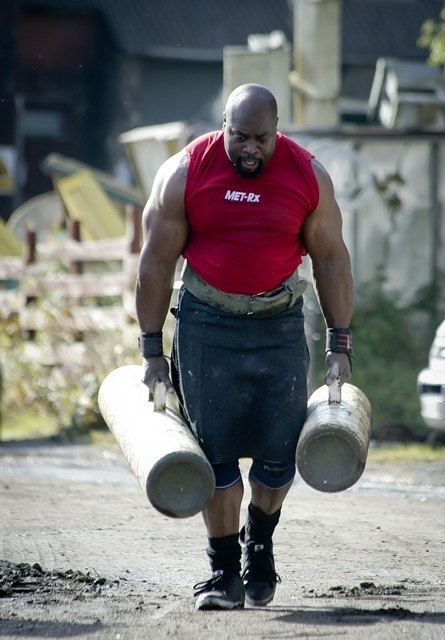 One of the world's strongest men is aiming to follow in the footsteps of Aboyne legend Donald Dinnie later this summer.
Mark Felix will attempt to lift two stones weighing 785lb and carry them more than 15ft during his visit to the Aboyne Highland Games.
The challenge is a re-enactment of Dinnie's historic feat, which involved him hauling the stones across the Potarch Bridge, near Kincardine O'Neil to win a friendly bet.
The stonemason went on to dominate the Highland Games circuit, winning his last medal just three years before his death in 1916.
His legend lives on through the Dinnie Stones challenge and games organisers are looking forward to finding out if Felix – a World's Strongest Man competitor – can also secure his place in the history books.
On August 2, the UK-based muscleman, who is originally from Grenada, will attempt to carry the stones a cross a replica of the Potarch Bridge, which has been made by pupils from Aboyne Academy.
Ian Scott, chairman of the Aboyne Highland Games, said: "Donald Dinnie is a historical figure at the very heart of these games, as he was a founding member back in 1867.
"Having a World Strongest Man competitor take on the Dinnie Stone challenge at this special Homecoming Scotland 2014 games will be really exciting and one of the many highlights."
More than 9,000 people are expected to flock to Deeside for the games, which include the usual heavy competitions as well as a range of dancing, piping, fiddle and athletic events such as the popular hill race.
There will also be various stalls and other attractions to peruse.
Earlier this year, the games committee launched an appeal to track down competitive weightlifter Peter Puszer, whose titles include Strongest Man in Slovakia.
He is also one of the few people in the world to have successfully completed the Dinnie Stones challenge, and organisers hoped he would repeat the feat at this year's event. However the elusive athlete – who once worked in an Aberdeen hotel kitchen – was unable to attend.