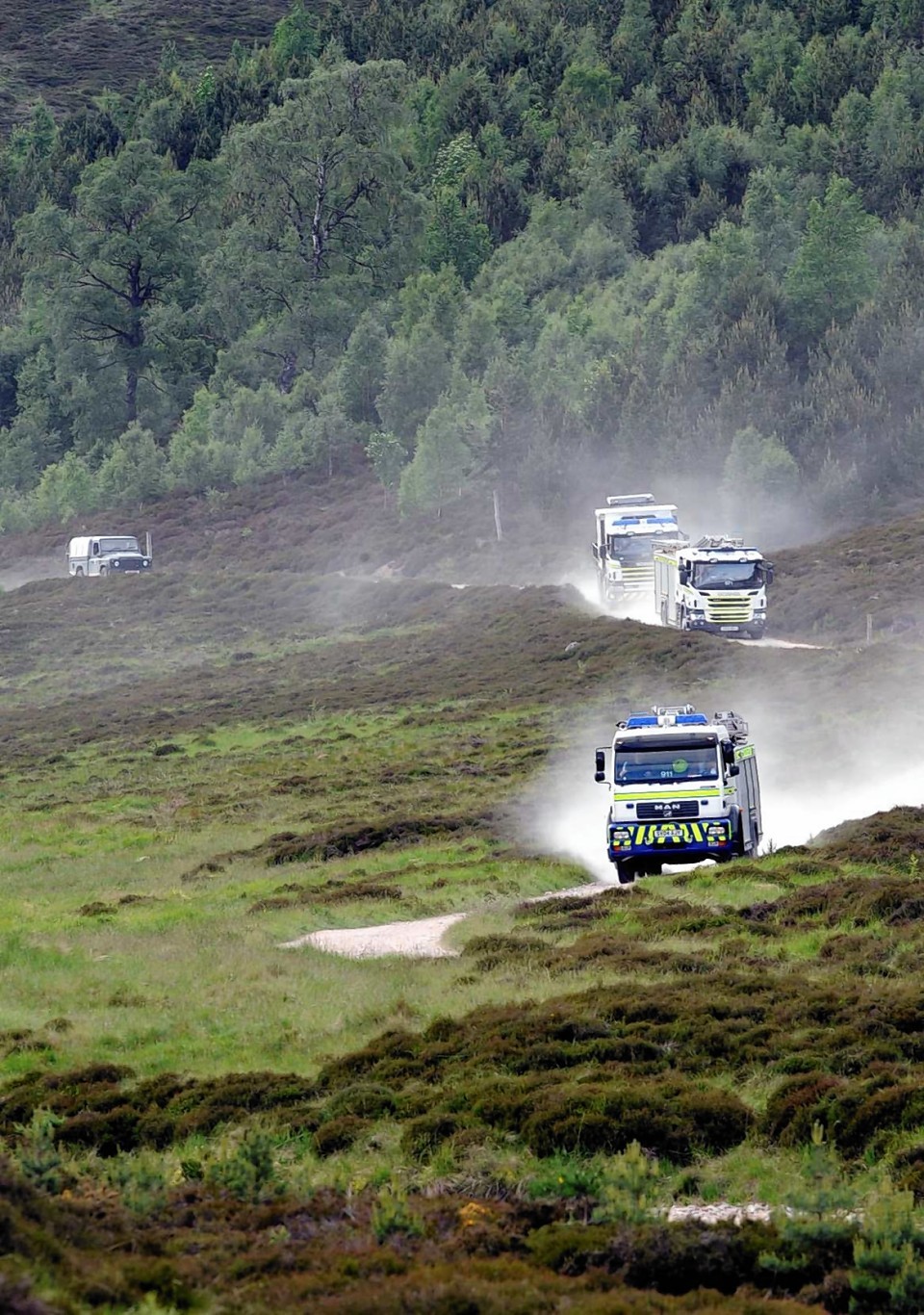 A major wildfire caused widespread damage on a Cairngorm estate yesterday.
Nearly 70 firefighters from across the north-east tackled the outbreak on the Mar Lodge Estate near Braemar.
Gorse caught fire near Derry Lodge and spread to surrounding heather and trees shortly after 1.30pm.
Area Manager Duncan Smith said: "Our firefighters, working tirelessly alongside local Estate Workers, did a magnificent job to limit fire spread and the environmental impact from this incident.
"We received excellent support from our colleagues in the National Trust for Scotland who own and manage the Mar Lodge estate.
"Although working on very challenging terrain our firefighters managed to mitigate damage to approx 8 hectares of mixed moorland and mature woodland."
A water carrier from Stonehaven supported 10 fire appliances from across the north-east, including Aberdeen, Banchory, Ballater and Tomintoul.
A helicopter from PDG Helicopters in Inverness provided air support, and spent over an hour dousing the flames from above.
Helicopter pilot Angus Gibson said: "I was out at a job so I went back to Dalcross then came straight down here. It was a bit late in the day getting the call but I just dropped everything.
"I spent an hour dropping water, dipping out of a pond on the north side.
"There was lots of old trees and gorse burning, but I think the wind changed direction which helped a bit."
A total of 67 firefighters were at the scene, and were assisted by forestry units from Altens, Aberdeen and Braemar.
The ambulance service had three vehicles on stand-by.
The fire was brought under control by early evening, and firefighters began leaving the scene shortly after 6pm.
The cause of the fire is still being investigated, but it is not thought to be suspicious.
The Scottish Fire and Rescue Service would like to remind everyone enjoying the Scottish countryside of the dangers of wildfires.
Mr Smith said: "The dry weather at this time of year means a heightened risk of wildfire in areas of grass, heather and woodland. We want to make as many people aware of this to ensure they don't cause a fire that could have devastating results."