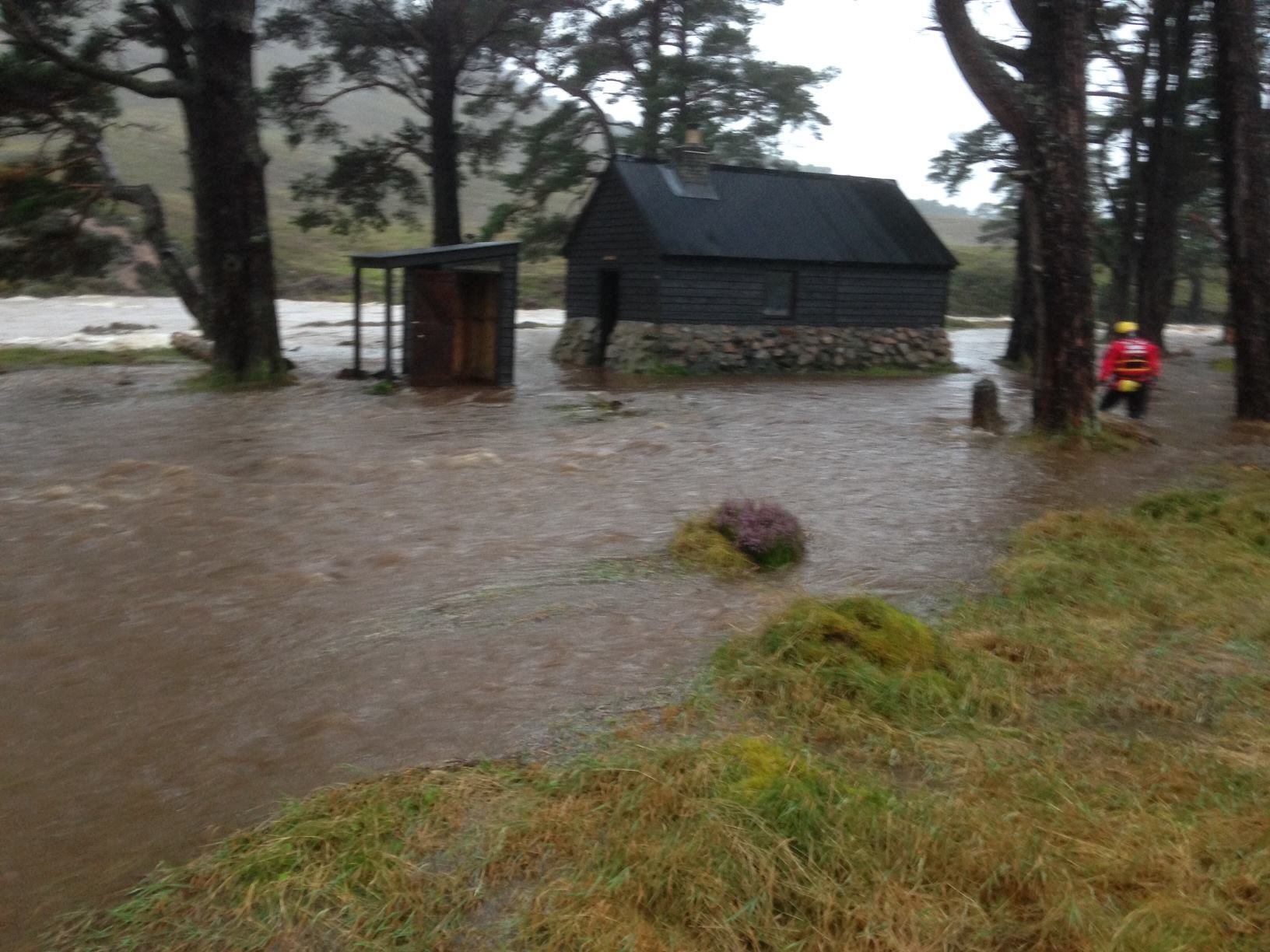 Walkers and holiday-makers in Deeside were forced to flee yesterday as burns and rivers burst their banks, washing away bridges and flooding a caravan site.
Braemar Mountain Rescue Team was called out to rescue three walkers trapped in Bob Scott's Bothy by the fast-flowing water of the Lui Burn, which joins the River Dee in the Cairngorms.
The trio, who spent Sunday night in the property at Derry Lodge, raised the alarm just after 5am when they realised how rapidly the burn was rising.
Braemar Mountain Rescue leaders sent specially trained members to reach the group and lead them to safety.
Chief Inspector Andrew Todd, from the team – which is made up of police officers and civilians – said: "We got a phone call at the back of 5am from one of the bothies at Derry Lodge.
"There were a number of walkers sleeping in the bothy, but water levels nearby were rising and they were trapped.
"The mountain rescue team, with its swift water trained members, guided them back to safety and they were taken to Braemar."
Two fire crews also attended, but were not required.
Downstream in Ballater, holiday-makers were evacuated from the caravan site as the river flooded.
Last night, visitors unable to find last-minute accommodation bedded down in the Victoria and Albert halls. Throughout the day, the community rallied round, offering refreshments to the group, who will be unable to return to the caravan site until the River Dee goes down.
Elsewhere, a footbridge across the Derry Burn at the foot of Glen Derry was washed away by the flooding.
The crossing, which was an essential link for the most commonly-used route through the Lairig Ghru Pass, was lifted from its foundations and swept downstream.
It means that, until the rivers fall back to normal levels, the Lairig Ghru is impassable by the Luibeg branch of the track. The only alternative crossing is more than a mile upstream, but its safety has not yet been assessed.
Last night the Mountaineering Council of Scotland warned that although the river is fordable when water levels are low, heavy rain would make the crossing dangerous or even impossible.
Peter Holden, head ranger at Mar Lodge Estate, said his team was still trying to assess the scale of damage and urged walkers to be aware of hazardous conditions, and to check the latest conditions before setting off.