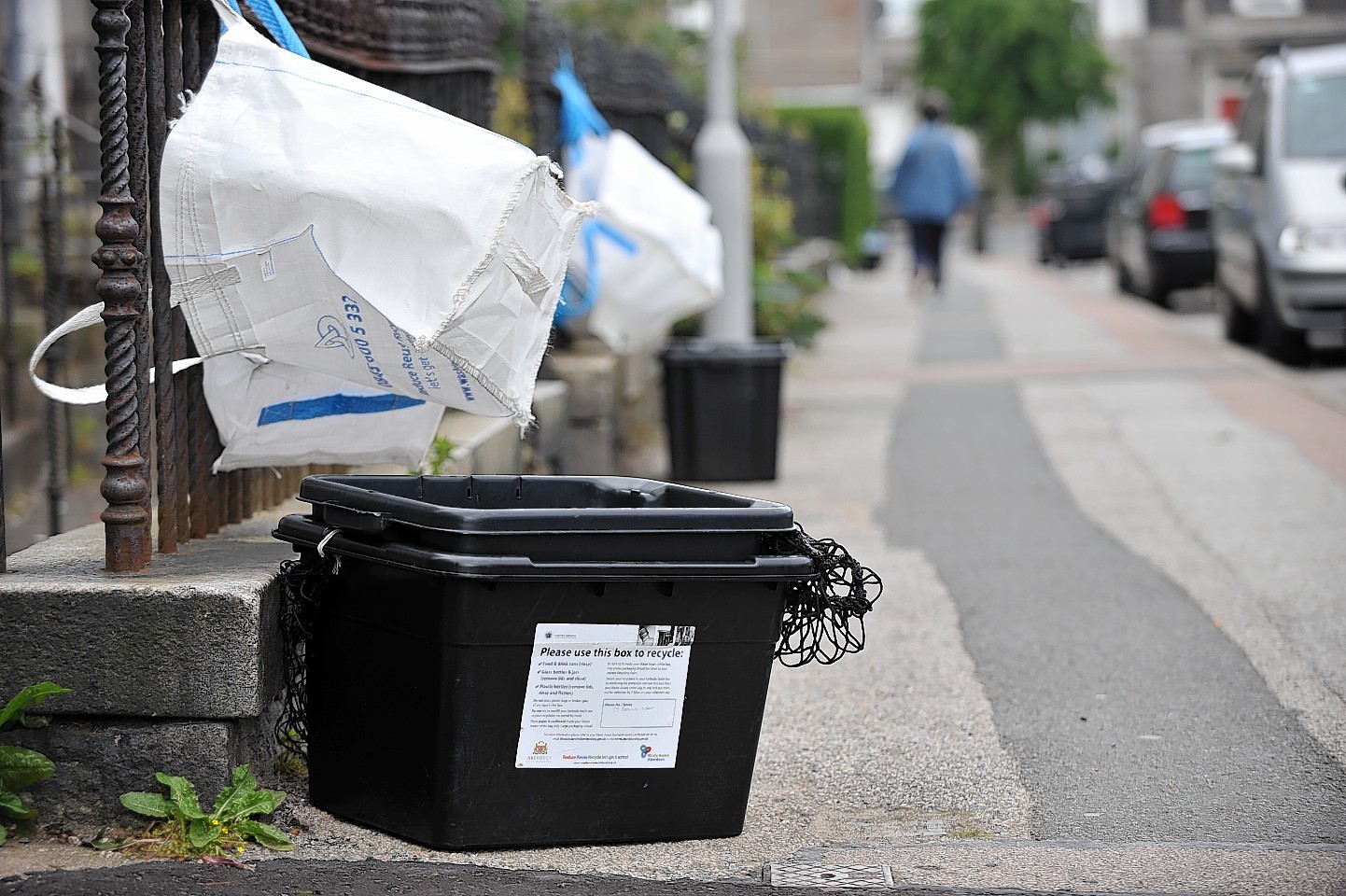 Council bosses in Aberdeenshire have said they have taken action to increase recycling rates over time.
Ian Robertson, the authority's head of protective services and waste management, said a new system of co-mingled recycling was being phased in throughout the region.
"This means recycling materials will be collected together in the same wheeled bin, replacing the blue and black boxes still being used in some areas," he added.
"Food waste is being collected in a green outdoor caddy which is proving popular with residents thanks to it being clean and easy to use.
"These new services have significantly improved recycling performance with 42.8% of household waste recycled between April and June this year.
"Recycling levels will keep increasing as the new service continues to be rolled out until its conclusion in Kincardine and Mearns next March."
Jean Morrison, convener of Aberdeen City Council's zero waste management sub-committee, said: "We offer a range of services to encourage people to recycle their household waste.
"The council is committed to increasing the recycling rate in Aberdeen and most recently has begun a pilot scheme designed to pave the way for mixed recycling household collections which are due to be introduced in 2015."
John Cowe, chairman of Moray Council's economic development and infrastructure committee, said it cost £80 for every tonne of waste to be sent to landfill and the council's bill in 2013-14 was £2,277,425.
"Our aim is to keep that bill to an absolute minimum, and these recycling figures show we're doing well in that regard," he added.
Maggie Sandison, director of infrastructure services at Shetland Islands Council, said the authority had a low recycling rate due to different local needs.
"The recyclable waste has to be transported by sea to specialist facilities on the mainland and we incinerate all of our domestic waste, including waste from Orkney," she added.
"The successful Waste to Energy scheme produces hot water from this process, that is then circulated around the streets of Lerwick to homes and businesses.
"Burning waste rather than diesel in the local power station to produce heat provides a great environmental benefit."