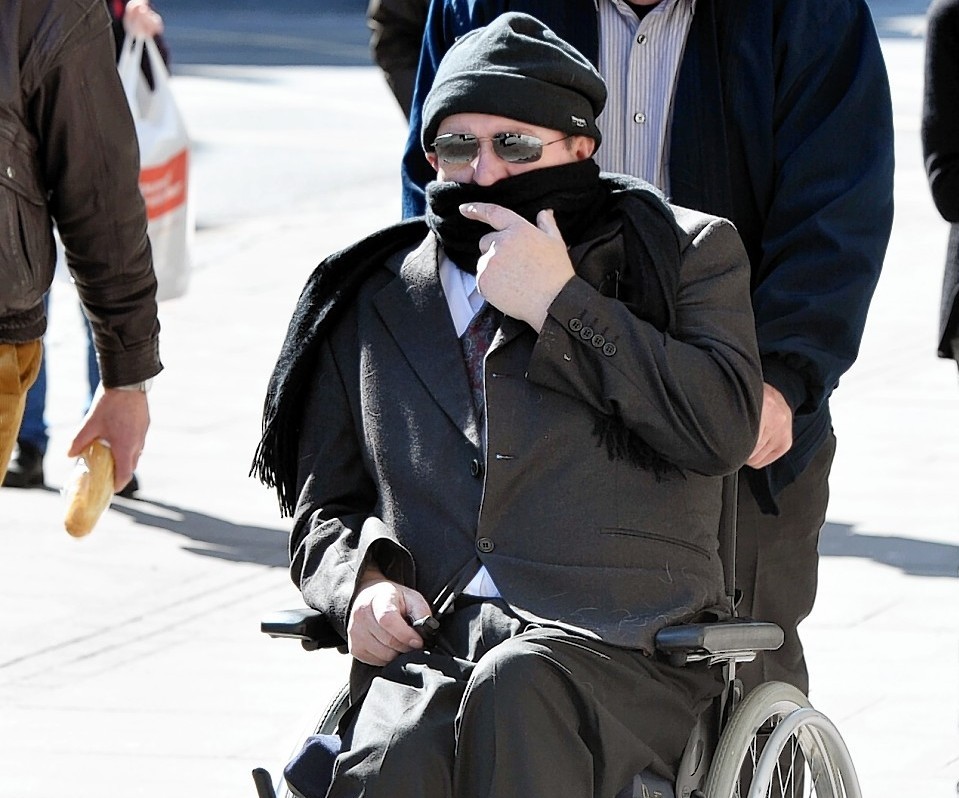 A paralysed pensioner who was jailed for abusing two young girls was back behind bars last night after being convicted of sexually assaulting a vulnerable man in a care home.
Wheelchair user Alexander Donald was sentenced to three years in prison in April last year for molesting the primary school age children in the late 1980s and early 1990s.
He was released from jail halfway through his sentence and given a place at a nursing home in Aberdeenshire.
During his short time there, Donald was caught by care workers groping another resident, who did not have the mental capacity to give consent.
Yesterday the 77-year-old, who is better known as Sandy, went on trial at Aberdeen Sheriff Court and denied touching the man inappropriately.
He claimed that instead of touching the man's groin he was stroking his arm in an attempt to console him.
Donald claimed the man had been crying and was visibly upset. He said his actions were intended to make his victim feel better, and not for his own sexual gratification.
But Sheriff Jack Brown said Donald's evidence was "entirely contradictory" to the accounts of the incident given by the two care workers who witnessed it.
The sheriff said he found their evidence to be "entirely credible and reliable" and found the pensioner guilty of the sexual assault.
During the trial the court heard the care workers had been sitting about 60 feet away from Donald and his victim but had a clear view of what was happening.
The witnesses said they were adamant that the victim's groin area had been touched and that it was not accidental.
Both care workers said they were convinced Donald was doing it for his own sexual gratification, and said the man he was assaulting had never been upset during his whole time at the home.
The court heard the man had the mental age of a four-year-old and would not have been capable of consenting to Donald touching him in that manner.
Donald's agent, solicitor Peter Shepherd, said his client's offending had been "at the lower end of the scale".
But Sheriff Brown said he felt he had "taken advantage" of his victim.
He said: "It might be seen to be at the lower end of the scale but that may only be the case because of the intervention of the care workers because they had seen the behaviour you were embodying again and were able to stop anything more from taking place.
"This was an extremely unpleasant offence given the victim has a mental capacity of a small child and it does seem to me that you took advantage of him on July 24 for your own sexual gratification."
The court heard that as Donald was released early from his last sentence, the parole board had since recalled his licence and he was now serving the remainder of his 30-month sentence, which had been reduced from 36 months on appeal.
His earliest release date is one year from now.
Yesterday, Sheriff Brown sentenced Donald to 10 months for his most recent offence. Both sentences will run concurrently.
Donald, who was paralysed from the waist down after an accident, was also placed on the sex offenders register for 10 years.
Jailing him last year, Sheriff Annella Cowan said she noted the nature of the offences and Donald's "refusal to understand or accept" what he had done.
One victim told the court she had gone to the police years after the abuse, fearing that Donald would attack someone else.
The mother of another victim revealed that she had suffered a nervous breakdown and tried to kill herself.
Donald, formerly of Muir Lodge at Dessran, near Aboyne, used to run a farm near Lumphanan.
He and his ex-partner later operated a B&B business in Upper Deeside.