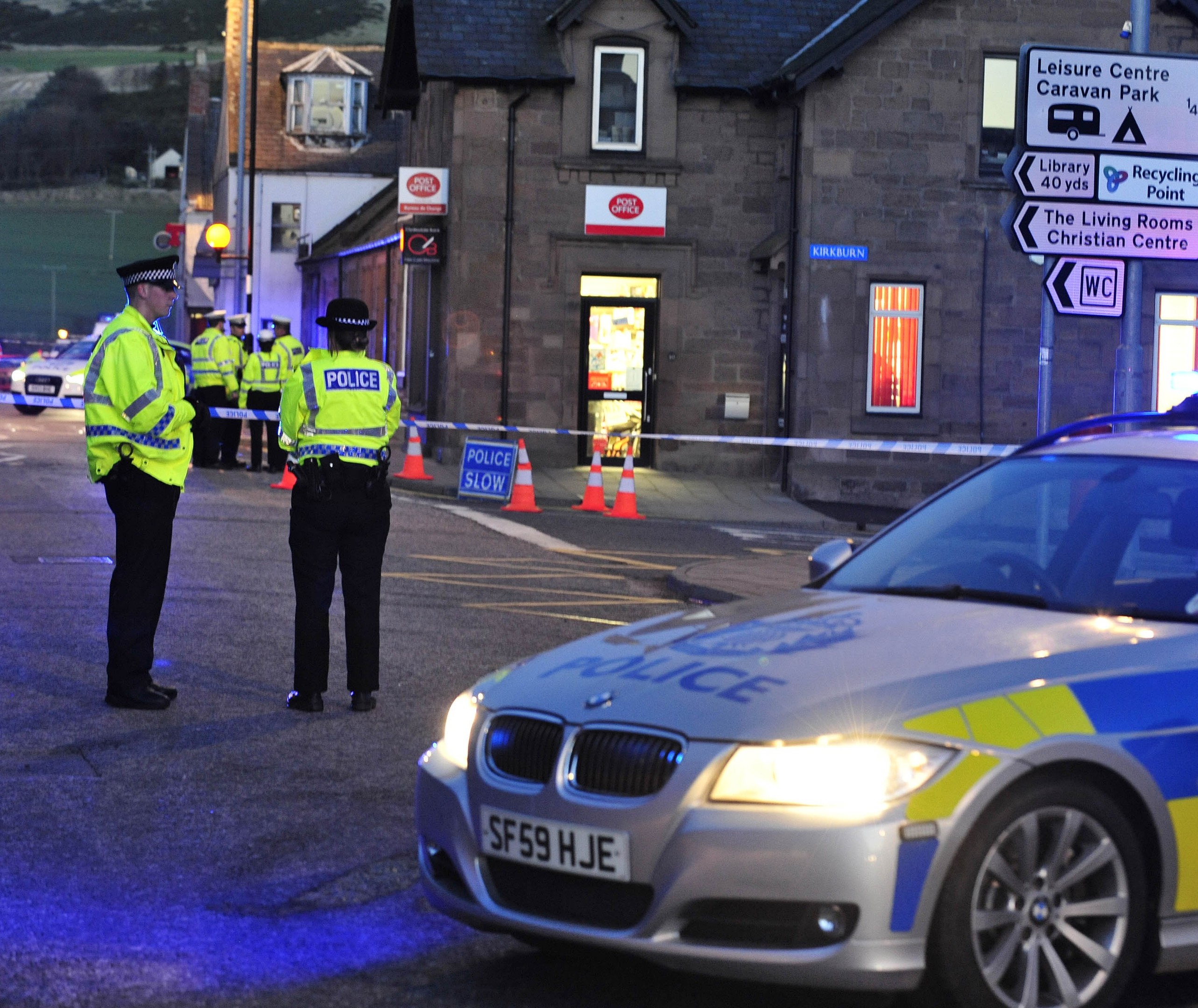 A pensioner who died after being knocked down on a pedestrian crossing was last night described as a "lovely man".
Jim Lyall was taken to hospital under police escort after he was hit by a car as he crossed Inverbervie's main street.
He later died from his injuries.
It is believed the 82-year-old was on his way to the beach, where he often enjoyed walking, when the accident happened at about 3.15pm on Wednesday.
Mr Lyall's family were too upset to talk about the tragedy, which has left the close knit community in shock.
However, neighbours paid tribute to the grandfather, who was known for his love of the outdoors.
One friend, who lived opposite Mr Lyall's bungalow in the town's Clipper Place, said: "I've known him for 30 years, and since he moved here four years ago he has been a good neighbour.
"He was a good friend and neighbour. He didn't bother anyone and kept himself to himself, and we enjoyed a news every day.
"In his younger days he enjoyed shooting and liked going for walks.
"I saw him not long before the accident, when he was taking in his recycling boxes. He said he was going to have some dinner and then head down to the beach, he went down there nearly every day.
"He was a very nice man, and it's a real shock."
It is understood Mr Lyall, who was widowed about 30 years ago, worked as a milkman for Nicolson's Dairy and as a farm worker at nearby Pitcarry Farm.
Neighbour Mary Simpson said: "I've known Jim for years, he worked with my husband at Pitcarry.
"I'll miss him, he was a very nice man."
Another neighbour, who did not want to be named, added: "I've known him for a long time, he was a milkman around Barras.
"He was very quiet person. He liked wildlife, he liked birds, fishing, shooting and things like that.
"He often went down to the water to feed the ducks. He'd take some bread down for them. He went to the beach a lot, I presume that's where he was coming back from when the accident happened."
Police and ambulance crews were scrambled to King Street, Inverbervie after Mr Lyall was hit by a black Audi A3 near the post office.
The father-of-two was using the pedestrian crossing when he was struck by the car, being driven by a 36-year-old woman.
Onlookers said the driver was on the school run when the accident happened, and that she appeared to have been blinded by the low winter sun.
Yesterday, one local businesswoman said her thoughts were with Mr Lyall's family, and admitted she was surprised there had not been an accident at the crossing before.
She said: "Lorries and cars come through the town at an awful speed. A lot of people have said that the crossing is in the wrong place, it shouldn't be so close to the corner. It's very difficult to see.
"There should be a proper crossing, especially for the kids coming out the school. It's a very busy road. Sometimes you just can't get across in rush hour because of the traffic.
"This is just absolutely tragic, to be killed on a crossing."
Police closed off the road for about five hours as they tried to piece together the circumstances of the accident.
Inspector Ian Kirkwood, of the roads policing department, yesterday urged anyone who had been in the area at the time and saw the accident, or the lead-up to it, to come forward.
He said: "Following the collision, a team of officers were deployed in Inverbervie and a number of witnesses were spoken to.
"I would ask for anyone who witnessed the collision and left without providing their details to contact us on 101 and a police officer will contact them to see if they have any information which could be of assistance to us."