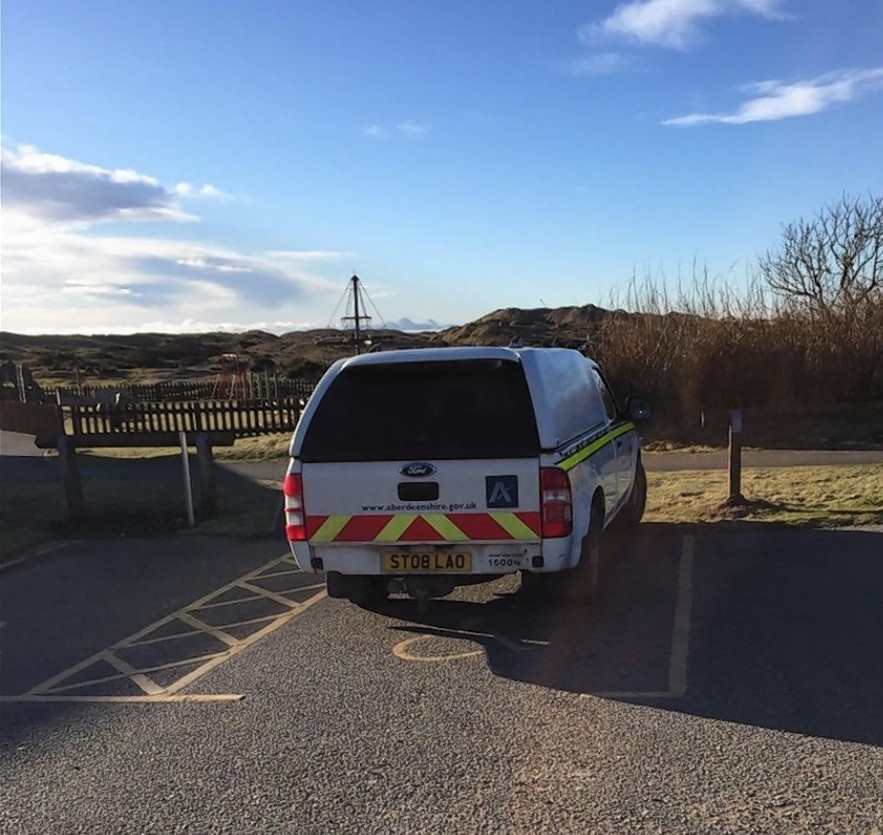 The father of a teenage girl with cerebral palsy hit out yesterday after catching council workers parked in a disabled space.
Paul Collier, of Belhelvie, took a photograph of the Aberdeenshire Council vehicle while out walking his dogs at Balmedie beach.
Mr Collier said he was annoyed because he remembered how difficult it often was to find a parking space when his 14-year-old daughter Charlotte was younger and needed more assistance.
He said: "The Aberdeenshire Council van had parked in the disabled space and the two workers were out of their van.
"I get annoyed seeing cars parked without badges as my daughter has cerebral palsy and used to have a blue badge when she was younger.
"She'd jump out of the car and we'd get dirty looks or even people would comment about us parking in a space even though we had a badge on.
"It was sometimes difficult to find a disabled space. It was needed on our return as she'd get tired during an outing."
Mr Collier said his daughter's condition improved as she grew older and she no longer qualifies for a blue badge but needed it when she was at primary school.
He was frustrated to find the council van parked in the disabled bay at 9am yesterday when there were other empty spaces – even right next to where the vehicle was parked.
Philip McKay, head of roads and landscape services for the authority, said last night: "It is not acceptable to park in disabled bays in Aberdeenshire without a blue badge and we would like to apologise for the difficulties that may have caused on this occasion.
"Staff will be reminded on acceptable use of such parking bays, including the potential impacts that this can have for those who have a genuine need for the space."