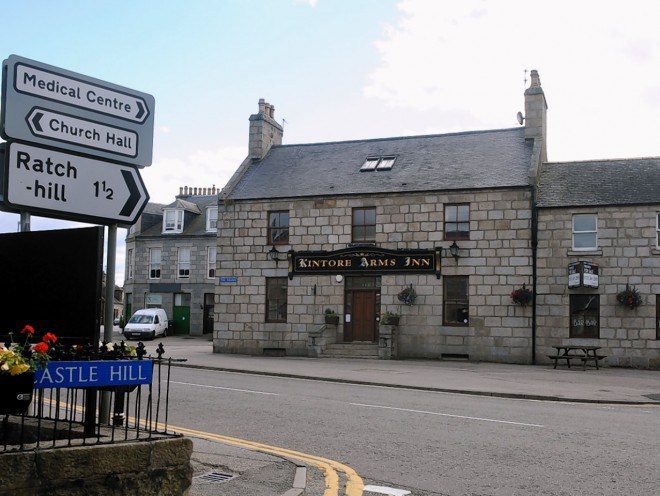 Fresh plans have been lodged to bring the last remaining pub in an Aberdeenshire village back to life.
Councillors rejected plans to turn Kintore's last watering hole into a takeaway last month, and urged the owners to reconsider the viability of the business.
Locals also argued that since there is already a shortage of amenities in the village, the Kintore Arms Inns should be retained to ensure the vitality of the town centre.
A total of 85 objections were lodged against the plans, which were refused by the Garioch area committee.
Now owner Cater Corporation Ltd has lodged revised plans with Aberdeenshire Council, which would transform the ground floor into a restaurant and allow the pub to remain.
There would be two dining areas, one for more formal meals and another more casual section which could be used through the day like a cafe. A new toilet area would also be built.
An outside seating could also be created, although the plans lodged do not include the works.
The rooms on the upper floors of the building, which are currently let out and accessed through a separate door, would remain unaltered.
Architect Neil Rothnie, whose firm is representing Cater Corporation, said in his supporting statement that he hoped the revised proposals would deal with local residents' concerns about the "potential loss of the pub".
He added: "The restaurant will provide a formal dining area to the larger room (south) whilst the smaller room (north) will provide a more casual environment which is expected to be operated more like a cafe for people to use for coffees and the like.
"On this basis it is envisaged that this will allow the constituent parts of the building to be used throughout the day and bringing the building back into full use."
Last night Brian Johnstone, chairman of Kintore Community Council, welcomed the fresh plans and said he was "encouraged" the owners had listened to residents.
He said: "We need to cater for families and work on that basis. There's demand for the bar, but a coffee bar like this is going to suit everyone. Locals want somewhere to stand and have a pint without having to go to Blackburn.
"This is more along the lines of what's needed, and I would support it. We want to get it opened up as soon as possible."