UKIP faces a race against time to find a candidate to fight a north-east seat that has been dubbed "Scotland's most Eurosceptic constituency".
Banff and Buchan was named last year as one of only four areas north of the border where a majority of voters favoured quitting the EU.
But with the registration window due to close within days, UKIP has still to choose a representative to contest the constituency.
Nigel Farage's party is aiming to put candidates up in every seat in Scotland on May 7, and has so far selected for 46 out of the 59.
Banff and Buchan, West Aberdeenshire and Kincardine, and the Western Isles are among the areas where it has still to announce its representative.
The deadline for nominations is April 9.
Banff and Buchan, a seat formerly held by Alex Salmond, was named last year as Scotland's most Eurosceptic constituency, with 57% wanting to leave the European Union.
It was one of only four Scottish seats where researchers found a majority in favour of exiting the EU. The other three were Angus, Dumfries and Galloway, and Ayr, Carrick and Cumnock.
UKIP has chosen candidates in the other seats in the north and north-east, including Aberdeen South, where the researchers from Durham and East Anglia universities found just 32.8% wanted to quit the EU.
A UKIP spokesman confirmed that the party did not yet have a Banff and Buchan candidate- but said it was still aiming to contest all the seats in Scotland.
He also said that Mr Farage had no plans to travel north of the border during the campaign.
He said: "We are certainly hoping to get a full slate. We have 46 candidates in Scotland and there is not a single one who has been parachuted in among them."
Asked about the party's prospects in Scotland, the spokesman said: "I think we will surprise people.
"Scotland is certainly a few years behind England when it comes to our growth.
"We are looking to these elections to build, looking towards the Holyrood elections in 2016, and a breakthrough on the Holyrood list.
"If you look at the polls in Scotland, that is definitely a realistic possibility."
Asked if Mr Farage would travel to Scotland to boost the campaign, he said: "I don't think he'll be up there in the next few weeks. I doubt it because of the huge effort he is putting into the South Thanet constituency."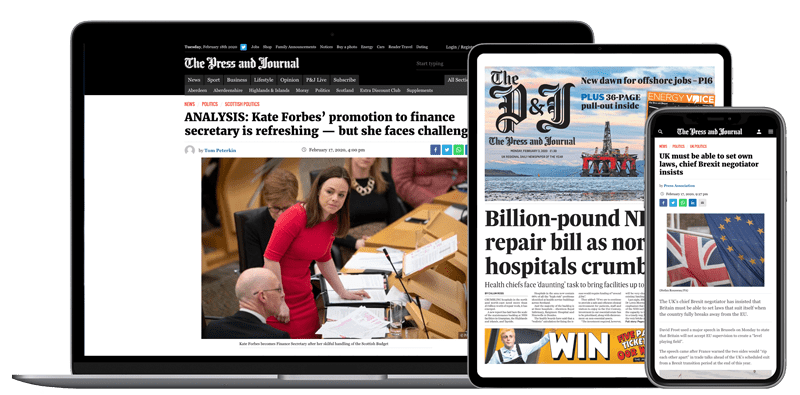 Help support quality local journalism … become a digital subscriber to The Press and Journal
For as little as £5.99 a month you can access all of our content, including Premium articles.
Subscribe