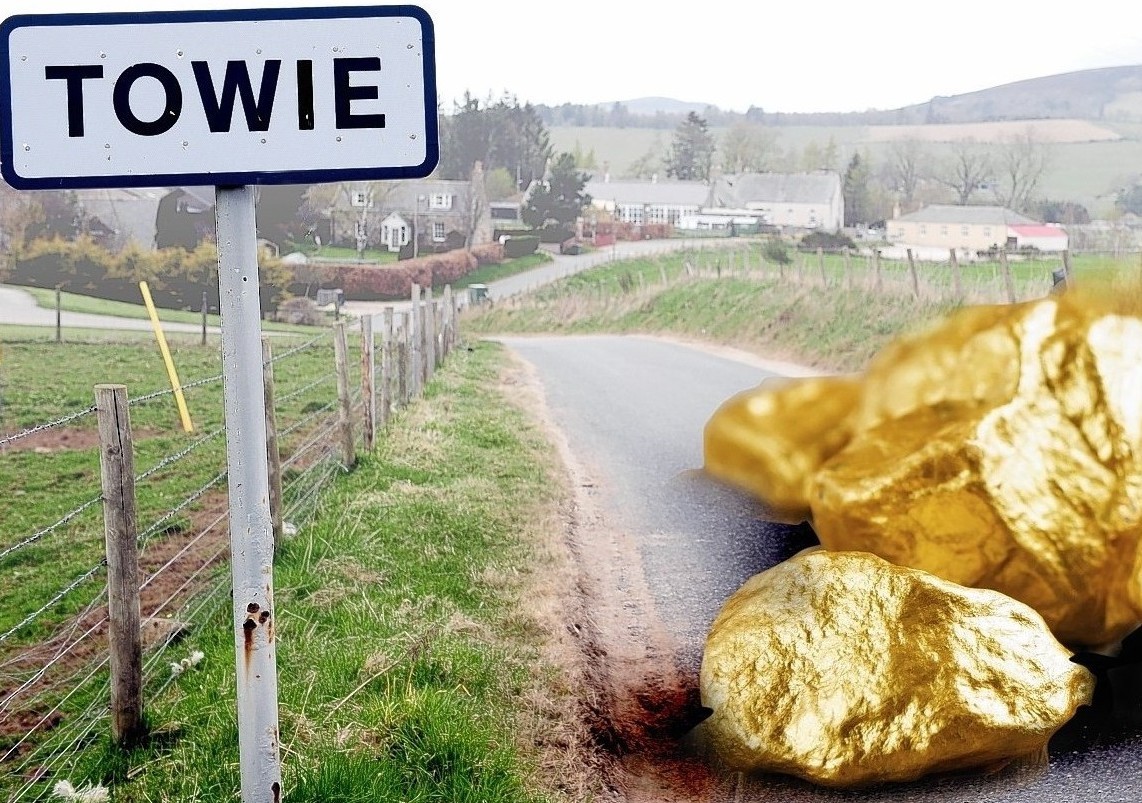 It is one of the tiniest communities in the north-east and does not even boast its own shop – but a Turkish mining giant could turn Towie into one of the world's hottest gold prospects.
Koza Altin Isletmeleri has joined forces with a Muir of Ord-based firm to start prospecting for deposits on a site about 30 miles west of Aberdeen.
Experts believe the land near Towie could be home to billions of pounds worth of the precious metal.
Koza, which is controlled by Turkish businessman Hamdi Akin Ipek, is working with GreenOre Gold, which has been working on the site for the last two years.
GreenOre managing director Gavin Berkenheger, a 31-year-old Aberdeen University geology graduate, said the farmland site was part of the same geological "supergroup" as the massive Curraghinalt gold deposit in Northern Ireland.
The Dalradian supergroup – thought to have formed more than 500 million years ago – runs from Northern Ireland in a north-easterly direction up through Aberdeenshire.
A Canadian mining firm, Dalradian Resources, has estimated the gold-laden site in Co Tyrone contains more than 3.5 million ounces of gold that it plans to exploit over the next four years.
The company started drilling in March and expects to create 300 jobs.
Dalradian expects to spend £16.4million on the Curraghinalt mine this year after winning £326,000 of support from the government of Northern Ireland. Enterprise Minister Arlene Foster has welcomed Dalradian's investment in the region as "good news for the local economy".
The development of a gold mine in Aberdeenshire remains at a "very early stage", said Mr Berkenheger.
However, he stressed that the Towie site had "enormous potential".
He said: "It is the same geology as in Northern Ireland.
"This area in Aberdeenshire has all the right hallmarks of a major deposit to be hiding underneath the surface. Aberdeenshire has enormous potential for a major deposit.
"A 3.5million ounce gold deposit is currently being developed by Dalriadan Gold in Northern Ireland. We hope to repeat this success."
He added that another firm, Scotgold Resources had discovered gold at Tyndrum, which is also part of the same formation.
GreenOre already has a licence from the Crown Estate to search for gold in the undulating hills between Rhynie and Aboyne.
The firm said the streams near the village of Towie has been well known for containing grains of "significant size" for many years and gold was discovered by Aberdeen University in nearby Rhynie in the 1990s.
An Irish mining firm, Navan Resources, looked for gold in the area between 1990-92.
Mr Berkenheger, who previously worked with Dalriada on the Northern Ireland prospect, said Koza was a "world leader in resource development".
"GreenOre Gold is delighted to partner with Koza, a major gold producer," he said.
"They have seen what we have got and they are happy that this area we have in Aberdeenshire has potential for a large deposit like we found in Northern Ireland.
"This further supports our belief in the potential for major gold deposits in Scotland."
Koza, which operates five working gold mines in Turkey, will fund exploration activities and will take over 60% of a joint venture it has formed with GreenOre.
Mr Berkenheger said starting mining operations would depend on "a lot of factors" including site access, planning permission and environmental issues.
"What we are doing right now is locating where this deposit will be and we will jump those hurdles when we get there," he said.
Koza will fund the next stage of the process which will involve traditional panning for gold in local streams.
Mr Berkenheger said: "Initially we will cover the area with stream sediment sampling – the old school way. Then from the streams with high gold content, we will crack open any rocks we think have the potential of hosting gold."
A spokesman for Aberdeenshire Council declined to comment before the submission of planning applications, adding that the local authority would "wait to see if it comes about".