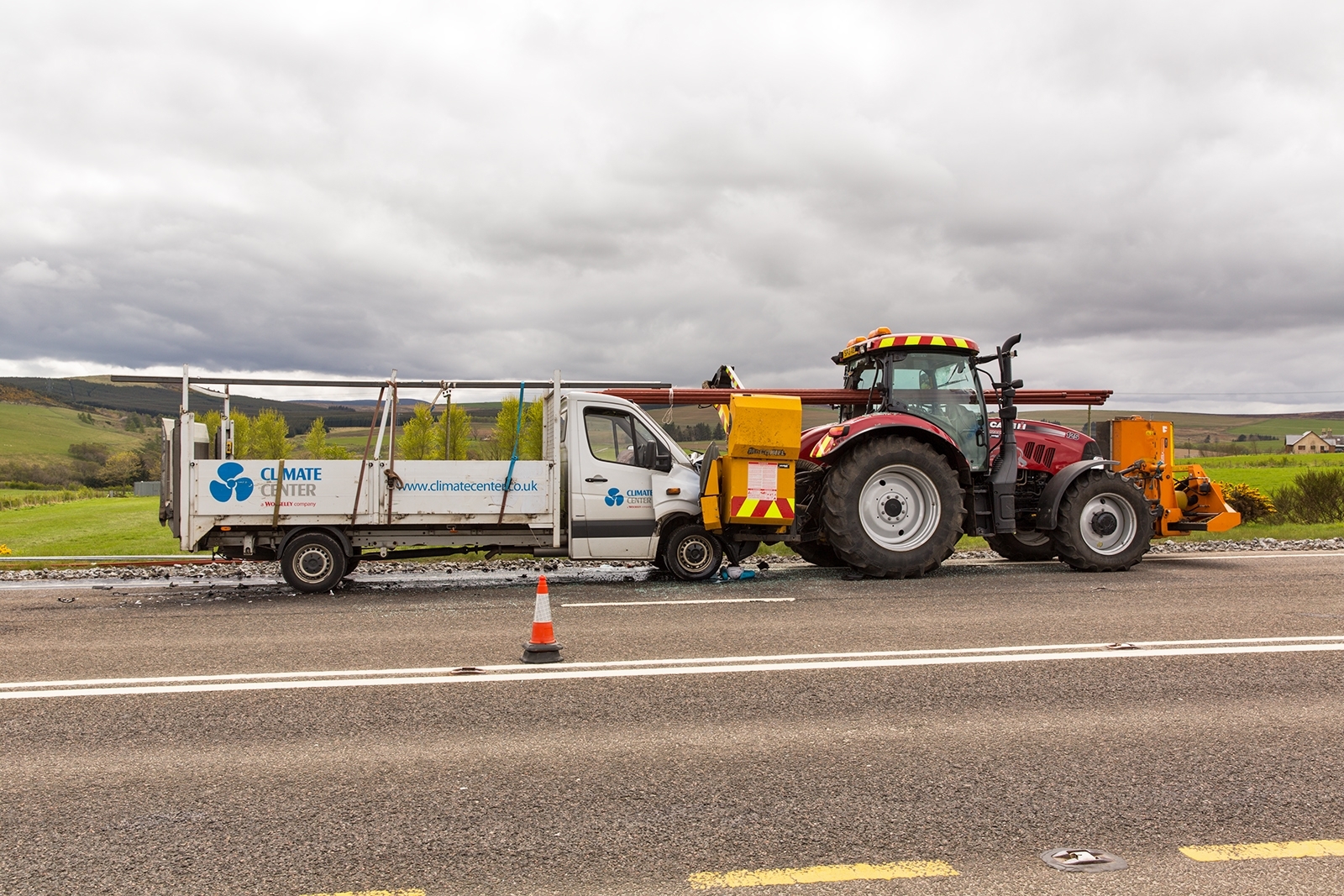 A tractor driver had a lucky escape this afternoon, when a truck crashed into him from behind on a major north-east road and a metal pipe ploughed through his front windscreen.
The accident happened on the A96 Aberdeen to Inverness road, near Coachford, at around 1pm.
The Bear Scotland employee was mowing the grass verge along the westbound carriageway when a flat-bed Mercedes Sprinter truck veered off the side of the road and smashed into the back of the tractor.
Due to the impact, several metal pipes on board the truck were dislodged and one plunged through the rear and front windows of the tractor, just inches away from the driver's seat.
Police, fire and rescue and ambulance services were all called to the scene.
Three fire appliances from Keith, Huntly and Aberchirder attended and crews helped police officers make the road safe for other motorists.
There was no disruption to traffic as a result of the accident.
The driver of the tractor was taken to Turner Memorial Hospital in Keith, where he was treated for minor injuries.
Huntly councillor Moira Ingleby said it was lucky that no one was more seriously hurt.
She said: "It's most unfortunate when an accident like this happens, but I'm very pleased no one was seriously injured.
"Obviously, the verges have to be cut and I know all the workers go out of their way to do it as safely as possible, but these things can still happen."
Bear Scotland confirmed one of its employees had been injured in the accident.
The spokeswoman said: "A Bear Scotland vehicle was involved in a road traffic collision with a van early this afternoon on the A96 at Coachford. Police Scotland investigations are ongoing regarding the cause of the incident."
Police are appealing for witnesses to contact them on 101, or Crimestoppers on 0800 555 111.