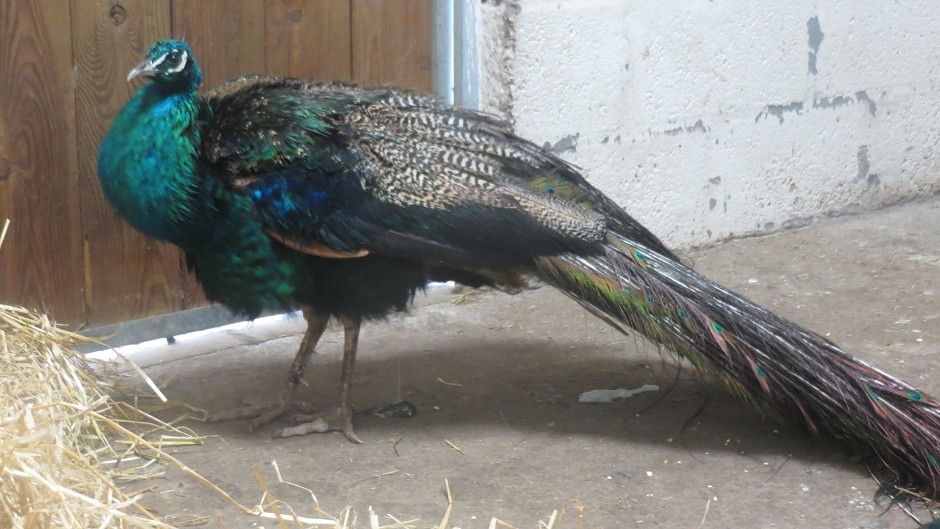 A peacock was rescued in Aberdeenshire after it became stuck trying to break into a family home – through a catflap.
The Scottish SPCA was called after the exotic bird was found half-in the home near Ordhead, Inverurie on Monday.
The peacock's owner is now being sought after being brought into the charity's north-east re-homing centre in Drumoak.
Animal rescue officer, Helen Bissett, was called to the house after the bird got trapped in the door.
The peacock was named Felix by Ms Bissett – who said she managed to grab him "without any trouble".
She added: "He has some feathers missing from his head and neck so I think he has been in a tussle with another peacock recently.
"Felix was pecking at the windows of the house and then tried to put his head through the cat flap.
"At this stage we're not sure how he came to be there. It's possible he has strayed from home or he may have been abandoned.
"We're sure he does have an owner though as people do keep peacocks as pets.
"If no one comes forward for this cheeky boy we'll find him a suitable new home."
The centre's assistant manager, Claire Tyczynska, said that the bird was so large it has been housed in their stables.
She added that Felix's potential owner had been in touch and another person had contacted the centre offering to re-home him if no one came forward.
She said: "This is definitely a first for the centre. He's quite a big bird so obviously it is trying to find the space that will accommodate something with that large a tail. We've put him in the stables.
"We have had some one that might be a potential owner get in touch and had some interest from someone wanting to re-home him.
"Hopefully we won't have to house him too long as we want him out on grass. They like to be on grazing ground.
"I know there is a few places and estates around here that keep peacocks and that was our first point of call."
Anyone who recognises Felix is being asked to contact the Scottish SPCA's Aberdeenshire centre on 03000 999 999.