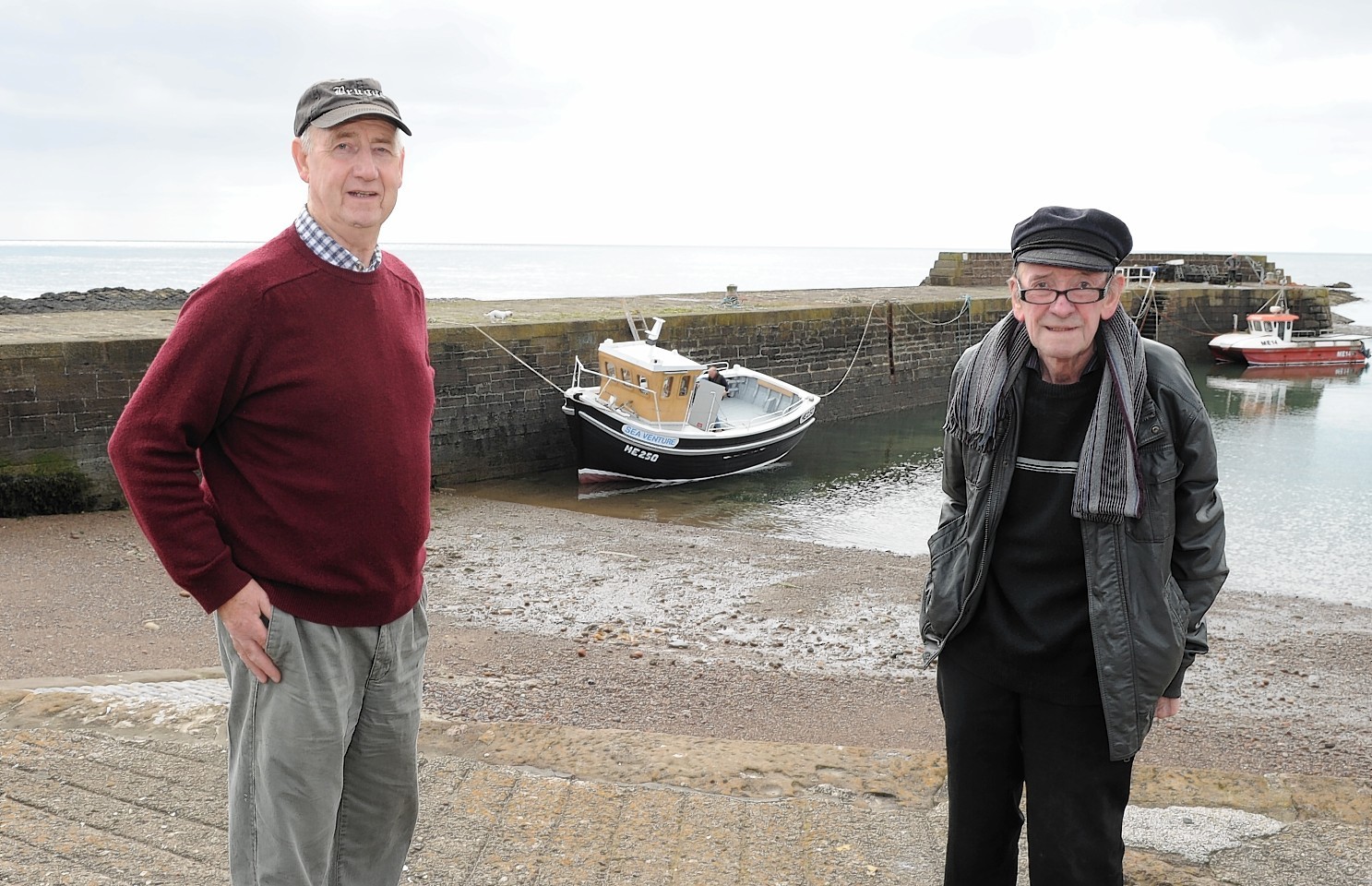 What may be the last fishing vessel of its kind built in Scotland has been launched at a north-east harbour by a team of veteran boatbuilders.
Scores of people turned up to watch as the 28ft clinker Sea Venture made its maiden voyage at Johnshaven.
It was built by local handymen Tom Ritchie, Richard McBay and Lloyd Coates.
Mr Ritchie and Mr McBay worked during the heyday of the Montrose boat yards in the 1960s and 1970s and as they moved towards retirement decided they wanted to build one last vessel
Work on the Sea Venture began in 2008 in a shed in the Mearns village, but their construction project moved to the harbour after a fire hit the building – almost scuppering the project labour of love project.
The Sea Venture was launched on a high tide and its maiden voyage took it one mile offshore.
The boat was also christened by 10-year-old Calli MacBay, who poured a nip of whisky on its stem post under the watchful eye of her doting grandfather Mr MacBay, 70, and her mother Lynne MacBay.
Miss MacBay said: "Calli couldn't sleep the night before, she was so excited because it was her granddad who built it. It was lovely."
Clinker-built boats were once among the most commonly used by skippers along the north-east coast.
Gourdon-born carpenter Mr Ritchie, 75, served as an apprentice at Joseph Johnson and Sons in Montrose before turning to the construction of nuclear power stations.
He said they had "plenty of admirers" as the vessel was plunged into the harbour.
He added: "She is in the water floating fine, we'll just have to organise a bit of weights to stabilise the centre of gravity. There is no doubt that we'll get the fishing rods out at some point.
"We're going to take her out to the sea every day. We have just gone out with the boat doing a shakedown.
"She is very quick on the helm and her turning circle is absolutely great.
"We are pleased with that sort of first trial. She just needs a bit of weight in the stern. We went about one mile out and went just along the coast and did a spin around and came back in.
"It was really good. It feels great when it is something that you have put your hand on every plank and every rivet."