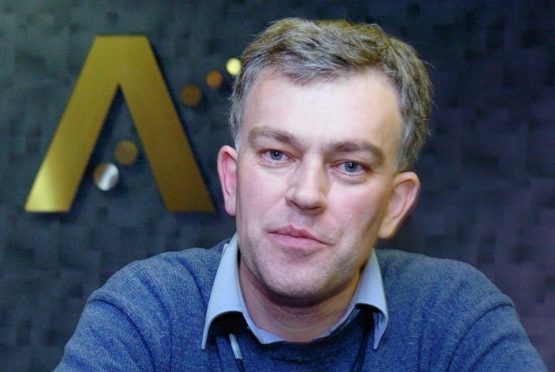 A councillor who locked horns with Donald Trump last night emerged as the unlikely new power broker on Aberdeenshire Council.
The local authority's two-strong independent group, headed by Martin Ford, signalled its support for a vote-by-vote agreement, which paves the way for an SNP-led administration to take over from the current ruling alliance.
Mr Ford, the council's only Scottish Green, and fellow Democratic Independent and Green Group (Digg) member Paul Johnston said they would be prepared to back the newly-established partnership between the 28-strong SNP group and the so-called Progressive Alliance.
That would bring the opposition to 34 members, putting it one ahead of the existing Aberdeenshire Alliance – which is made up of Conservatives, Liberal Democrats and nine Independents.
Last night it was claimed a new administration could begin governing the local authority in "just a few weeks".
However, Mr Ford and Mr Johnston reiterated that they would not form part of the new ruling body, but would back it on a "confidence and supply" basis – supporting it in key votes, so long as it pursued policies they agreed with, while remaining a separate, independent opposition group.
The pair said areas of common interest could include maintaining spending on community learning, backing the return of a railway link between Dyce and Ellon as part of the Aberdeen City Region Deal and a transition to a low carbon economy.
The news follows a turbulent week at Woodhill House in which the ruling alliance lost four members, including deputy leader Martin Kitts-Hayes.
Mr Kitts-Hayes and Sheena Lonchay, both Independent, quit the administration just days after the departure of Labour councillors Alison Evison and Raymond Christie, amid claims it was becoming increasingly Tory-led.
The four went on to form the Progressive Alliance and entered into talks with the SNP group, announcing they had reached a partnership agreement on Sunday.
East Garioch councillor Mr Ford, whose casting vote as then chairman of the powerful infrastructure services committee almost scuppered the Trump golf resort application in 2007, said: "The agreement paves the way for an orderly transition to a new administration in Aberdeenshire, probably within a few weeks.
"Our agreement commits a new administration to working with us on agreed policy priorities. We believe these changes will deliver real benefits for Aberdeenshire residents."
Last night Mid-Formartine councillor Mr Johnston said: "We welcomed approaches to bring stability to Aberdeenshire Council and we have agreed to try and bring uncertainty to a close.
"Our objective is a positive change in direction and it's clear there is agreement on that.
"We are not entering a coalition. But we will give confidence and support for a stable Aberdeenshire going forward."
However, current council leader Jim Gifford questioned the agreement the opposition parties had reached.
He said two councillors uncommitted to a new administration might not be enough to secure a 34-strong majority for the opposition.
The Mid-Formatine Conservative councillor added: "The advice I have got just now is that this doesn't constitute a group of 34. I have said many times over the last week we are a minority administration and we'll carry on until something happens to change that.
"It is business as usual until something else happens. We'll see what tomorrow brings. There are 250,000 people who rely on the council for the services they rely on day in day out. The council has to carry on regardless."
SNP group leader Hamish Vernal said: "We're delighted that after some intensive negotiations over the past few days we have been able to reach an agreement.
"It's clear that together we now have the numbers required to effect an orderly change of administration in Aberdeenshire and that's what we aim to do.
"We will be taking advice from the chief executive in the days ahead on how best to now proceed."
Mrs Evison said: "We share many principles and policies with the Digg, particularly over openness in decision making and working constructively with communities."