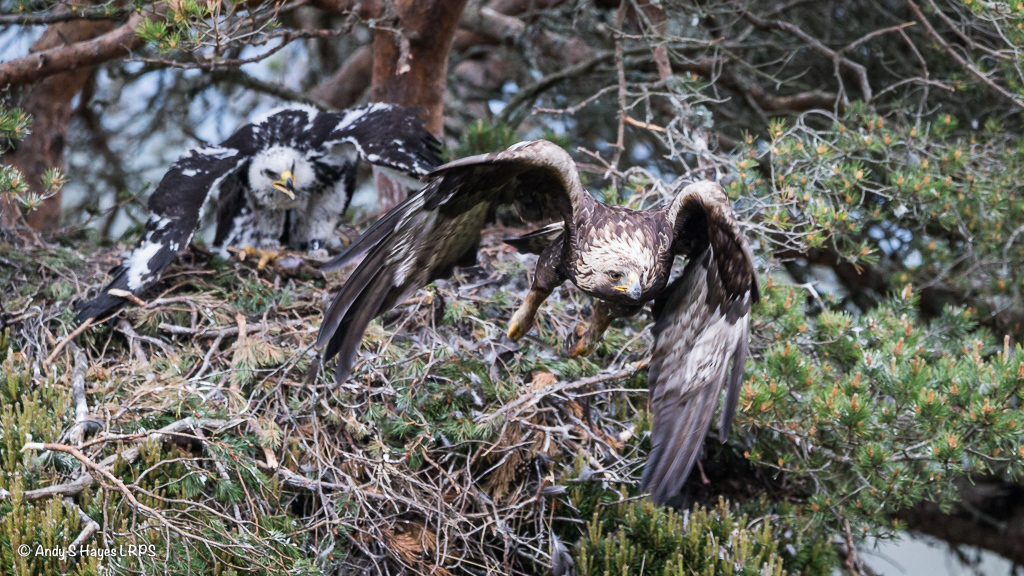 Two golden eagle chicks have hatched at a Royal Deeside estate.
Glen Tanar, near Aboyne, welcomed the chicks – named Gail and Hamish – early last month, making it the second year in a row that a pair of chicks have fledged on the estate.
The pair's mother Morag is a regular visitor to the Cairngorms estate, and always makes it tricky for staff to track her as she nests.
Wildlife manager Colin McClean said he was pleased she had returned, and that her success meant it was the 10th consecutive year a chick had been born on the estate.
He said: "This is the third time this particular female has hatched.
"We have a job finding her every year, the eagles move around five or six different sites and this female likes to build a new nest so it's always a job to track her down. She can pick any tree across 25,000 acres so it's always nice to find her and see she's been successful."
Now photographers are being given the chance to watch the raptors as their mother swoops in and out of the nest to feed them.
Mr McClean is one of the guides who will be accompanying photographers to the specially-created bird hide overlooking the nest.
He said: "We've had chicks hatching for a long, long time – I don't think we've missed a year in the last 10, and this will be third year we're letting people in to photograph them. It's always very popular.
"We wait until they are a bit older as it means the adults are not with them as much since they are hunting. The chicks are feeding themselves, so if the adults don't want to hang about they can fly in and leave a hare or grouse on the nest and go again."
The hide is operational for only a few weeks, and demand is high – with photographers from across the UK keen to catch the iconic birds in action.
Golden eagle chicks have hatched on the estate for generations, and Mr McClean said it was always nice to watch them return.
He said: "Once they leave they can go anywhere in Scotland, although for the first six months they stay in reasonably close proximity to the estate.
"We've satellite tracked a couple of birds over the last four years, and they can go anywhere in the Highlands of Scotland. Often they head to Caithness or the west coast for a day trip, and then come back. They are exploring and looking for places to set up their territory."
For more information visit www.glentanar.co.uk or to book, call 01339 886451 or e-mail robyn.mcpherson@glentanar.co.uk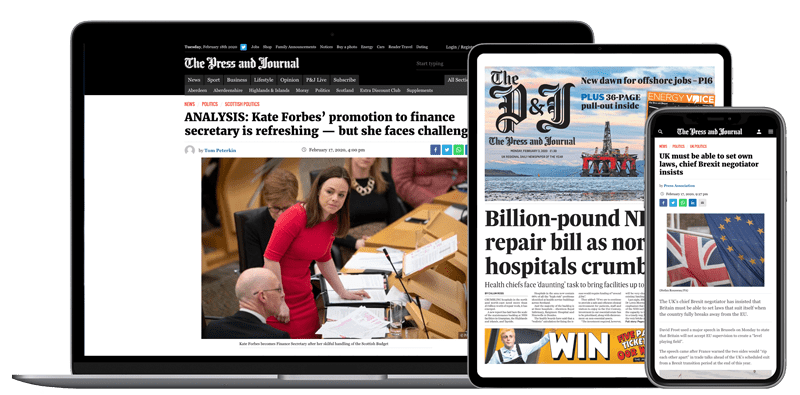 Help support quality local journalism … become a digital subscriber to The Press and Journal
For as little as £5.99 a month you can access all of our content, including Premium articles.
Subscribe