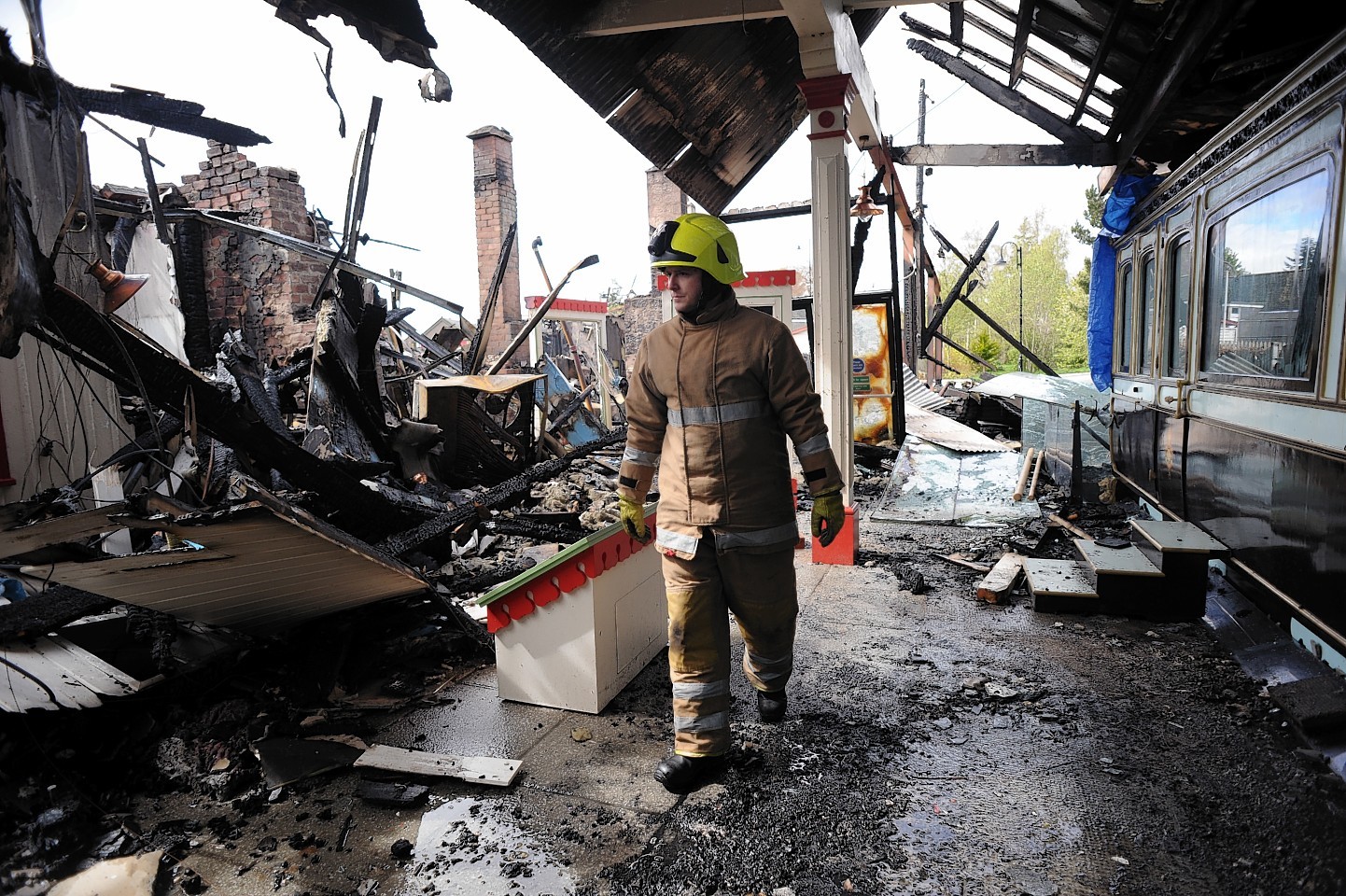 Work could begin soon to ensure a historic Aberdeenshire building destroyed in a fire can rise from the ashes.
Nearly 50 firefighters were called to the Old Royal Station in Ballater earlier this year, after a huge fire broke out and devastated the wooden building.
Aberdeenshire Council has vowed to restore the B-listed building, retaining its original features where possible.
But yesterday the full extent of the damage was revealed in a report to councillors for the first time – showing the challenge ahead.
The building contained a railway museum – celebrating Queen Victoria's use of the station on her trips to nearby Balmoral – as well as a visitor centre, restaurant and businesses, and was described by the community as the "centrepiece" of the village.
Investigations have shown that just the waiting room and visitor centre are the only sections of the original station building that can be salvaged.
The report, which will go before the Marr area committee next week, says the other sections were "totally destroyed".
It adds the intricate interiors and stained glass windows of the beloved waiting room had suffered "extensive damage".
Ritchie Johnson, the council's head of communities, states: "Following discussions surrounding (the building's) condition and the structural report, officers' preferred option is to clear of all areas destroyed by fire along with the remaining elements of platform canopy forming the display area which formed part of an extension in 2000-2001.
"This option would result in only Area E, comprising of the waiting room and visitor information centre, being retained with this being the only part of original station building remaining which dates back to its construction in 1866-1886."
He added that consultees Historic Scotland and the Cairngorm National Park Authority had agreed this was a "pragmatic solution".
The cost of clearing the site of debris, removing the canopy and installing a temporary enclosure to protect the waiting room is £150,000.
No figure has yet been placed on what it might cost to fully rebuild the station – which was home to Amy Muir Photography, Lucy's Clothing, the Station Restaurant and a Visit Scotland visitor information centre.
Consultations with local community groups and the affected businesses concluded that the Royal Carriage – miraculously saved from the flames – be retained as the centre piece of the reconstructed building.
Councillors are being asked to acknowledge the work done on the project so far and agree to progress it to the next stage at next week's Marr area committee meeting.