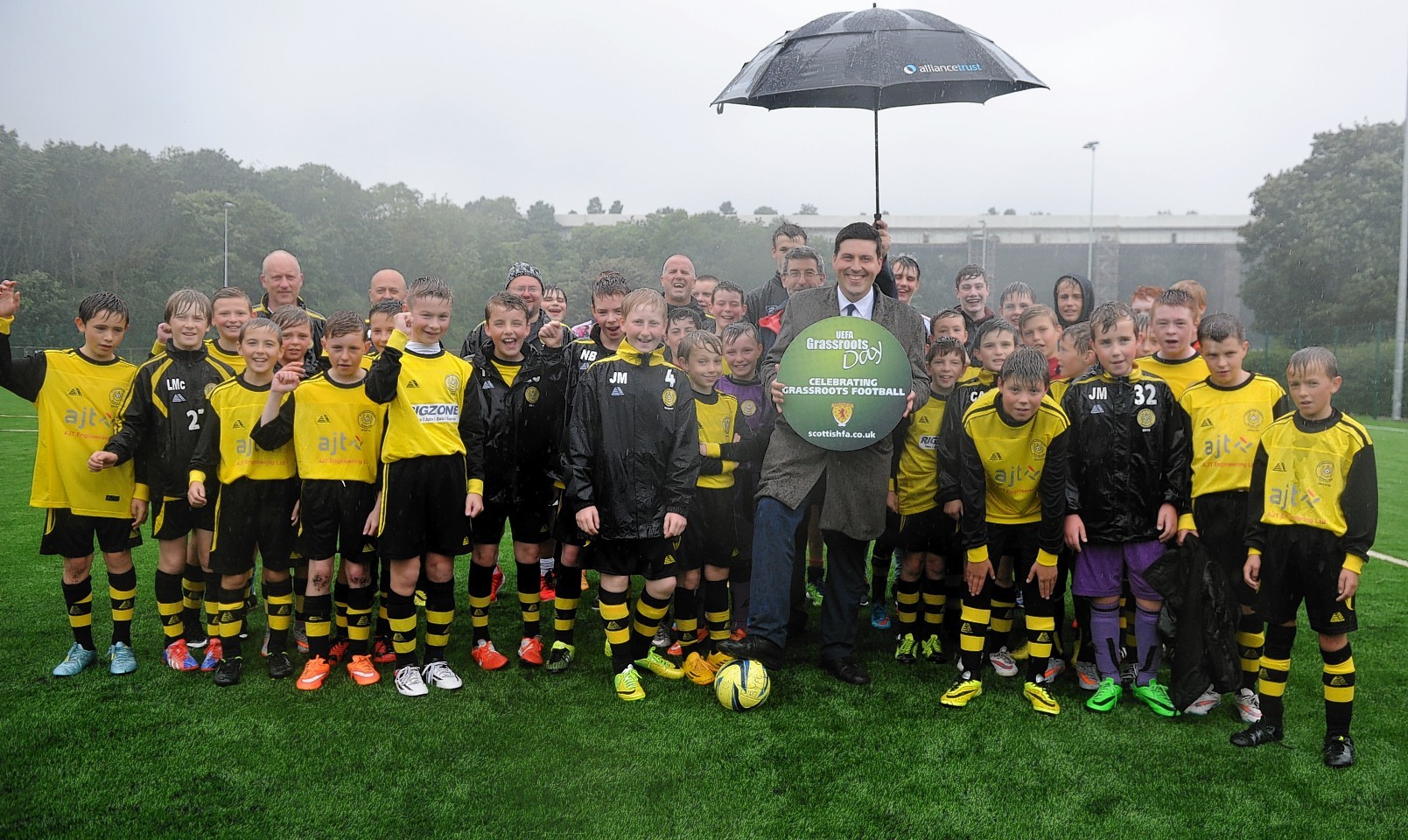 A long-awaited £600,000 sports pitch has officially been opened in Stonehaven.
The all-weather sports pitch at Mineralwell Park will be used local football, rugby, basketball and netball teams, as well as local schools.
The facility has been in the pipeline for nearly three years, and was made possible by £320,000 of funding from Aberdeenshire Council and £295,000 from Sport Scotland.
Sport Minister Jamie Hepburn and Provost Hamish Vernal opened the pitch at the weekend, giving local youngsters the chance to test the turf for the first time.
The pitches will not open to the public for another two weeks, but are already proving popular – with the evening slots already fully booked.
Douglas Samways, chairman of the Stonehaven Community All-Weather Sports Facility committee, stressed the venue was open to all sports users, not just footballers.
He said: "It is more than just a football pitch, it is a rugby training ground as well and it will be utilised for basketball and netball. It is flexible.
"We have already got all the evenings during the week fully booked up and there is an allocation of time in the morning for the school to use it.
"It has taken a while and a lot of effort but it's been worth it. We are delighted that this long-awaited and much-needed facility has now been provided for the people of Stonehaven."
Among the groups it will serve is the Mackie Academy FP Rugby Football Club, who will train at the spot but play their games at the Redcloak Pitches.
Mr Vernal said it would be a "valuable addition" to Stonehaven's amenities.
He said: "There's a high level of participation and success in sport in Stonehaven, and the creation of an all-weather facility has been a long-held aspiration for the town."
MSP Jamie Hepburn said: "New sporting facilities like this can only help to encourage more people to take up sport, and that has to be a good thing.
"It's great to see Mineralwell Park and the local community in Stonehaven benefit from this."
The money from Aberdeenshire Council was awarded in 2012 as part of the then-administration's 100 day pledge. The Aberdeenshire Alliance awarded a chunk of its £20million underspend to community projects across the north-east.