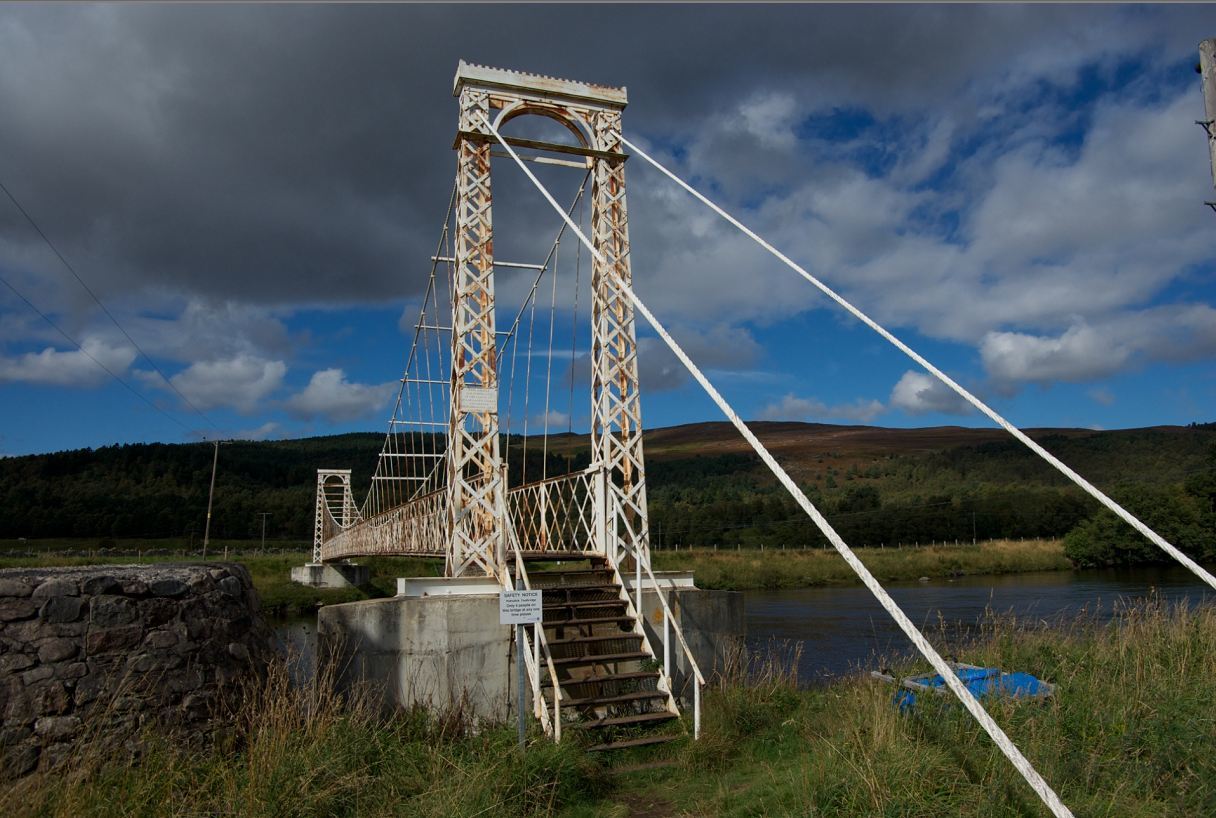 A landmark suspension bridge in Deeside was re-opened to the public yesterday after a £420,000 upgrade.
A community walk and civic ceremony was held at the Polhollick footbridge, near Ballater, to mark the completion of the repair work.
The B-listed bridge across the River Dee was built in 1892 and is a vital link for trekkers using the paths network in the Cairngorm National Park.
It is part of the popular Seven Bridges Walk, which goes around Ballater through woods and open countryside and taking in the Birkhall estate and Glen Muick churchyard.
The Harper Foundry of Aberdeen designed and constructed over 60 suspension bridges, in Aberdeenshire and around the world, between 1870 and 1920.
Louis Harper is thought to have collaborated in the design of Polhollick Footbridge in 1892, assisting the main designer and contractor James Abernethy and Co. of Aberdeen.
Douglas Harper, Louis' grandson, joined Aberdeenshire Provost Hamish Vernal to officially reopen the bridge yesterday.
Mr Vernal said: "The refurbishment of Polhollick Footbridge presented a significant engineering challenge, owing to the bridge's historic status, as well as working over an environmentally-sensitive river.
"I commend everyone involved in their efforts to carry out the job with such skill, and thank the local community for their patience this summer while the work was carried out."
The white-washed crossing is considered a tourist draw and a local amenity for Deeside residents, and has been in line for an upgrade since 2012 when the council approved the funding for repainting work, essential repairs and conservation.
The council's policy and resources committee approved funding of £300,000 earlier this year for the work while Historic Environment Scotland also awarded £120,000.
Martin Fairley, head of investment at Historic Environment Scotland, said: "As well as being architecturally important, the bridge has played a significant role in the life of the local community since it was built more than 120 years ago, and it was
that which convinced us to award a significant repair grant to the project."
Councillor Geva Blackett, who represents Aboyne, Upper Deeside and Donside, added: "I think it's wonderful the bridge is reopening and has been restored for the many local people to enjoy once more."