An Aberdeenshire farmer has drafted in two surprising security guards to protect this year's turkeys as orders come in for Thanksgiving and Christmas.
Craig Michie from Lochend of Barra, Inverurie, has taken inspiration from the farming techniques of his Columbian wife's family making sure he doesn't get fleeced, by employing the South American alpacas as sentries.
The farm near Oldmeldrum, is gearing up for the festive season and Mr Michie explained the benefits alpacas bring to the farm environment and ultimately the flavour of the end product.
He said: "The alpacas bring added security in warding off predators, allowing the turkeys to range further for a more varied diet.
"The birds are free to roam as animals such as foxes, badgers and birds of prey are put off by the presence and smell of the alpacas."
The alpacas, named Valderrama and Higuita, after the talismanic Columbian footballers, have been patrolling the farm always alert to dangers.  They typically stamp their feet and lower their heads if attackers come too close.  They have become part of the family since their arrival.
Mr Michie said:  "My daughter calls them the "pacas" and the whole family has become attached to them.  They are here to stay.  But the main benefit is to the turkeys.
"The added security allows them to reach the game cover, brassicas and grasses on the boundaries of the farm.  This diet helps to enhance the rich gamey nuances of the bronzes.  The turkeys are also fed on a home mix of cereals, including oats which are full of antioxidants.  This also gives the meat more depth in flavour and a beautiful creamy coloured finish."
He added:  "There is a deficit of high quality poultry and it has been our aspiration to fill that gap in the market.  We have seen a tremendous demand for high quality slowly grown turkeys.  The range these birds have, with the Italian rye grass, pear and apple trees we have planted, makes all the difference when it comes to the dining table."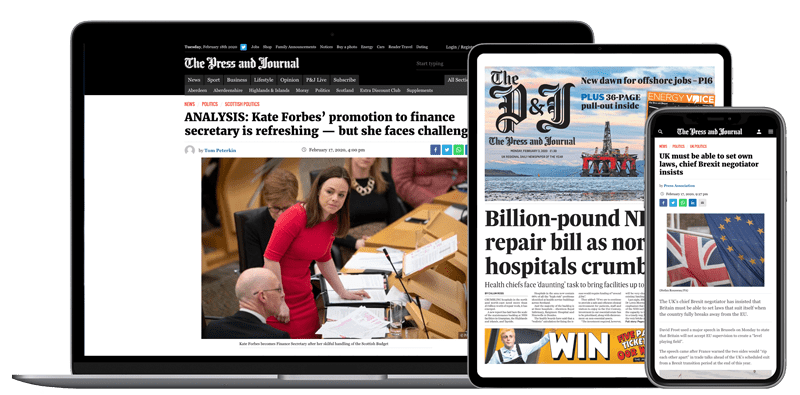 Help support quality local journalism … become a digital subscriber to The Press and Journal
For as little as £5.99 a month you can access all of our content, including Premium articles.
Subscribe